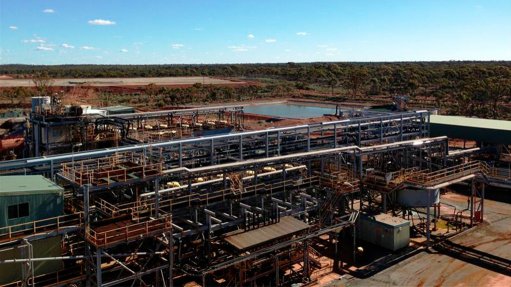 Poseidon's Black Swan processing facility (BSPF), in Western Australia's Eastern Goldfields
Photo by: Poseidon Nickel
JOHANNESBURG (miningweekly.com) – ASX-listed companies Poseidon Nickel and Aphrodite Gold announced on Monday that they had entered into a memorandum of understanding (MOU) to evaluate the processing of Aphrodite's gold mineral resources at Poseidon's Black Swan processing facility (BSPF), in Western Australia's Eastern Goldfields.
Under the terms of the MOU, the parties have 60 days in which to conduct due diligence and evaluation.
Poseidon chairperson Chris Indermaur said that Poseidon and Aphrodite had been in ongoing discussions for "well over" six months and described the MOU as an "excellent" result for both companies.
"Under the proposal Poseidon would farm-in the BSPF and Aphrodite would farm in its gold mineral resource and tenements into a special purpose vehicle (SPV) that will be a 50:50 joint ownership structure," he explained.
Indermaur elaborated that entering into an MOU with Aphrodite unlocked the existing capital at the BSPF in what continued to be a "very difficult" nickel market. He commented that Poseidon planned to use the existing plant and infrastructure at BSPF to facilitate a transition to becoming a major gold producer in the highly prospective Goldfields region of Western Australia.
Indermaur added that BSPF offered a low-cost entry into the gold market and sought to exploit the processing facility's ability to process both oxide and refractory gold resources.
"It is important, however, to stress that when the nickel market does improve, nickel production at Black Swan can restart via a parallel and independent circuit. Poseidon would retain the rights to nickel deposits at Black Swan and Silver Swan," he highlighted.
Aphrodite Gold executive chairperson and acting CEO Peter Buttigieg said that the MOU with Poseidon allowed the company to evaluate the opportunity to develop the 1.3-million-ounce mineral resource by joining forces with Poseidon and use the nearby BSPF.
"The recent completion of our prefeasibility study may significantly advance the development of our substantial gold resource 65 km north of Kalgoorlie," he added.