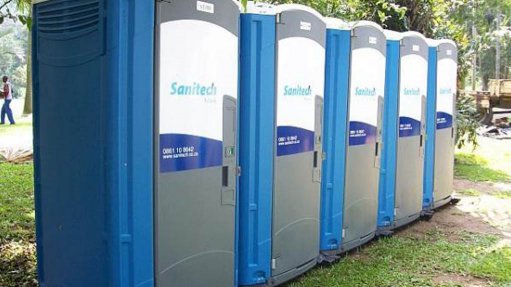 CLEANLINESS BREEDS PRODUCTIVITY Portable toilets and ablution facilities improve hygiene and consequently, productivity
Portable sanitation company Sanitech, in its efforts to spur sustainable growth, successfully acquired Johannesburg-based hygiene cleaning company Gem-Care in January.
Sanitech, the first portable toilet hire company in South Africa, has applied its experience and expertise to the development of a range of robust portable toilets for surface and undergoing mining projects. Its locally developed Steam Clean technology has dramatically improved the hygiene and usability of the self-contained portable toilets it offers the construction, industrial and mining sectors.
The company says it supplies ablution facilities to several mining companies throughout the country, improving hygiene standards as well as productivity at these sites.
Sanitech's acquisition of Gem-Care will expand its range of service solutions by introducing specialised cleaning services, as well as increase its geographic footprint, enabling further expansion in the Johannesburg, Ekurhuleni and Tshwane metropolitan areas.
Gem-Care was originally established in the 1990s by the Daws family. Gem-Care's previous co-owner, Richard Daws, said he was "pleased" to sell his company to Sanitech, as he felt that it would be able to preserve his company's legacy, while elevating the business to new heights.
Further, the Gem-Care acquisition will contribute to Sanitech's 'innovation era', which started in 2014 and resulted in the introduction of integrated facilities solutions, including daily and specialised cleaning services, hygiene washroom solutions, washroom hygiene treatment and pest control.
This acquisition forms part of an ongoing growth strategy that saw Sanitech establish a branch in Kitwe, Zambia, in 2015, in the hope that the privatisation of the Nkana copper mine would create new opportunities for the company.
Sanitech Kitwe currently offers toilet hire for local mines, events, weddings and construction sites, as well as septic tank pumping. The branch is expected to expand its products and services in the near future to include hygiene, pest control, mining trailer toilets and a larger fleet of portable toilets.