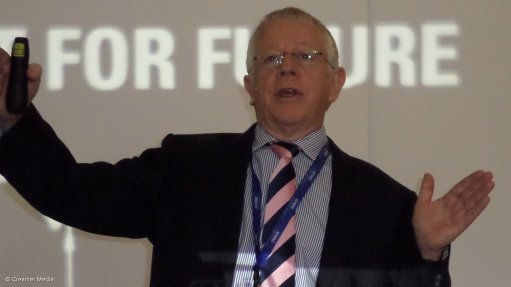 MICHAEL SOLOMON
JOHANNESBURG (miningweekly.com) – The mining industry was the most underperforming business industry globally for a fourth consecutive year, South African Institute of Mining and Metallurgy fellow Michael Solomon revealed on Wednesday.
Speaking at global advisory firm KPMG's Mining Executive Forum, in Johannesburg, on Wednesday, he explained that the sector had been negatively perceived for generations, for many reasons, including because it was deemed "dirty" and not benefiting governments and the communities in which mines were operated.
"Investors put money into mining companies and expected fast return on investments but this rarely occurred, which resulted in many investors disinvesting from the sector. This attitude has seriously impacted the liquidity of many mining houses," stated Solomon.
He noted that the consequence was that capital expenditure on projects was cut "excessively", which had negative knock-on effects for the future of mines, as there would be shortfalls in the supply of certain commodities in 15 to 20 years' time, owing to the lack of new mines and the expansion of existing operations.
"We cannot know the future, particularly in terms of what the future holds for the mining sector. However, mining executives can look at previous crises in the mining industry and learn how the industry recovered," said Solomon.
He outlined that the greatest challenge faced by the global mining industry was "the gestation period for mines", as it took, on average, between 11 and 28 years for a mine to pay investors returns on their investments.
"I do not believe that there is such a thing as the commodity cycle; the fact is that after World War II, there was 40 to 50 years of net disinvestment in the global mining industry prior to the commodity price boom in 2008.
"The rise of emerging economies, particularly in Asia, such as China, during the 1980s onwards resulted in a significant increase in demand for industrial development commodities, such as iron-ore, platinum, copper and the like," said Solomon.
Simultaneously, the global mining industry had insufficient capacity to provide materials, as there were many ageing mines with low output levels, which resulted in billions of dollars in investment in new mines to meet demand.
This resulted in mining overcapacity, in turn, leading to a sharp decline in commodity prices.
However, Solomon stated that mining companies should take comfort in the fact that commodities respond positively to population growth and the world's population was growing continuously. Analysts predict that, by 2050, there will be about nine-billion people on the planet, compared with seven-billion in 2013.
"All these people will require housing, electronics and new infrastructure, which will have to be built to cater for them, all of which will need mineral resources, particularly bulk commodities, such as iron-ore, coal, nickel, platinum, copper and manganese."
China and India will remain two of the most important destinations for mineral resources for the foreseeable future, particularly for bulk materials owing to population growth and rapid urbanisation, he said.
Solomon cautioned, however, that the slowdown in China's economy and India's intentions to become less reliant on mineral imports would negatively impact future bulk commodity demand volumes from exporting nations, such as South Africa.
Nonetheless, he asserted that, despite gloomy market conditions and negative predictions about the future of the mining industry, that "too shall pass" and there would be better days ahead for the mining industry as there had been in past generations.