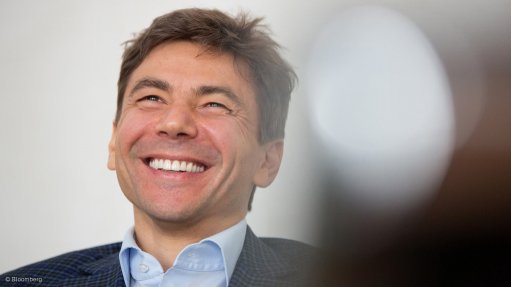 Polyus CEO Pavel Grachev
JOHANNESBURG (miningweekly.com) – Russia's largest gold miner Polyus has confirmed its 2018 full-year production guidance of 2.375-million to 2.425-million ounces, after reporting first-quarter production of 506 500 oz.
The March-quarter performance is a 13% increase on production in the corresponding period of 2017, when output totalled 450 200 oz, but a 13% decrease on the preceding quarter's output of 579 800 oz.
The quarter-on-quarter decrease was as a result of a seasonal slowdown in output at the alluvials operations and lower volumes at the Olimpiada and Blagodatnoye mines, Polyus reported on Tuesday.
Volumes of ore mined amounted to 8.82-million tonnes, down 12% on the previous quarter, but this is in line with Polyus' mining plan, while volumes of ore processed increased by 9% quarter-on-quarter to 8.49-million tonnes, driven by a gradual increase in processing volumes at the Natalka mill.
Gold sales decreased by 17% quarter-on-quarter to $608-million, with an estimated weighted-average gold selling price of $1 336/oz. On a year-on-year basis, gold sales were up 1%, despite a decline in sales volumes over the same period.
"Over the course of the first quarter, Polyus remained focused on operational excellence, whilst making progress on its development projects. At Olimpiada, Polyus launched the antimony project and now processes high-grade antimony containing ore at Mill-1. At Natalka, we remain on track to complete the ramp-up in the second half of the year," said Polyus CEO Pavel Grachev.