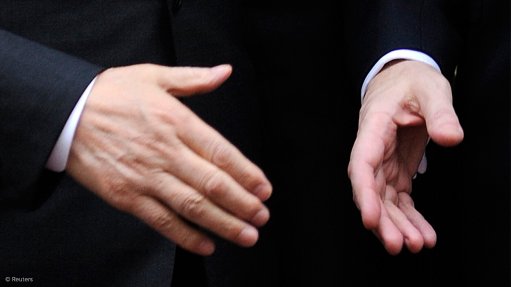 Photo by: Reuters
PERTH (miningweekly.com) – Oil and gas major Santos has inked a gas agreement with the Papua New Guinea (PNG) government and its P'nyang project partners ExxonMobil and JX Nippon, to execute a gas agreement that provides a clear framework for P'nyang's future development.
The gas agreement sets out the fiscal framework and supporting project scoping and evaluation.
Subject to a final investment decision by the P'nyang participants, the ExxonMobil-operated P'nyang project will deliver liquefied natural gas (LNG) through new upstream facilities in Western province linked to existing infrastructure, including its world-class PNG LNG plant near Port Moresby.
On completion, up to 5% of P'nyang gas produced will also be made available to support the government's electrification efforts in Western province or another agreed location.
Negotiations between the PNG government and ExxonMobil stalled in 2019, as the then-newly appointed PNG government sought to renegotiate the terms of the original gas agreement, which had been inked in April 2019.
The initial agreement gave the project proponents the confidence to start the initial work on a $14-billion plan to double the expansion of LNG in PNG to around 16-million tonnes a year.
The expansion plans include three new 2.7-million-tonne-a-year trains at the PNG LNG project, two of which will be operated by project partner Total on its own acreage, while the third will be operated by ExxonMobil and fed from its existing and new gasfield P'nyang.
"The signing of the P'nyang project gas agreement demonstrates the commitment of all parties to the project and will bring economic benefits for the people of PNG when the project is developed," Santos MD and CEO Kevin Gallagher said.
"I thank the PNG government and the government of Western province for their partnership with the P'nyang participants to move towards P'nyang project development, which is proposed to commence following delivery of the Papua LNG project.
"The P'nyang project will provide landowner benefits under a benefit-sharing agreement to be negotiated in the future. Development of P'nyang will create local and regional jobs and business opportunities, provide training and skills development opportunities and help build stronger communities."
The P'nyang gasfield is within PRL3, located in the Western province of Papua New Guinea. Santos has a 38.5% interest in P'nyang.