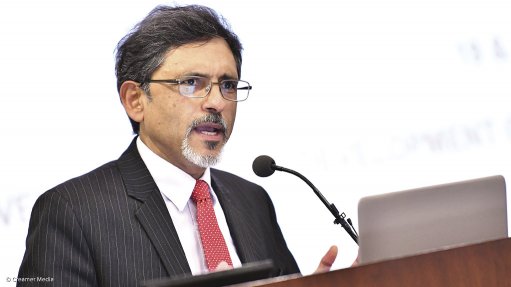 Trade and Industry Minister Ebrahim Patel
Photo by: Creamer Media's Dylan Slater
JOHANNESBURG (miningweekly.com) – The legal entity for the Bojanala Platinum Valley Special Economic Zone (SEZ) in North West, which already has an investment pipeline in place, will be set up in the next three months, Trade and Industry Minister Ebrahim Patel promised on Tuesday evening.
Fuel cell development is listed as the main focus of the Platinum Valley SEZ, which has also been earmarked for platinum recycling and additional autocatalyst manufacture.
What Silicon Valley did for solid-state development in the US, Platinum Valley is being earmarked to do for platinum-catalysed fuel cells that provide zero-emitting, carbon-free energy to a world that is fighting to mitigate climate change.
Speaking during the Parliamentary debate on the State of the Nation Address (SoNA), Patel described as a pillar of South Africa's industrial policy the development of new investment clusters through SEZs, industrial parks, business hubs and digital centres.
Patel's announcement follows the commitment made by President Cyril Ramaphosa during his SoNA to look into the development of a hydrogen economy. The President spoke a mere seven words: "Explore the potential of the hydrogen economy", but the implications are massive and come against the background of many enlightened countries now studying hydrogen fuel cells in-depth. China is beginning to lead on this. Japan has always been there in quite a big way. Germany is also there and California is the part of America where this is most pronounced.
South Africa is an ideal setting for a 'Platinum Valley' because hydrogen and platinum are joined at the hip, with South Africa having the advantage of hosting the lion's share of this wonderful metal.
Hydrogen, in turn, is the most abundant gas on earth. If combined with renewable energy – for which South Africa has superior sun and prime wind – the world can have the assurance that cars, buses, trucks, trams, trains and ships do not emit a single speck of carbon.
Vehicle manufacturers that supply South Africa's taxi fleet are known to be deeply involved in the hydrogen economy and could totally decarbonise South Africa's taxis as a starting point.
Fuel cells have already been deployed in several of South Africa's offgrid rural clinics needing power and this country has had a hydrogen fuel cell technology strategy for nearly a decade.
Many a telecommunications base on the continent is fuel celled. The recycled component is coming more to the fore in autocatalysis, which has been platinum's tailwind since the seventies.
Platinum is in need of the next growth phase and South Africa's private sector is also stepping up to the plate with the development of fuel cells locally. It is understood that government will soon announce that it is to fund a new project on a 100% basis to produce a bankable feasibility study for the entire fuel cell manufacturing value stream – from catalyst to final assembly. The project is expected to unpack the entire cost structure of the existing fuel cell manufacturing value chain in order to make the technology more commercially viable, primarily for export on a duty-free basis into Africa, India and China.
The SEZ's main hub is to be accommodated on a 100 ha site, near the town of Mogwase, in the Bojanala Platinum District of the North West province. Included on the investor opportunity list have been mining capital equipment, ball mill, ventilation, refrigeration and drilling equipment supply, along with ferrochrome-sector development, chemicals instigation and gas industry applications.
The Bojanala Platinum District Municipality has the western limb platinum mining district of Rustenburg as its heart.
The Bojanala Platinum Valley SEZ, established under the SEZ Act of 2014, has been a long time in coming.
Within 12 months, legal entities would also be established for the Northern Cape SEZ in Upington and the automotive SEZ in Tshwane, Patel added.
Qualifying companies will benefit from a 15% lower corporate income tax, tax breaks under Section 12J of the Income Tax Act, accelerated allowances on buildings, and wage incentives for salaried employees earning below R6 000 a month.
Taxpayers achieving SEZ status will retain status for ten years, with all subject to a sunset clause.
This behoves the Platinum Valley to introduce low-cost feedstock, including lower-cost platinum concentrate, which Kell technology promises. It has been tested and could go commercial in a very short space of time.
Kell has the potential to put an end to energy-intensive smelting.
Autocatalyst manufacture already takes place in South Africa, but the platinum goes out of the country for conversion into liquid and is then brought back to Port Elizabeth for use in the manufacture of autocatalysts, which Kell is said to be able to obviate.
Kell, in which South Africa's State-owned Industrial Development Corporation is an investor, also copes well with low-grade concentrate and chromite-containing upper group two (UG2) reef, whereas smelters battle to handle chromite in the UG2 concentrate.
As a result, flotation plants have to be chromite-adjusted, which lowers recovery.
Grade-tolerant Kell is said to ensure that 5% more platinum is recovered in the flotation plant, increasing overall mine-to-metal performance.
To add Kell to a 250 000 oz/y operation is said to cost $65-million, with capital payback in two years at an internal rate of return of more than 70%.
Its first stage leaches out the iron, nickel, copper and cobalt base metals, its second stage heat-treats and its third stage renders the PGMs soluble.
The third-stage of Kell, named after inventor Keith Liddell, is the first stage of the PGM refining process, which "brings all the PGMs in solution", which shows the significant potential value of hydrometallurgy rather than pyrometallurgy. Having everything in solution allows decisions on what products should be made from it.
The Liddell family is the main shareholder in the company that owns the Kell patent along with three others, one of whom is Dr Mike Adams, who worked with Liddell at South Africa's State-owned minerals research organisation Mintek in the 1980s.
A platinum-using catalytic converter company, which currently does the bulk of its manufacture in Japan, stated some time ago that a 10% price preference as part of the beneficiation strategy would be sufficient to attract it to set up a manufacturing facility in South Africa.
Former Science and Technology Minister Naledi Pandor, who is now Minister of International Relations and Cooperation, has stated that the local manufacture of fuel cells is in line with government's National Hydrogen and Fuel Cells Research, Development and Innovation Strategy, the ultimate goal of which is to supply 25% of world catalyst demand by 2020.
In 2016, a jubilant Pandor was flanked by Gauteng Premier David Makhura and the then Impala Platinum (Implats) CEO Terence Goodlace at the launching of platinum-using mobile fuel cells at the Implats refineries on the East Rand. At that function, the platinum mining Implats revealed its study into using fuel cells to power underground mining equipment and to self-generate 22 MW of electricity at its refineries.
Implats also provided the platinum for the fuel cell that catalyses 100 kW of electricity generation at Minerals Council South Africa's headquarters in downtown Johannesburg, and is committed to supplying platinum to a fuel cell hub in Springs, envisaged as a satellite to the upcoming SEZ at OR Tambo International Airport.
Last month, Mining Weekly Online reported that early research and development work had begun to pave the way for the introduction of hydrogen fuel cell electric trucking at a local platinum mine.
A truck is currently being converted to run on hydrogen, which will initially be brought to the mine in tankers. In the longer term, however, on-site hydrogen production from on-site renewable energy generation is planned, again showing the hydrogen economy and clean electricity is what climate-change mitigation is demanding.
The electricity from the planned solar-power plant will be passed through water to produce hydrogen for fuel cell trucking. Platinum in the fuel cell will act as a catalyst to convert the hydrogen into electricity, which will power the truck as a heavy fuel cell electric vehicle that has zero emission and low noise.
All these economy-boosting initiatives need proper coordination and a champion to ensure that they bear fruit for the benefit of the South African people at this time of low employment and the need to reduce poverty and end economic inequality.