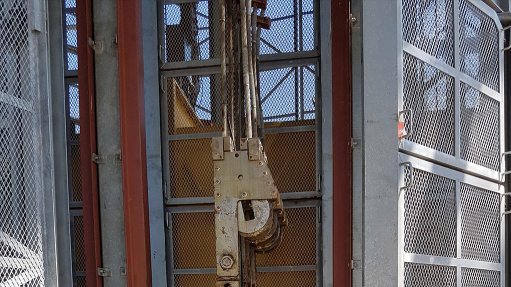 WINDING ROPE ATTACHMENTS All Becker Mining rope attachments are designed to conform to statutory requirements
The installation of winding rope attachments for man-and-materials shaft winders at a platinum mine on the western limb of the Bushveld Igneous Complex, in Limpopo, has recently been completed, says mining equipment supplier Becker Mining South Africa (SA) GM Tom Searle.
Becker Mining SA was commissioned to design, manufacture, supply and deliver four sets of head rope attachments, and four sets of tail rope attachments that were necessary for a 4.5-m-diameter drum of a Koepe winder that accommodates 38 mm head ropes and 40 mm tail ropes. Searle states that the equipment, which was completed and delivered to the mine in May 2017, was installed at the beginning of this year and is ready to for use.
"This equipment is considered safety-critical and manufactured to the highest quality standards," says Searle. He stresses that failure of this kind of equipment in a vertical shaft is likely to lead to loss of life and will damage the shaft installation. The equipment was designed and manufactured locally by Becker Mining SA at its Alrode works and is specifically suited to the requirements of this underground mine, he says.
Further, the equipment was designed to winder requirements and complies fully with the Mine Health and Safety Act, as well as mining regulations, emphasises Searle.
He explains that the delivery of the winding rope attachments included a Becker thimble-type capel that has been fitted to the ropes, with a hydraulic adjusting linkage fitted between it and the conveyance. The linkage ensures that there is equal sharing of the load between the four head ropes.
Meanwhile, 30 t Rocket-type safety detaching hook sets were also supplied for the man winder, along with a set of 5 t Rocket safety detaching hooks that were manufactured for the service winder.
Rocket safety detaching hooks are designed to detach the winding rope from the conveyance in the event of an overwind and suspend the conveyance in the headframe, Searle reiterates. This design caters for the prevention of partial detachments while in service, he states.
The device prevents injury to personnel and damage to the shaft infrastructure, should an overwind occur, states Searle. He adds that all the equipment was proof-load tested by Becker Mining to two-and-a-half times the safe working loads and will be subjected to in-service maintenance, further ensuring the safety of employees and equipment.
Becker Mining SA's delivery was "completed ahead of schedule to comply with the required lead time requested by the mine, with 60% of the order delivered earlier than had been initially planned", he concludes.