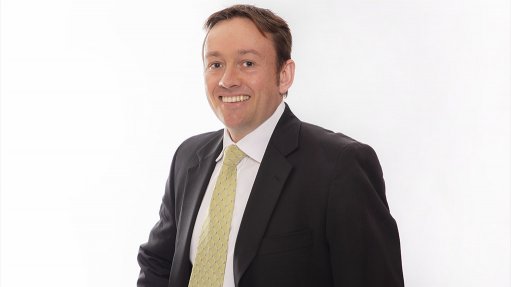 Nedbank CIB Market Research mining analyst Arnold van Graan
CAPE TOWN (miningweekly.com) – South Africa is continuing to gather top-tier insight into fuel cell technology as it navigates the electric vehicle market's growing links to this country's globally unparalleled platinum group metals (PGMs) industry.
Expert after expert at this week's Nedbank CIB's Market Research conference outlined the significant domestic and foreign steps that are being taken to unlock the innovative sector far sooner than expected.
The notion of fuel cell technology being a 2040/2050 global strategy is fast giving way to the growing global sale of fuel cell cars, trucks, buses and trains, with ships offering new openings.
"There are very important and big strategic decisions to be made over the next few years on this topic," Nedbank CIB mining analyst Arnold van Graan told the conference attended by Mining Weekly Online.
E4tech director Dr David Hart of Switzerland, who has been in the fuel cell and hydrogen sector for 25 years, said the forever-five-years-away technology was no longer five years way.
"Things are happening very, very fast at the moment," Hart told the conference.
The big push towards electric vehicles has resulted in major advances not only in battery technology, but also in fuel cells as a complementary technology for the automobile, power generation and heat-requiring sectors.
The illustrious line-up of global experts made it clear that the now widely accepted hydrogen economy was opening up doors right, left and centre for PGMs, sun and wind energy and South Africa's manufacturing sector.
Pamphlets distributed at the conference showed South Africa to be well abreast of commercial solar-to-hydrogen production and that South Africa's HySA Infrastructure Centre has been successfully operating the first-of-its kind solar-to-hydrogen system in South Africa since 2013.
South Africa, the HySA pamphlet confirms, is also well-versed in electrochemical hydrogen compression, which promises the use of PGMs as electro-catalysts in the compression of hydrogen to reduce hydrogen storage costs.
Moreover, HySA Infrastructure is well ahead in the liquid organic hydrogen carrier know-how required for hydrogen fuel cell applications.
A spotlight is being shone on fuel cell technology by Nedbank, which advertises itself as a green bank, and the platform it provided this week identified a far-reaching range of government incentives and private sector venture capital involvement in the emerging local fuel cell business.
Hart described June's G20 meetings in Japan as being hydrogen focused and drew attention to the accelerated effort of the private sector through the Hydrogen Council, which was created two years ago in Davos with about ten companies.
It now has more than 50 members, including corporations like Shell, Toyota, Air Liquide, Kawasaki, Mitsubishi and South African PGM producer Anglo American.
There was now top-level acknowledgement that hydrogen was an essential part of the energy system glue that would stick things together.
PGM-catalysed fuel cells were, in turn, tightly linked to hydrogen and in all instances the twinned technologies were being driven by national policy interests.
Coming together through policy were sustainability through climate change mitigation, industrial development and energy generation and exportation.
"There is the recognition that one of the ways to improve air quality, which is very high on the policy agenda, is by introducing zero-emission vehicles in city centres, by banning anything that isn't a zero-emission vehicle in the most extreme cases, and that to do that, you don't just need batteries, you need fuel cells," Hart said.
In the South African context, this was not just about platinum beneficiation but also about how the energy system as a whole should be improved.
The hydrogen produced had the potential either to be used directly to produce electricity, to run transport and to decarbonise heat, or it could be used in steelmaking, cement manufacturing and many other areas that were difficult to decarbonise.It could also be used for the production of high-quality synthetic fuels.
"There are also many looking at ways of decarbonising perhaps shipping or aviation, with all the initiatives leading back to an interest in fuel cells," he said.
While for a long time hydrogen was a bit ethereal, the arrival of low-cost renewables had stimulated the production of low-cost hydrogen.
Some of the latest bids for renewable energy projects are at the level of one cent per kilowatt hour produced - "incredibly cheap, very competitive against all of the fossil alternatives".
In areas of the world where wind energy and a solar farm combined to provide round-the-clock energy, utilisation would ensure that capital invested in hydrogen-producing electrolysers would be recovered.
Producing hydrogen from renewables on electrolysis was competitive and opened the way for the production of gigawatts of the material, which was why it was attracting the attention of very large corporates.
"The questions that we, as a consultancy, are now being asked by our clients are not where can I put three-million in a little project just to show that I'm being green, but where can I invest one-, two-, three-hundred million so that I can develop this value chain, where can I put my money in order to be a participant in this hydrogen fuel cell sector," Hart added.
Strong calls were made to Nedbank CIB this week to hold its fuel cell conferences annually to measure South Africa's uptake of the potentially colossal hydrogen economy, which is picking up pace exponentially in keeping with the imperative to address what is now being widely referred to as the global climate crisis.
MAJOR FUEL CELL FEATURE UPCOMING
Mining Weekly will be publishing a major feature on fuel cells in September and companies wanting to advertise in the feature should contact Creamer Media COO Sales and Marketing Reinette Classen at +27 11 622 3744. Those with news should speak to Martin Creamer at the same number.