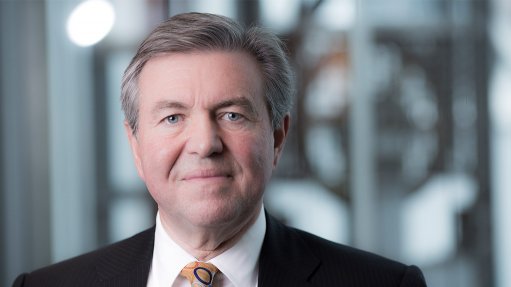 Paul Wilson
JOHANNESBURG (miningweekly.com) – Platinum investment demand rocketed 291% in the three months to September 30, World Platinum Investment Council (WPIC) reported on Wednesday, when it forecast a third consecutive annual platinum deficit next year on an initial projected 2021 deficit of 224 000 oz.
The high third-quarter (Q3) investment demand for platinum amounted to 730 000 oz on a Q3 platinum supply deficit of -224 000 oz, said WPIC, which put the numbed response to the platinum price down to a platinum futures market hiatus, brought about initially by Covid-19-related transport restrictions.
In addition to the robust precious metal investment demand, strong recoveries in automotive markets and severely reduced platinum supply contributed, WPIC added, to platinum's expected 1.2-million-ounce 2020 deficit.
For the first time in seven years, Chinese jewellery demand is forecast to rise in 2021, along with global acknowledgement of the far-reaching role that platinum can play in providing climate solutions.
The global focus on the cost of reducing carbon dioxide (CO2) had, WPIC noted, convinced the European Union, China and 70 other countries of the need to recognise green hydrogen as the world's best decarbonisation route.
The point had now been reached, WPIC CEO Paul Wilson stated in a release to Mining Weekly, where decarbonisation and hydrogen were mentioned in the same breath, with strategies and policies being implemented to ensure the hydrogen economy would be driven forward over the next 15 years.
Material demand growth from platinum's key role in green hydrogen production and fuel cell electric vehicle catalysing would be realised in the five- to ten-year period, with this strategic long-term platinum demand underpin kindling the interest of many investors, who had not previously considered platinum.
Investors taking a closer look see platinum's:
discount to gold;
discount to palladium, which it can substitute; and
contribution to the cost effectiveness and low CO2 of the mild-hybrid diesel powertrain.
These factors, Wilson noted, are greatly enhancing the likelihood of investment demand growth.
Another indirect consequence of Covid-19 can be seen in the forecast of growth for platinum jewellery in China.
"Jewellery manufacturers in China recall the benefit in 2009 of their metal purchases to increase their stocks when the platinum price collapsed. They increased stock levels during the March pandemic-driven price fall. Producing, promoting and selling platinum jewellery locks in the value of that discount, offering better margins than gold to manufacturers and retailers," Wilson stated.
Platinum is one of the rarest metals in the world with distinctive qualities making it highly valued across a number of diverse demand segments. Its physical and catalytic properties are acknowledged in industrial applications, as are precious metal attributes in the jewellery sector.
Over the last five years, between 76% and 78% of total annual refined platinum supply has come from mining and demand from automotive, industrial, jewellery and investment.
Autocatalysts have driven between 36% and 43% of demand in the last five years and industrial uses 23%. Over the same period, global annual jewellery demand has averaged 31% of demand and investment between 0% and 15%.
ROCKETING Q3 INVESTMENT DEMAND
Exchange traded fund investment demand in Q3 rose by 336 000 oz and bar and coin demand by 42 000 oz. These increases were helped by the increase in platinum stocks held by exchanges, primarily Nymex-approved warehouse stocks, which rose by 351 000 oz year-on-year as banks continued to increase these stock levels.
Investment demand is expected to grow by 32% (+406 000 oz) in 2020, which is heading towards a healthy 123% increase in bar and coin investment.
AUTOMOTIVE DEMAND BACK
Automotive demand in Q3 bounced back 70% and an annual growth forecast of 24% is projected for 2021. Pent-up pandemic-linked vehicle demand and incentives in Europe and elsewhere drove growth in global automotive production levels to a point where Q3 automotive demand for platinum in Q3 this year was only 3% behind last year's.
China 6 emission-control legislation for light duty vehicles and the enhancement of heavy duty vehicles' compliance requirements to China VI resulted in Q3 automotive demand for platinum in China rising by 68% (+ 30 000 oz) year-on-year.
Global automotive demand for platinum is forecast to rise by 24% in 2021, representing 575 000 oz, as light duty vehicle production is set to increase by 15%, and heavy-duty vehicle production by 5%.
Increased loadings to meet more stringent emissions levels will also benefit the demand for platinum. So too will the potential for some platinum being used in place of palladium in gasoline autocatalysts and some shift from palladium to platinum in diesel after-treatment systems. Substitution in gasoline engines is expected mainly in China and North America in 2021.
The price of palladium remains more than $1 000/oz higher than platinum, maintaining a high incentive for substitution, particularly as automaker profits suffer from lower sales.
JEWELLERY DEMAND BACK
Global platinum jewellery demand in Q3 bounced back by 27% quarter-on-quarter as pandemic-related restrictions eased, with a 14% (+29 000 oz) increase in China. Looking to 2021, global jewellery demand is forecast to gain 13% (+246 000 oz), with all regions seeing double-digit growth.
Low platinum prices prompted strong imports of platinum into China during the early months of the Covid-19 pandemic by jewellery manufacturers. As China's government is expected to maintain its successful virus containment protocols, consumption is expected to continue to improve, with platinum jewellery demand likely to increase in 2021 by 13% (+107 000 oz) – the first annual rise since 2013.