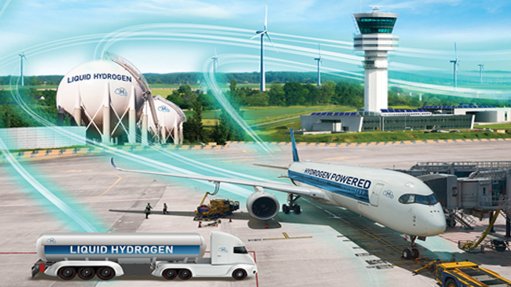 Fuel Cells and Hydrogen Joint Undertaking transforming aviation into a zero-carbon transport that uses hydrogen.
JOHANNESBURG (miningweekly.com) – Platinum group metals are in pole position to benefit from the fast-growing global decarbonisation momentum, Mining Weekly can today report.
A multiplicity of global announcements are emerging daily that inextricably link platinum-catalysed hydrogen fuel cells as well as platinum-catalysed hydrogen electrolysers to the rampant acceptance of green hydrogen as the next universal energy carrier that will provide decarbonised mobility, stationary power and combined heat and power.
Hydrogen, when produced with renewable energy, is a carbon-free energy source that answers all global climate demands, and is being embraced as an integral part of the post-Covid economic recovery stimulus plans of many countries.
South Africa, with its superior sun, prime wind, available land, the world's biggest platinum group metals (PGMs) endowment, infrastructure ready for transitioning to hydrogen, years of scientific insight and advanced investments in key enablers, is in the best position by far to press ahead holistically with the new way of electrifying the world in an environment-friendly manner.
Besides South Africa's PGMs endowment, there is also battery metals abundance in the form particularly of vanadium, but also manganese and nickel as well as deep metallurgical expertise at a time when macro factors are elevating the energy storage market to heady heights.
Private sector and public sector thought processes have been engaged in decades-long trail blazing towards generating clean electricity to drive vehicles, support mini and macro power grids and provide combined heat and power solutions.
"It is almost limitless in the near-term application set," says AP Ventures LLP founding partner Kevin Eggers. (Also watch attached Creamer Media video.)
AP Ventures is a venture capital fund that invests in early-stage companies with potential to have a meaningful impact in the much-needed transition to green energy. Its cornerstone investors are Anglo American Platinum and Africa's largest fund manager, the Public Investment Corporation of South Africa. Other key investors include Mitsubishi Corporation of Japan and the SPARX Mirai Fund, which includes Toyota Motor Corporation and Sumitomo Mitsui Banking Corporation.
This month's multiplicity of international announcements linking renewable energy, green hydrogen, platinum-catalysed fuel cells and platinum-catalysed electrolysis include:
German gas company Linde, which has already generated more than $2-billion in revenue from producing, distributing, storing and using hydrogen, deciding to quadruple its hydrogen business;
BP Australia announcing a feasibility study into an export-scale renewable hydrogen production facility in Western Australia;
Canada confirming that it is developing a national hydrogen strategy, which follows the province of British Columbia releasing a hydrogen roadmap in the last year;
South African scientists and technologists taking the first steps towards developing a hydrogen roadmap for South Africa;
Brussels-based Fuel Cells and Hydrogen Joint Undertaking bringing together a range of scientific and industrial partners who are working towards transforming aviation into a zero-carbon transport that is hydrogen powered;
Germany agreeing to invest €9-billion in the build-up to local hydrogen production and hydrogen importation;
German Environment Minister Svenja Schulze describing hydrogen is the "energy of the future" that will give a "double boost" in climate change mitigation and jobs;
Toyota disclosing plans to produce 30 000 hydrogen fuel cell vehicles this year, 200 000 by 2025, and creating capacity by 2030 to manufacture 500 000 fuel cells for passenger cars and commercial vehicles and 200 000 fuel cells for the nonauto industry;
Hyundai Motor Company's fuel cell centre head Saehoon Kim stating that the South Korean company would likely produce 13 000 hydrogen fuel cell Nexo cars this year;
Australian company H2X unveiling a plan to begin producing hydrogen fuel cell powered cars under the 'Snowy' brand by 2022, at a site in Port Kembla, New South Wales;
Solar Power International, Hydrogen + Fuel Cells International and North American Smart Energy Week 2020 moving to Las Vegas for their 2020 national show on October 21 and 22;
Ministers of Energy of the Pentalateral Energy Forum of Austria, Belgium, France, Germany, Luxembourg, Holland and Switzerland affirming their commitment to produce hydrogen in a carbon-reducing manner with the aim of contributing to the full decarbonisation of the energy system, and Bulgaria, Portugal, Romania and Denmark supporting their declaration;
Australian Hydrogen Council CEO Dr Fiona Simon stating that it is time to realise how hydrogen can boost the economy;
the announcement that a first-of-a-kind conference will take place in Melbourne on November 16 and 17 to highlight the latest hydrogen developments and technological innovations across Australia;
Jaguar Land Rover working with research and industry partners on a prototype hydrogen fuel cell vehicle with long range, quick refill, towing, off-road and low-temperature attributes;
Ryse Hydrogen pledging to work with the Scottish government and local authorities to make Aberdeen a world leader in hydrogen;
the US Department of Energy announcing a planned investment of $100-million into hydrogen and fuel cell consortia that are researching and developing large-scale, affordable electrolyser technology and fuel cells for heavy-duty trucks to meet durability, cost, and performance requirements;
liquid hydrogen company Hydrogenious Liquid Organic Hydrogen Carrier (LOHC) Technologies announcing that Hyundai Motor Company had invested in the company with the intent to deploy and market LOHC technology;
Nel Hydrogen Fuelling of Oslo receiving a purchase order for multiple H2Station™ modules used for hydrogen fuelling of passenger vehicles; and
Anglo American CE Mark Cutifani joining multiple signatories intent on making use of green hydrogen. Anglo American has a hydrogen power project at the Mogalakwena platinum mine in Limpopo where excess solar power will be used to produce hydrogen to run a mine vehicle, a concept that could be expanded to include broader applications of hydrogen adjacent to the mine site in the local communities.
HYDROGEN FUEL CELLS
The accessibility of hydrogen has probably been the biggest obstacle to the mass roll-out of fuel cells, which have, nevertheless, had a reasonably high penetration in US states like California and Florida.
But the limitation there is constantly the availability of hydrogen at local centres, says Eggers, who tells Mining Weekly that work needs to be done to get hydrogen distribution through different technologies, like using LOHC, and ultimately getting hydrogen available to sites.
"With some of our work in South Africa I've seen that that's also a constraint," says Eggers.
On the fuel cells themselves, a number of companies are expanding the work around cost reduction, particularly through design for manufacture and looking to lower costs for regions that manufacture.
"We're talking to a number of companies now with specific design-for-manufacture capabilities, with outsourcing set up in India and China as a way to try to take advantage of some really aggressive cost-down targets that they have," he adds.
ABILITY TO USE EXISTING INFRASTRUCTURE
AP Ventures was attracted to invest in Hydrogenious because of LOHC technology making it possible for current infrastructure to be used in the transition to hydrogen.
The storage density of hydrogen in the LOHC is up to five times higher than conventional high pressure storage. A cubic metre of LOHC can carry about 57 kg of hydrogen. Thus, transport capacities on trucks, trains or ships are increased, significantly reducing total cost for hydrogen supply to the customer.
"That's what attracted us to Hydrogenious. A really important part of our investment thesis was the ability to use existing infrastructure. It will need a little bit of cleaning, but ultimately these are not pressurised containers. It's safer and easier to handle liquid. The hydrocarbons we presently use across our industry are diesel and petroleum. So, it's safer to store and it really is a neat way to swop out a higher carbon intensity product with a lower carbon intensity product," says Eggers.
"That's fundamental to our thesis and I think countries like South Africa with existing infrastructure can transition relatively easily to using organic carriers as a way of distributing hydrogen and ultimately exporting hydrogen.
"So, that's really exciting and you'll see our thesis was ultimately seen to be coming together quite nicely with Royal Vopak, the Dutch tank storage company that stores a significant amount of hydrocarbons for all the large oil and gas companies, the Shells, BPs and Totals of the world," he says.
Royal Vopak invested in Hydrogenious last year with the specific intention of ultimately using some of the infrastructure to store liquid organic hydrogen carriers in a future world where they are no longer storing hydrocarbons but storing a zero-carbon fuel.
"I'm very excited to say that we're working on a big project with Royal Vopak at the Port of Rotterdam, where we'll be looking at installing some equipment there to test run this at larger scale and it's very exciting to see those developments.
"I can see a very easy opportunity to replicate that model in South Africa, which has all of the core infrastructure ready to adopt liquid organic hydrogen carriers," Eggers says.
PLATINUM GROUP METALS MINING COMPANIES
On mining companies opting to decarbonise, he says: "Opportunities begin bottom up and the micro opportunities are the ones I'm most excited about. There's a really good opportunity for the rest of the South African mining houses to follow the lead of Anglo on this topic and look to opportunities across their mines.
"There's no doubt in my mind that the mining houses, as you say, can clean up their act. They have across their industrial complexes and their adjacent areas of influence, all the resident housing and large mining complexes that exist to decarbonise those operations.
"I think there's a really good opportunity to use hydrogen fuel cells in applications. They can actually showcase and demonstrate global leadership here.
"It's been very interesting to me, since Anglo's project last year, the number of enquiries and interest I've had as a company. We're obviously independent of Anglo, but it has been really interesting to see how much demand and interest that news story has created. But furthermore, what it does to the very nascent industry.
"This is an industry that needs a leg up, needs early adopters and those single projects act as really important lighthouse demonstrations of capability and what's really interesting now is that these technologies are now proven and are now getting adapted and can be quite effective in delivering some value from day one.
"If you look at Anglo's model there's some really interesting upside once they roll that out across their broader mining fleet.
"So, these are not just decisions made on some hope and a promise with an intention to help. These are actually decisions that have economic value as well as offering a very compelling proposition to customers who know ultimately that they are buying a cleaner product because it is mined on a lower carbon-intensity mine.
"That's a really interesting proposition to be not only leading the adoption of fuel cells and hydrogen and demonstrating it, but also offering a value add to your customers and society.
PLATINUM GROUP METALS AND BATTERY ELECTRIC VEHICLES
"I've long spoken about the fact that there is no need to poopoo one technology in the desire to advance the other.
"It's very clear that a fuel cell electric vehicle is primarily a hydrogen-powered vehicle but it does have a significant battery and that battery, working in tandem with the fuel cell, delivers the ultimate driving experience. Effectively fuel cell electric vehicles are hybrid vehicles.
"Seeing the developments in batteries and the cost of battery packs in vehicles coming down has certainly been a significant enabler to advance fuel cell electric vehicles.
"I see this as being one and the same. They are effectively cousins in the same broad stable. Clearly, from a South Africa Inc perspective and from my perspective as AP Ventures, we would like to see fuel cell electric vehicles take up a large share of the demand but I recognise that it's important that both technologies gain significant traction to ultimately decarbonise the world we live in.
"We've got the Paris Agreement of 2015, which is already five years old, and in order to meet some of those targets, we absolutely have to see multiple technologies coming together across many different industries for us to get anywhere near our target of limiting temperature increase to 2 °C, and that's important.
"So, from a broader societal, socioeconomic perspective, I'm supportive of both technologies and then also, at a micro level, I think any advances we see in battery electric vehicles and the battery packs specifically should help fuel cell electric vehicles gain some market traction," Eggers says.
EUROPEAN UNION
"In the midst of the international Covid-19 health crisis and clearly against a stark and slightly depressing backdrop, the shining lights are the countries like Germany, which have engaged in real leadership in saying that any recovery has to have a green element to it, and that is now becoming clear out of the European Union and their green deal, and I'm very excited to see that.
"In Germany, particularly in some of the old coal-mining areas, there's a lot of investment capital they will dole in to help them to transition and they are very much thoughtful about not leaving some regions of their economy behind. So, there's extra added incentive for them to adopt the broad policies. But with Germany's leadership, Japan, South Korea, California are always at the forefront of reducing emissions, I feel really optimistic and I think that on the back of Covid, we've got a sense of a new normal. Perhaps there's going to be lower demand in air travel, people are getting more accustomed to doing due diligence, interviews, also these things, over virtual mediums, and that may also benefit the planet.
"So, I'm really excited by what I see. I think increasingly with the lead of some countries what we'll see is that it will become more and more self-evident for the fast followers to adopt similar policies and once we achieve a meaningful amount of scale, I'm very confident that we'll be able to reach some of our decarbonisation goals.
"Furthermore, you just have to look at some of the large oil companies. I think they've really been shaken in the last 12 months, both with low oil prices but also with the attention that's been put on them to decarbonise, not only their own operations, but ultimately the product that they sell to the end customer, and it's no longer acceptable just to sell a high carbon intensity fuel. So, we've been in conversations with a number of the large oil and gas companies and I'm very excited to see that they are taking this very seriously and then also you can see in the media earlier this month, BP announced a significant write-down of their assets, Shell announced a similar write-down in the value of their assets. Some of that's driven by the low oil price. But some of that is driven by a recognition that the high carbon-intensity economy is a thing of the past and I remain very hopeful that we'll have clear skies for longer," Eggers concludes.
Clean hydrogen is enjoying unprecedented political and business momentum, with the number of policies and projects around the world expanding rapidly, says the International Energy Agency, which adds that now is the time for potential green hydrogen providers to scale up technologies and bring down costs to allow hydrogen to become more widely used.
Japan's required price level of ¥30/m3 of hydrogen translates into about $3/kg, which can be achieved by South Africa, and now Europe is also showing interest.
The Deutsche Gesellschaft für Internationale Zusammenarbeit GmbH, or GIZ, is planning a project involving South Africa, Morocco and Argentina on the possibility of developing renewable energy generated decarbonised fuel – Power-to-X – for export to Europe as well as for the developing of a local economy.
The Port of Rotterdam, as an energy hub and gateway port for Europe, is looking to its first hydrogen import terminals and corridors being ready for demand in 2023 to 2026 and further.
On the website of the Port of Rotterdam Authority, CEO Allard Castelein describes hydrogen as the energy of the twenty-first century: "With hydrogen, we ensure that the Port of Rotterdam remains an important pillar of the Dutch economy."
Following Dutch Shell announcing plans to take a green hydrogen plant into operation as early as 2023, the hydrogen economy is quickly gathering momentum. This plant will be constructed at Maasvlakte 2, a major civil engineering project in the Netherlands.
From there, the produced hydrogen will be transported through a pipeline to Shell's refinery in Pernis, a Rotterdam submunicipality. Natural gas infrastructure and transportation company operating in the Netherlands and Germany Gasunie and the Port of Rotterdam Authority intend to construct the new pipeline in a joint venture.
Ten solar and wind industry leaders and associations have launched the 'Choose Renewable Hydrogen' programme, a joint initiative highlighting the crucial role of renewables to ensure a sound economic recovery post-Covid.
The programme is aligned to the European Green Deal and signatories called on the European Commission to make the right choices for Europe's upcoming energy system integration and hydrogen strategy, harvesting the full potential of renewable electricity to fully decarbonise Europe's power system.
The initiative urges that, amidst the Covid health crisis and its economic implications, Europe prioritises the most efficient, sustainable, and cost-effective pathways to decarbonise its economy.
Hydrogen, IEA adds, is light, storable, energy-dense, and produces no direct emissions or pollutants. But for hydrogen to make a significant contribution to clean energy transitions, it needs to be adopted in sectors where it is almost completely absent, such as transport, buildings and power generation.
Hydrogen South Africa (HySA) Infrastructure, led by Dr Dmitri Bessarabov, comprises teams at North West University and the Council for Scientific and Industrial Research.
HySA's two other hubs are HySA Systems, at the University of the Western Cape, and HySA Catalysis, which is shared between the University of Cape Town and the State-owned minerals research organisation Mintek, based in Randburg.
The HySA programme falls under the Department of Science and Innovation, which provides funding and direction. The specific mandate of HySA Infrastructure centres on hydrogen generation, storage, transport and codes and standards.
The successful study to determine the costs to transport hydrogen by land and sea, including shipping to Japan, was carried out under the auspices of HySA Infrastructure.
Bessarabov has stated that technologies under consideration for the transportation of the hydrogen include the possible use of hydrogen carriers such as methanol, ammonia, other types of liquid organic hydrogen carrier technology, known as LOHC technology, or even cryogenically liquefied hydrogen.
UPCOMING HYDROGEN, FUEL CELLS & THE GREEN ECONOMY FEATURE
Companies wanting to advertise in Engineering News & Mining Weekly's upcoming Hydrogen, Fuel Cells & The Green Economy feature should contact Creamer Media COO Sales and Marketing Reinette Classen at reinette@engineeringnews.co.za, or at +27 11 622 3744, or at +27 76508 2016, or at +27 11 425 2004.