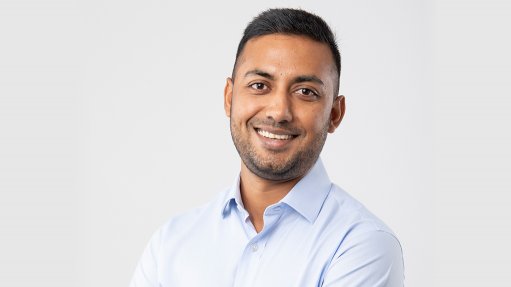 Impala Platinum executive new commodities Seten Naidoo.
JOHANNESBURG (miningweekly.com) – As a platinum group metals (PGMs) producer, Impala Platinum is excited about the opportunity of hydrogen as a potential new demand source, says Impala Platinum executive: new commodities Seten Naidoo.
"The exciting component for us is actually the green hydrogen," says Naidoo, who was speaking as a panel member at this week's Hydrogen Economy Discussion.
"We're looking at around 2.5-million ounces of PGMs by 2040 and breaking that down, you can allocate about one million ounces to fuel cells, 500 000 oz to 700 000 oz to electrolysers and another 700 000 oz to a million ounces that could potentially find its way into the storage market," is Naidoo's estimate of the ounce demand that green hydrogen is poised to generate.
Implats is committed to a five-year, R50-billion capital investment programme to extend life-of-mine development at several of its operations, increase beneficiation capacity, strengthen energy security and ensure the group meets its decarbonisation targets.
"It's a bit of a chicken-and-egg scenario. If we want the hydrogen economy to become a new PGMs demand source and grow, we can't make the industry nervous about supply.
"So, Impala Platinum as well as our peers, are all on the path of not cutting back production. We're wanting to keep it at the same level or in time increase it in certain metals," says Naidoo.
"There is significant potential for PGMs as a result of green hydrogen gaining momentum as a key element in the successful energy transition," says Deloitte senior manager energy Jandre Bezuidenhout, who served as chair of the panel that included Isondo Precious Metals CEO Vinay Somera, Mitsubishi Corporation business development head Dr Jonathan Butler, and Hystar sales and applications engineering head Tina Andersen.
London-based Butler, who specialises in the sales and marketing of PGMs, is closely involved with Mitsubishi's new hydrogen industry thrust.
"The first thing to remember, when we talk about PGMs and the hydrogen economy, is that we're not just talking about fuel cells and electrolysis, but we're talking about PGMs touching pretty much the entire hydrogen value chain, that is from upstream electrolysis to hydrogen, distribution and storage, and to electrical downstream use.
"On the upstream side, proton exchange membrane (PEM) electrolysis is a big user of platinum and iridium, but also alkaline technology which utilises ruthenium. There's seawater electrolysis, which uses platinum and iridium.
"Then there's liquid organic hydrogen carriers and then to extract the hydrogen at the other end. Then we get to fuel cells and that is where the volume is right now, but there is also hydrogen peroxide and utilizing the building blocks of the entire chemical value chain using PGMs, whether that be from electrolysis.
"Suppliers of PGMs need to give those in the market confidence that PGM prices are not going to fly away from them," says Butler.
Somera, as the founder and CEO of Isondo, a South African PGMs technology company focused on producing membrane electrode assemblies and PGM catalysts for fuel cells and electrolysers, as well as the recycling of these parts back into their core PGM constituents, reports that his company is also working to deploy three hydrogen refueling stations for hydrogen fuel cell buses and trucks, based on access to seven tons of hydrogen a day in the Johannesburg area.
Isondo has a state-of-the-art facility being developed at OR Tambo Special Economic Zone and has positioned itself to be at the same level of technological expertise as the world's best.
"Our facility will be similar in size to what they're doing in China and at the same level of quality as well. It is designed holistically around the processes utilising the latest development in the field so we can be the most modern in the natural skills sense," Somera reveals.
"Great things are coming. I've got 100% confidence in that," says Bezuidenhout.
Andersen is part of an organisation that ultimately aims to develop the world's most efficient PEM electrolysers, which are key enablers to ensure the production of green hydrogen from renewable electricity is not only affordable but also accessible.
She works closely with end customers as well as with the project development team to make resilient and high-performing PEM electrolysers and foresees PEM electrolysers as having large future markets of at least 150 GW.
On opportunities for green hydrogen at mine sites, Naidoo says it is not at the commercial stage to replace the very energy-intensive downstream processing facilities at this point, but niche potential has given Impala leeway to test a 5 kW fuel cell and to learn from that for future deployment in the potentially unstable electricity grid environment.
There is consensus that demand for hydrogen will increase going forward.
On sufficient PGMs being mined to sustain this growth of green hydrogen globally, the spotlight is falling on iridium, and the supply risk it is posing to the growth of PEM electrolysers.
Iridium is the problem and to put that into perspective, electrolyser growth by 2030 is expected to be more than 120 GW, with some estimates at 300 MW of electrolyser capacity installed.
Thrifting and substitution of iridium is going to have to step up to satisfy the demand.
PGMs have a clear hierarchy of corrosion resistance, with iridium first, ruthenium second and platinum and palladium next.
As such, ruthenium becomes an ideal substitute with work needed to allow ruthenium to play a role with iridium on the anode side. Work is also being done to alloy iridium and ruthenium to other metals, including platinum and palladium.
"That will happen and that will solve that demand problem," Somera predicts.
Meanwhile, PGMs mining company Sibanye-Stillwater and precious metals refiner Heraeus Precious Metals have agreed to collaborate on the research and development of novel electrolyser catalysts containing PGMs.
These electrocatalysts will be high activity and possess the necessary stability for PEM electrolysers used to produce green hydrogen.
Nevertheless, iridium recycling remains pivotal and recycling strategies are being redefined, Mining Weekly can report.