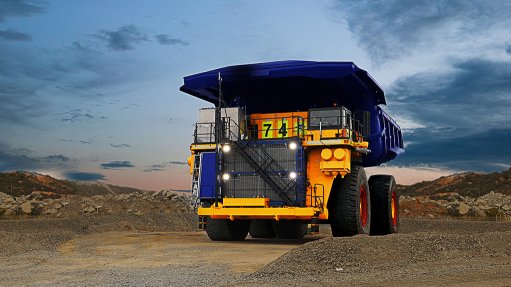 Anglo American's 290 t hydrogen-powered haul truck
The World Platinum Investment Council (WPIC) says platinum group metals (PGMs) are enabling many sectors globally to achieve net-zero carbon emissions goals through their use in hydrogen energy and low-emissions technology, and especially through green hydrogen production.
Hydrogen fuel – made from methane or by electrolysis of water – can be used in hydrogen fuel cells to produce electricity, which is, in turn, used to power drive systems in vehicles, offering an alternative to internal combustion engine (ICE) vehicles.
However, unlike ICEs, fuel cells produce no emissions other than water vapour, making them environment friendly.
Further, because hydrogen is available as a fuel that is similar to store as petrol or diesel, as well as being able to be pumped quickly, means it can easily replace ICE fuels and applications.
This also means it suits some regions of the world better than battery electric vehicles, which are burdened by low range and long charging times.
South Africa, in particular, has vast distances between major cities and few charging points, making electric vehicles challenging to introduce in this market.
GREEN HYDROGEN
Green hydrogen is produced using electrolysers powered by renewable energy, such as solar photovoltaic or wind power.
Other forms of hydrogen production include blue hydrogen – made using natural gas in a steam reforming process whereby any carbon generated is captured and stored; grey hydrogen – where natural gas or methane is used and emissions are released into the environment; and black or brown hydrogen – where coal is burned as part of the electrolysation process.
The WPIC posits that the UK's recent Net Zero Week, held from July 1 to 7, provides an opportunity to consider how platinum is enabling different industries to achieve net-zero goals. The week is dedicated to raising awareness about carbon net-zero goals and ambitions, as well as endeavours made to reach it.
Net zero means any remaining emissions from emitting processes would be offset by schemes to remove an equivalent amount of greenhouse gases.
Net zero differs from carbon neutrality as this can be achieved by simply offsetting the carbon emissions of a business or home; whereas net zero, in spirit, means reducing emissions to their lowest amount through energy efficiency measures and then using offsetting as a last resort to balance remaining hard-to-remove emissions.
In helping industry reduce its emissions, hydrogen fuel cells that use PGMs in their technology are helping heavy-duty truck fleets decarbonise their operations and impact on the environment, the WPIC says.
Also in the logistics value chain are a growing number of fuel cell electric forklifts, which are replacing diesel or gas forklifts in distribution centres.
Further, for everyday commuting use, hydrogen-powered passenger vehicles offer a range and refuelling method similar to ICE vehicles – a particular benefit to consumers wanting a like-for-like replacement of their ICE vehicle.
The WPIC also explains that the mining industry, another traditionally intensive carbon emitter, is turning to hydrogen-powered vehicles in an effort to reduce this industry's impact on global warming.
In this regard, diversified miner Anglo American, in May, launched a prototype 290 t haul truck at its Mokgalakwena PGMs mine in South Africa. This truck's fuel cell is capable of producing 2 MW of electricity, which it uses to drive electric motors. The new haul truck generates more power than its diesel predecessor.
Anglo's hydrogen endeavours are part of its nuGen Zero Emission Haulage Solution, providing a fully integrated green hydrogen system, including production, fuelling and haulage, with green hydrogen to be produced at the mine site.
Anglo CE Duncan Wanblad says diesel emissions from the miner's haul truck fleet account for between 10% to 15% of the group's total Scope 1 emissions, and that the hydrogen-powered haul truck is an important step on the company's pathway to carbon neutral operations by 2040.
"The mining industry is playing a considerable role in helping the world decarbonise, both through our own emissions footprint and the metals and minerals that we produce that are critical to low carbon energy and transport systems," he says.
In ramping up hydrogen fuel availability and production, the WPIC says ports are currently investing in platinum-based green hydrogen production capacity in an effort to centralise such infrastructure and the logistics thereof.
Further, the WPIC also says green hydrogen is being used to produce sustainable aviation fuel, thereby helping reduce emissions in the industry which is known to be an intensive emitter through its burning of carbon-heavy fuels, mostly similar to paraffin.