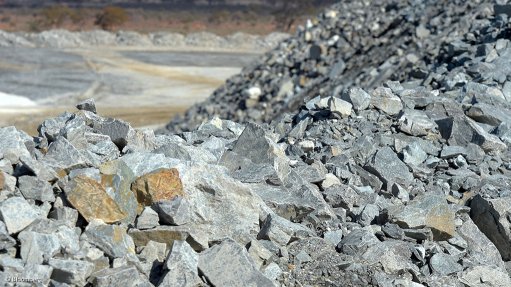 Photo by: Bloomberg
PERTH (miningweekly.com) – The board of lithium miner Pilbara Minerals has approved a staged restart of the Ngungaju operations, in Western Australia, at a cost of A$39-million.
The Ngungaju project formed part of the now defunct Altura Mining's lithium assets in the region, which Pilbara acquired through a $175-million acquisition earlier this year.
Pilbara on Friday told shareholders that the Ngungaju operation is set for a staged restart during the December quarter, targeting full production capacity of between 180 000 t/y and 200 000 t/y by the middle of 2022.
Once fully ramped up, the aggregate production combined with Pilbara's own Pilgangoora project is targeted at between 560 000 t/y and 580 000 t/y.
"The well-timed acquisition of the Altura lithium operations provides Pilbara Minerals with available spodumene concentrate at the same time the market is expected to grow rapidly to deal with the mass global adoption of lithium-ion battery technology for use in clean energy applications," said Pilbara MD and CEO Ken Brinsden.
"While production costs will likely be slightly elevated during 2022, we remain confident in both Pilgangoora's pre-eminent position as an important global lithium raw materials supply base and the trend towards lower cost in the coming years as the Ngungaju plant restart, normalizes, and production settles at a higher rate."
Brinsden said that Pilbara is likely to fund the A$39-million restart of the Ngungaju project from existing cash, although consideration would be given to funding support through a potential restructure of existing syndicated debt facilities, provided favourable terms and conditions could be achieved.
The company told shareholders that the capital development expenditure would be largely focused on the Ngungaju plant modifications to support the adoption of the Pilbara Pilgan plant flotation regime.
Meanwhile, Pibara told shareholders on Friday that it is expecting record spodumene concentrate shipments for the June quarter of around 96 000 t, supported by strong quarterly production and the stock positions established at the end of the March quarter.
Sales are expected to reach some 109 000 t, as a result of the tonnes loaded onto vessels late in the March quarter, departing in early April.
Cash operating costs for the combined Pilgangoora operation for the 2022 financial year will range between A$525/t and A$575/t, and beyond 2022 costs were expected to lower with the realization of expected synergies and improved economics of scale from the combined operations following the ramp-up of the Ngungaju operation, as well as strip ratios and freight costs returning to more normal levels.