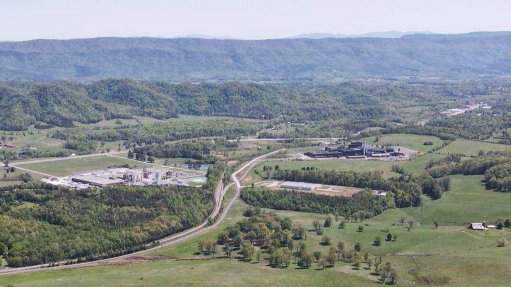 The Etowah Industrial Park where Piedmont Lithium's Tennessee plant will be located.
PERTH (miningweekly.com) – Dual listed lithium developer Piedmont Lithium is open to joint venture (JV) at its Tennessee lithium project, in the US.
Speaking to Mining Weekly Online, executive VP and COO Patrick Brindle said following on from the positive definitive feasibility study (DFS) for the Tennessee project, Piedmont's focus was on securing project financing.
Tennessee will be partly funded from cashflows generated by Piedmont's North American Lithium (NAL) JV with fellow listed Sayona Mining, as well as a $141.7-million grant from the US Department of Energy, Brindle said.
"Our other sources of financing will be, we are likely to run some type of partnering process for the project with a select number of parties who have access to American manufactured supply, giving them eligibility under the Inflation Reduction Act, which would be advantageous.
"And whether that takes the form of loans in the form of prepayment for future product or investment either at the parent level or at the project level. We are very flexible in that regard.
"We are also having early conversations with project finance organisations," Brindle said.
He told Mining Weekly Online that the level at which Piedmont would be willing to partner at Tennessee would be dependent on the appetite from investors.
"I think those conversations can be very, very dynamic. We're not fixed into any one particular model. There's quite a basket of models, each of which could be successful," he said.
The DFS estimated that Tennessee would require a capital investment of $809-million, based on the production of 30 000 t/y of lithium hydroxide over an operating life of 30 years, with the study estimating an after-tax net present value of $2.4-billion and an after-tax internal rate of return of 32%.
The DFS assumes that Tennessee Lithium will operate from approximately 196 000 t/y of 6% Li2O spodumene concentrate purchased at market rates from third parties. To support Tennessee lithium operations, Piedmont's strategy is to work with JV partner Atlantic Lithium to develop the Ewoyaa lithium project in Ghana, where Piedmont holds offtake rights to 50% of spodumene concentrate production on a life-of-mine basis.
Atlantic Lithium submitted an application for a mining licence to the Minerals Commission of Ghana for Ewoyaa in 2022 and expects to complete a DFS in 2023 for the project.
In addition, spodumene concentrate may be purchased from Sayona Quebec, where Piedmont holds offtake rights for the greater of 113 000 t/y or 50% of spodumene concentrate production on a life-of-mine basis from NAL and the Authier lithium project.
NAL restarted spodumene concentrate production in the first quarter of this year and is expected to begin commercial shipments as early as July 2023.
Brindle said on Thursday that Piedmont is hoping to break ground at Tennessee in 2024, and to produce its first hydroxide crystals by the second half of 2026.