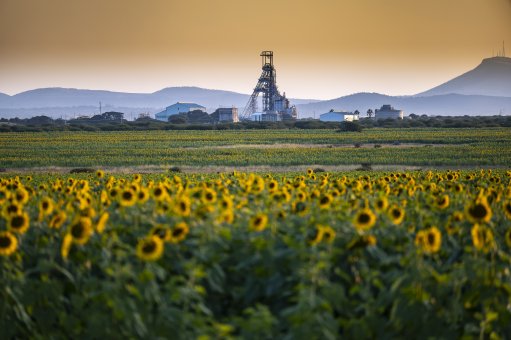 FACING FORWARD Implats has invested a substantial amount of its capital investment programme to its energy security and decarbonisation projects
As part of its greater five-year, R50-billion capital investment programme to extend life-of-mine (LoM) development at several of its operations, platinum group metals (PGMs) miner Impala Platinum (Implats) has allocated R4.3-billion to its energy security and decarbonisation projects in South Africa and Zimbabwe.
The energy security and decarbonisation projects will ensure that every operation has renewable energy in the mix to meet the group's decarbonisation targets and strengthen energy security.
Impala Canada is already 95% powered by renewable hydropower – with the remaining 5% being natural gas – and Zimplats' energy mix ratio is 50:50 thermal coal power to renewable hydropower.
Several studies are under way, with 33 MW of solar photovoltaic (PV) generation at feasibility stage at the Marula mine, in Limpopo, and prefeasibility studies being completed at Impala Rustenburg, in the North West, and Impala Refineries, in Gauteng.
These studies are conducted in parallel to Implats' programme to buy electricity from independent power producers.
"Our aim is to establish additional renewable-energy capacity of about 300 MW, with the possibility for additional capacity, by 2030," says Implats CEO Nico Muller.
Zimplats has since obtained a 185 MW power generation licence, with the first phase of a PV project – which will generate 35 MW at a cost of R633-million – in progress and completion expected by the second quarter of 2024.
"This is the first large-scale project towards meeting the group's short-term 2030 decarbonisation target of a 30% reduction against the 2019 baseline," says Muller, adding that it fully supports Implats' stated ambition of achieving carbon neutrality by 2050.
Growing Gains
Implats has sought to strengthen its competitive asset portfolio through increased operational exposure to shallow, mechanisable orebodies and the continued development of its integrated processing facilities.
The group has allocated about R9-billion for investment across managed and joint venture South African mining operations over the next few years to extend LoM at producing mines, secure meaningful employment and entrench South Africa's status as a stable and sustainable global PGMs producer.
For example, the concentrator plant at Marula's Phase 2 expansion project will allow for incremental production growth and help deliver a 17-year LoM extension, with an increase of about 20% in milling capacity to 2.4-million tons a year.
Capital expenditure is planned over six years, with first production scheduled for 2023.
Additionally, in partnership with diversified miner African Rainbow Minerals, Implats has committed R5.7-billion over the next five years to construct a new Merensky mine at the Two Rivers operation, in Limpopo.
The Merensky project, approved last year, has first-concentrate production scheduled for 2024 and full production planned for 2025. It will expand group production by about 180 000 PGM ounces.
Additionally, the expansion of the tailings storage facility, which caters to the UG2 expansion and Merensky project, is nearing completion.
A total of R3.9-billion over five years has been allocated to improving the South African processing facilities at Impala Refineries expansion projects.
The nature and quantum of ore feeds continue to evolve over time and ounce production is set to increase, in line with Implats' growth and beneficiation strategy.
As such, the group is building a new precious metals facility, including three new processing sections and required utilities and ancillary areas.
Feasibility studies on further capacity expansions at the South African base and precious metals refineries are also well advanced.
Going Global
Muller points out that Implats' international operations will also benefit from its capital investment programme.
"The R1.5-billion North Hill project, at the Mimosa mine, in Zimbabwe, will extend Mimosa's LoM a further ten years to 2044," he says.
The project will increase LoM at the current production platform and sustain 227000 t a month into the existing processing plant.
In November 2021, the board approved the expansion of existing smelter capacity at Zimplats and the installation of sulphur dioxide abatement to mitigate its air quality impacts at a total capital vote of R8.8-billion.
This expansion will accommodate an additional 600 000 oz/y, the matte from which will be transported to existing South African processing facilities for further refining.
The R7.9-billion mine replacement projects progressed well and remain ahead of schedule.
The construction of an initial 900 000 t/y module at the third concentrator plant is on schedule, with plant commissioning on track for the second quarter of 2023.
In addition, studies are under way to recommission base metals extraction in Zimbabwe.