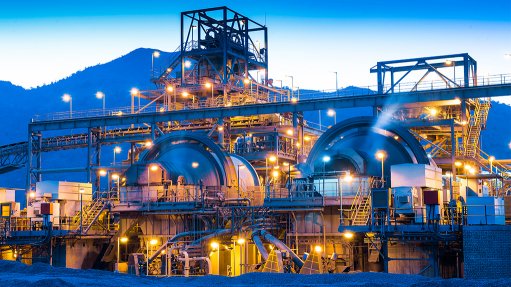 PUSHING AHEAD While progress on the 40 000 t/m upper group 2 plant expansion at Two Rivers was impeded by Covid-19 and delays in steel deliveries, the tailings storage facility expansion is nearing completion
Photo by: Impala Platinum
Platinum-group metals (PGMs) producer Impala Platinum (Implats) has committed about R12-billion over five years to expand its Southern African processing facilities.
The company notes that the investment in its South African and Zimbabwean smelting and refining facilities will benefit the region's production, reduce the group's environmental footprint and bolster local beneficiation.
The company will invest an initial R8.2-billion in expanding its existing Zimbabwean smelting capacity and constructing a sulphur dioxide abatement plant to mitigate air quality impacts. The smelter has access to hydropower. The addition of a 35 MW solar plant, which will be expanded to 185 MW in a phased approach, will result in an "industry-leading" environmental footprint for the Zimbabwean smelting facilities.
The expansion will accommodate an additional 600 000 oz/y which, post-smelting, will be transported to Implats' South African processing facilities for further refining.
Implats states that the remaining R4.4-billion will benefit South Africa by opening up additional smelting capacity at Implats' South African facilities to accommodate new production growth opportunities. The extra smelting capacity would service new Implats projects and provide additional treatment capacity for third-party customer requirements.
The improvement of its South African processing facilities has already begun. Implats notes that its board has approved roughly R500-million to expand treatment capacity by 10% at its refining facilities in Springs.
Life-of-Mine Extensions
In addition to its expansion investments, Implats confirms that it will invest more than R8-billion across its South African mining operations. This investment will extend the life-of-mine (LoM) at existing mines and "secure meaningful employment, entrenching South Africa's status as a stable and sustainable global PGMs producer and supporting enduring benefits for all Implats' stakeholders".
The miner notes that, together with diversified miner African Rainbow Minerals, Implats has committed R5.7-billion to construct a new Merensky Project at the Two Rivers platinum mine. The miner has a 46% stake in Two Rivers, but the 180 000 oz produced will be treated at Implats' smelting and refining facilities.
An investment of R5.1-billion at Implats' Marula mine will increase the operation's LoM by about 17 years and expand capacity by around 40 000 oz/y.
These two projects will increase local beneficiation by about 220 000 oz/y from 2028 onwards.
Further, in light of several other LoM extension projects at the Impala Rustenburg operation, the miner is confident that it will sustain and grow its total refined supply of PGMs over the next decade.
Not Quiet on the Western Limb
Implats suggests that its proposed acquisition of midtier PGMs producer Royal Bafokeng Platinum will provide "compelling" benefits for South Africa. "It will secure a Western Limb production base to enhance and entrench the region's position as the most significant source of global primary PGMs production while delivering tangible socioeconomic benefits for the region, its communities and South Africa."
Implats adds that this base would also create sustainable employment in the North West province and a meaningful extension to the expected LoM of both Impala Rustenburg and the acquired contiguous assets of Boschkoppie and Styldrift.
The miner reports that the board has approved LoM extension projects at Impala Rustenburg's shafts 11 and 12 and that studies at shafts 1, 14 and 20 have progressed.
Southern African Project Updates
The R5.1-billion Phase II project at the Limpopo-based Marula operation should deliver a 17-year LoM extension. The project will result in a milling capacity increase of 20% to 2.4-million tonnes a year. Capital expenditure is over six years, with first production scheduled for financial year 2023 (FY23).
Implats advises that progress on the 40 000-t-a-month Upper Group 2 (UG2) plant expansion at Two Rivers was impeded by Covid-19 and delays in steel deliveries. The mill was commissioned early in the third quarter (Q3) of FY22 and in early Q4 FY22. The tailings storage facility expansion, which will cater for both UG2 and future Merensky volumes, is nearing completion.
Further, Implats notes that the board approved the R496-million de-bottlenecking of the Springs Base Metal Refinery (BMR). A 27-month timeline is expected.
"Studies to expand the capacity of both the BMR and the Precious Metal Refinery are well advanced and will be presented to the board for approval during 2022."
Meanwhile, in Zimbabwe, project development at Zimplats is focused on optimising its processing capacity and infrastructure to deliver a step-change in the mine's carbon footprint and environmental performance. "This will position Zimplats as a low-carbon producer of PGMs, entrenching its position as a premier low-cost, capital-efficient, shallow, and mechanised asset," Implats states.
The $468-million mine replacement projects, which are focused on upgrading the Bimha mine and developing the new Mupani mine, progressed well during the first half of FY22. Full production of the 3.1-million-tonne-a-year Bimha mine and the 3.6-million-tonne-a-year Mupani remain on schedule for Q1 FY24 and Q1 FY28 respectively.
Lastly, Implats notes that studies on the North Hill LoM extension project are complete. The North Hill project will extend Mimosa's LoM by about nine years. The feasibility study has been completed and Implats states that discussions on fiscal accommodations with the Zimbabwean government are progressing.
North Hill's plant optimisation project seeks to increase capacity and improve process recoveries. Owing to Covid-19-related delays, the project commissioning is scheduled for December 2022.
Implats comments that it is not attending the Investing in African Mining Indaba – to be held at the Cape Town International Convention Centre from May 9 to 12. This is because of the timing of the event, which clashes with its corporate calendar.
The event moved from its traditional February slot to May, with Indaba organisers Hyve Group explaining that this would provide the "highest chance of holding a physical, in-person event".