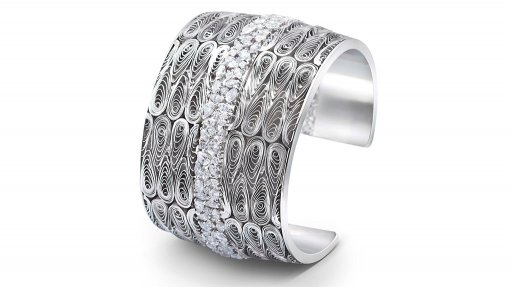 Market development organisation Platinum Guild International (PGI) has released its latest 'Platinum Jewellery Business Review' (PJBR), in which it highlighted platinum's prestigious image among jewellery retailers across the globe and their customers.
"Platinum's unique qualities continue to support consumer demand and further drive margins for the industry, particularly through branded collections that appeal to affluent customers," PGI said, adding that the performance of platinum and the emotional connections that it built with consumers made it a premium choice for differentiation within the fine jewellery industry.
"The PGI has been working with partners in integrating platinum into branding strategies . . . Increasingly, building brands and stories around branded collections are instrumental to increasing consumers' willingness to make a purchase. Increasingly retailers, manufacturers and designers are leveraging the unique qualities of platinum to drive their businesses," said PGI CEO Huw Daniel.
He believed that, through its unique properties and history, platinum was well placed to drive margin growth in the upper market segment, which was projected to grow faster than the total market.
In the PJBR, jewellery brands – from luxury houses to market-leading retail chains – recognised the differentiating qualities of platinum, such as its strength, its naturally white colour, and its representation of significant meanings and emotions as a central part of their offering and jewellery-making culture.
Additionally, iconic jewellery brands were aware of the metal's versatility, thereby lending itself to intricate and fine designs.
The prevalence of branding and the positive development of branded collections were reflected in platinum's key market performances in 2021, where they served as a valuable tactic for generating value and sustainable business development in the post-pandemic era, PGI said.