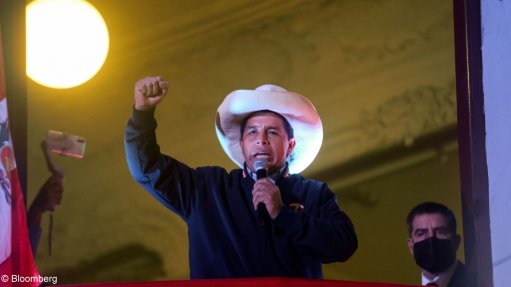 President Pedro Castillo
LIMA - Peru said on Wednesday that mines in the country were allowed to ask permission to extend operations amid a conflict that has shaken the sector over environmental concerns.
"Mining companies can request extensions and modifications to their permits to explore and exploit in strict adherence to current regulations," the government said in a tweet.
Shares of Hochschild Mining rose 6.469% on Wednesday, but remained lower than they were before the conflict began earlier this month.
The shares fell around 8% on Tuesday, after collapsing 27% a day earlier after the government indicated that it would not approve operational extensions for Hochschild's flagship Inmaculada silver mine.
Tuesday's share slide happened despite a crunch meeting late on Monday between the government and the powerful National Society of Mining, Energy and Oil, which both sides said had been "very productive".
Prime Minister Mirtha Vasquez sparked anger in the sector and triggered the Hochschild sell-off when she said on Friday that four mines, two owned by the company, would not be granted further operational extensions due to environmental concerns. The two other mines are owned by small, non-listed firms.
Leftist President Pedro Castillo is looking to shake up the Andean nation's huge mining sector after pledging to redistribute mineral profits more evenly and empower local indigenous groups and farming communities.