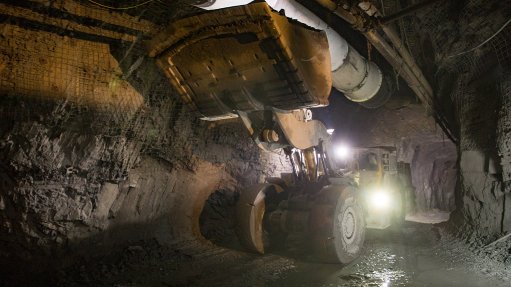 JACK OF ALL TRADES Ramjack Technology Solutions offers accountability and traceable guarantees with its systems
Advanced mining technology supplier Ramjack Technology Solutions suggests that implementing payload management systems at the mine face can optimise a mine's overall equipment effectiveness (OEE).
A notable strategy for improvement in underground mining is to retrofit all load-haul-dump units with payload monitoring sensors tracked in real-time using the purpose-built Newtrax platform, according to the company.
The Newtrax system makes use of boom position and hydraulic pressure information to measure payload and analyse the dump cycle pattern.
"The Newtrax system's technology can be retrofitted to any age, make and model of underground equipment and configured to provide reports on important key performance indicators, such as payload, carry back, cycle count and loaded versus empty state ratio," says Ramjack Technology Solutions CEO Mike Jackson.
As Ramjack Technology Solutions believes that payload management at source is a guaranteed way to improve the efficiency of a mine's equipment on surface or underground, the company is prepared to provide accountable guarantees to mines that are ready to implement one of Ramjack Technology Solutions' recommended solutions – by monitoring solutions provider MineWare on surface or by Newtrax underground – and that are willing to participate in a formal case study documenting the results.
As a concept used extensively in manufacturing environments as the universal standard for measuring manufacturing productivity, applying OEE to mining operations provides a useful, standardised way to measure the efficacy of equipment on a mine. "Ensuring your equipment is fitted with the right state-of-the-art technology to accurately measure performance is a decision any mine can make to help improve the industry's OEE performance," says Jackson.
An example of using technology to improve OEE is the implementation of real-time payload management at source, such as managing payload on digging units, instead of on haulage vehicles. Both on-surface and underground payload management at source has proven to be one of the most effective ways to improve efficiency and rapidly increase OEE for mines.
Jackson adds that there is significant room for improvement in the way equipment is monitored, managed and optimised in the mining environment – on surface and underground.
"With years of experience and implementation success at mines across the globe, Ramjack Technology Solutions guarantees that implementing Newtrax or MineWare payload solutions will improve operator performance, mine compliance, production, maintenance and safety," Jackson concludes.