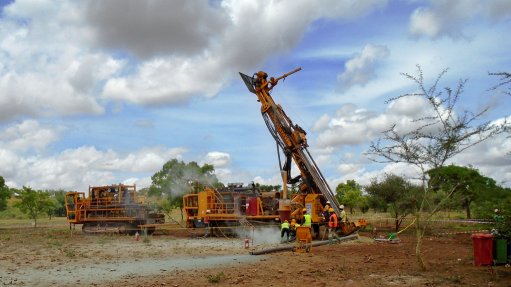 Exploration work underway at Panthera Resources' Bido (formerly Naton) gold project in Burkina Faso
UK-headquartered gold explorer and developer Panthera Resources reports that significant activity will soon start across its nine projects in West Africa, India and Germany, to help the junior miner gain more traction in the sector, says MD Mark Bolton.
The company has an interest in two projects in Mali (Bassala and Kalaka), two in Burkina Faso (Labola and Bido [formerly Naton]), two in Nigeria (Paimasa and Dagma), two in India (Bhukia and Taregaon) and the Anglo Saxony project in Germany.
Starting in the fourth quarter, Panthera expects its special purpose vehicle Moydow to commence drilling at the Paimasa and Dagma projects, while it also continues to review the resource estimates at Labola.
In the fourth quarter, Panthera is undertaking a quality assessment and quality control for its Joint Ore Reserves Committee (Jorc) deposit analysis and resource estimation of the Labola project, following which it will also conduct a metallurgical review and undertake more drilling on the project to further expand the resource estimate.
In terms of project financing and management, Panthera completed a transaction with Moydow – which resulted from a partnership with an experienced West African team.
"The Moydow team have a strong record in West Africa, operating there since 1985. They have made a number of gold discoveries and also have other operations, particularly in the drilling sector in West Africa," Bolton says.
The Moydow partnership is important because Panthera can only manage "so many projects on our own", he notes, adding that the relationship with Moydow enables Panthera to essentially partition the business into silos, with Moydow financing and operating four of Panthera's projects.
"This enables us to focus on two [projects] in West Africa and two in India."
WEST AFRICA FOCUS
Although the Bhukia project, in India, is Panthera's flagship project – with a resource estimate of 6.7-million ounces of gold and 159 000 t of copper – the company's focus and volume of activity will also now be focused on its West African projects.
In particular, the Labola project will be the company's main focus as this is an advanced project with 65 000 m of drilling having been undertaken to date.
"We have already processed all of the drilling results, resulting in us reporting a Jorc exploration target of a 500 000-oz to 1.5-million-ounce deposit based on these drill results," he says, adding that, as such, Panthera is due to announce a "substantial" resource in the coming months.
"While we have early-stage projects, we also have advanced projects which will increase our portfolio's combined resource volume quite quickly, most notably from the Labola project," says Bolton.
He explains that, historically, Panthera had focused on the development of Bhukia and, as a result, its West African projects had been left in the shadows "which has resulted in us not seeing the uplift and market recognition for our full portfolio despite the significant increase in gold price and gold sector valuation".
However, following licensing renewal issues for the Bhukia project, he says it is Panthera's goal to close the sentiment gap and show fundamental value accretion through the quality of its other assets.
"We are very optimistic that through a carefully orchestrated work programme and marketing efforts, the company will be well recognised in the investment community very quickly."
Panthera's eight-project gold portfolio is divided into four silos, Bolton says, pointing out that Kalaka is a large gold system in Mali. "This project has a lot of potential, but there is still a long way to go in terms of determining whether it has gold mine potential."
He says the Paimasa and Dagma projects are situated in a "frontier region that we think, strategically, will be the place to be in the next decade. From our perspective, no one is talking about Nigeria at this stage but they will be as we go forward."
Panthera will also focus some of its efforts on the Bassala project in the next three to six months. "This is a known discovery and is within 5 km of the profitable Kodieran gold mine and 8 km from Endeavour Mining's Kalana mine," states Bolton.
Meanwhile, the Bido project is an "important milestone" for Panthera.
Bolton notes that this is because the company has announced some "amazing" drill results on October 6.
"From the second quarter of 2021, there will be a lot more news about Bido as we get into the field and record more results."