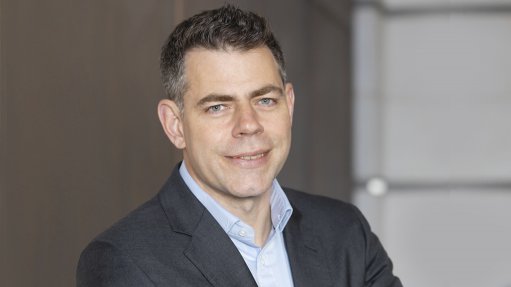 Pan African Resources CEO Cobus Loots
JOHANNESBURG (miningweekly.com) – Midtier South African gold mining company Pan African is building two schools for its communities, has handed over a clinic in Barberton, is planning to embed 35 MW of renewable energy, is constructing a water retreatment plant that will pretty much eliminate the use of potable water at Evander, and has a large-scale blueberry project in Barberton that will create 400 seasonable jobs a year now and many more as it is expanded.
All these activities point to the London- and Johannesburg-listed company answering the environmental social and governance (ESG) call with considerable intensity.
"ESG is critically important for us in our business," Pan African CEO Cobus Loots highlighted in a Zoom interview with Mining Weekly. (Also watch attached Creamer Media video.)
The company has had an outstanding 2021 financial year (FY21) to June 30; profit rose 68% to a record of close to $75-million and a record dividend declaration has been recommended.
Pan African's record performance has again been underpinned by a feet-on-the-ground approach of consistently under-stating and then over-delivering on the production front.
First it guided FY21 gold production at 190 000 oz; it upped that to 195 000 oz – ­and then crossed the finish line with 6 777 more gold ounces than forecast at 201 777 oz.
By year end, Pan African will be generating its own 10 MW of solar power at Elikhulu tailings retreatment operation at Evander, which will take this already low-cost operation even further down the cost curve.
Mining Weekly: Several independent analysts have been waxing lyrical about Pan African and talking about your stock potentially not just doubling in value but more than doubling in value. What are the hard facts and figures that are giving rise to these far-reaching share price projections by normally difficult-to-please analysts?
Loots: What certainly has assisted us in recent years is Elikhulu. The contribution of that plant helps us to also reduce our all-in sustaining cost of production. Our guidance for the year ahead is a minimum of 195 000 oz – so very similar to what we did in FY21. That means that assuming the gold price remains cooperative, we will again have a great year from a financial perspective. Also important is the contribution from Evander 8 Shaft operation, specifically the pillar. In the first half of the financial year, we had some difficulties but in the second half the team really redeemed themselves and we're looking forward to a great contribution from that pillar operation, also in the upcoming financial year.
What has Pan African got in store on the near-term growth front?
The good thing is that our circa 200 000 oz of production is very stable and shareholders can pretty much bank on that level of production. Then internally, we have some very attractive growth. With the pillar project we're doing about 35 000 oz to 40 000 oz a year. We managed to extend the life of that project to five years by including 24 level. And then, we're going to do 25/26 level or the Egoli project at Evander. That's internal growth that can take production from an underground complex at Evander from say 35 000 oz/40 000 oz to pretty much double that. I think that's quite attractive. Then at Barberton, we're developing into the Royal Sheba orebody – lower grade for Barberton but mechanised and low cost. That's going to be a substitute for the BTRP at Barberton but I also see some upside as far as that project is concerned. That's internally what we have in store. Then, as we've again flagged to the market, we're busy with a definitive feasibility on the Mintails project, another potential tailings operation. The results of the prefeasibility study were very encouraging. In the next months, we would hope to complete that definitive study and make a call on proceeding. If we do proceed, that's another 50 000 oz of production, very similar to what we're doing at Elikhulu.
What more can be expected from Pan African on the lower-cost and related renewable energy fronts?
On lower cost, our guidance for the year ahead is an all-in sustaining cost of production below $1 200/oz. I think there's some room to actually improve on that. In the global context, that's fairly ballpark. Eighty per cent of our portfolio produces at about $1 150/oz, which is very attractive on the cost side. Then on cost reductions, sustainability and renewables, we're in the process of commissioning our first 10 MW solar plant at Elikhulu. That will be done before the end of this calendar year in terms of construction and then hopefully tied to the grid very soon thereafter. Those 10 MW are going to reduce the cost of production for Elikhulu even further. The planning for Pan African is to expand that solar footprint quite materially in the next years. Were busy completing a bankable study at Barberton for 10 MW and also a study to potentially extend the Evander plant by some 15 MW. Effectively 10 MW will be done in the next six months or so and then there is the prospect of doing another 25 MW. That will take us to 35 MW of renewable energy in the group.
How much more surface mining potential does Pan African see within South Africa?
Most of the large resources are spoken for and that's why Mintails to us is potentially an attractive option. It's a game we know well. We're very comfortable with that leg of our operation. About 800 000 t is the specified plant capacity. Grades are a little bit higher than what we've seen at Elikhulu in terms of the test work we're doing, so that's 50 000 oz for a minimum of 11 to 12 years, which is attractive in our book. But unfortunately, these sort of opportunities are few and far between.
When will you have news on whether Pan African will be proceeding with the Mintails transaction?
We'll be able to confirm that hopefully before the end of this calendar year and if not, then quite early in the New Year. The good thing with these sort of projects is that once we've made the call, you can have them up and running in about 24 months.
What opportunities are there outside of South Africa?
We're certainly focussing on our own portfolio and we have a massive resource base already. More than 30-millon ounces in resource. For us it's not so much finding new ounces, but rather accessing resources that we know are available and then similarly at Barberton with Royal Sheba, which is a massive orebody that we think has a lot of potential.