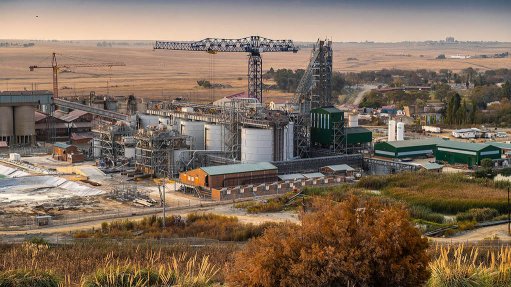 Pan African's Elikhulu tailings retreatment project
Aim- and JSE-listed Pan African Resources says its acquisition of Mogale Gold and Mintails South Africa Soweto Cluster, near Krugersdorp, in Gauteng, has been finalised for R50-million, or $2.8-million.
The assets were previously owned by Mintails Mining South Africa, which was placed in provisional liquidation in 2018. Pan African in November 2020 started the process of buying Mintails.
Pan African completed a definitive feasibility study on the Mogale Gold tailings storage facilities on June 30 this year, demonstrating compelling economics over a 13-year mine life and the potential to have Pan African increase its yearly gold production by 25%.
The company currently produces about 200 000 oz/y of gold from its flagship Elikhulu tailings retreatment project, the Evander Mines' 8 Shaft Pillar operation, and the Barberton Mines and Barberton Tailings Retreatment Plant projects, in South Africa's Mpumalanga province.
The Soweto Cluster resource is expected to add eight years of mine life to Pan African's portfolio once the company starts developing this portion of the Mintails assets.
The company has agreed a term sheet with FirstRand Bank, acting through its Rand Merchant Bank division, for $80-million of senior debt, which will form part of the project's funding for construction.
The construction capital expenditure is estimated at R2.5-billion, or $161-million.
Pan African is evaluating a number of additional funding options for the balance of Mogale Gold's capital budget requirement.
Having already started with detailed engineering optimisation studies and impacts assessments, the group envisions starting construction next year and commissioning the project between July and December 2024.