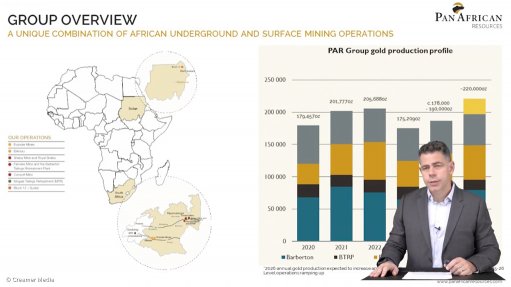 Pan African Resources CEO Cobus Loots.
JOHANNESBURG (miningweekly.com) – The first 10 MW solar plant at the Evander gold mining operation of Pan African Resources is reducing group all-in sustaining costs (AISC) by more than $10/oz with this number set to increase in coming years as Eskom tariffs continue to escalate, Pan African Resources CEO Cobus Loots said during the presentation of the London- and Johannesburg-listed company's dividend-yielding 2023 financial results.
In May 2023, construction of the group's second solar plant commenced at Barberton Mines.
This plant, with a capacity of 8.75 MW, will supply most of the daytime power requirements for the Fairview mine.
A third-party power purchase agreement for the off-site provision of 40 MW of wheeled power beginning in early 2025 will extend over a period of up to 15 years. Along with Evander Mines' operating solar plant, these projects are expected to reduce Pan African's carbon emissions by up to 30% by 2030, as well as deliver associated cost benefits, as the price of grid power continues to increase at above-inflation rates.
Evander Mines' water recycling plant is also expected to generate attractive cost savings as underground water can now be used as process water, reducing its reliance on municipal resources.
"You can also expect other announcements on renewables from us in the year ahead. Hopefully we can add even more capacity and also possibly diversify into wind energy," Loots added during the presentation covered by Mining Weekly.
With the first 10 MW solar plant at Evander already reducing group AISC by more than $10/oz, this number is set to increase in coming years as Eskom tariffs continue to escalate, if it keeps the production, cost and financial features of the last year.
The addition of the Mintails gold-from-dumps project west of Johannesburg, close to Krugersdorp and Mogale, means that Pan African now has three large mining complexes in South Africa, where its surface operations reduce unit costs and turn legacy liabilities into profits.
Its underground mines provide long life-of-mines and solid returns on investment as a result of a large sunk capital base and attractive optionality, demonstrated by the Evander underground expansion.
The company is growing profitable production very materially in the years ahead and expects to be well north of 200 000 oz of yearly production in 2025, with Mintails coming online at the same time as the Evander underground expansion.
This growth is funded with either banking facilities or with cash generated from operations.
The coming two years will see Pan African moving towards an even more balanced portfolio of low-cost surface remining and high-grade long-life underground mines.
This asset mix should reduce the company's AISC profile, with Elikhulu Tailings Retreatment Plant and Mintails Tailings Retreatment producing at an AISC of about $1 000/oz.
Pan African continues to seek ways of making its business less susceptible to adverse internal impacts in South Africa.
In addition to reducing its reliance on Eskom, its assets have long lives with extended mining rights.
The Evander complex's rights are valid until 2038 and the Barberton assets have rights until 2051. The Mintails new order mining right extends to 2029 and extension will be sought in due course.
It has one year remaining on its Barberton wage agreement and the underground contractor at Evander has entered into a three-year wage agreement with the union, which will provide stability as production is grown.
"Pan African's track record demonstrates that we can operate and grow in South Africa and do so very successfully," said Loots.
"To elaborate further on our renewable energy roadmap, with construction having commenced at our Barberton solar facility, we are set to almost double our behind-the-meter on-site renewable energy footprint in the next year.
"We further anticipate first power from our off-site provision of 40 MW of wheeled power in early 2025, over a period of up to 15 years.
Gold production of 175 209 oz in the 12 months to June 30 and 178 000 oz to 190 000 oz is being guided for the new financial year.
AISC of $1 152/oz (2022: $1 145/oz) was recorded for Pan African's lower-cost operations, comprising all operations, except Barberton's Sheba and Consort mines, which account for more than 81% of yearly production, and remedial measures have been implemented to reduce real AISC at the high-cost Sheba and Consort operations.
Renewable energy generation, water recycling and other initiatives to increase the group's future gold production are expected to contribute to a decline in future real AISC.
Guided for 2024 is AISC guidance of $1 350/oz at an exchange rate of R18.50 to the dollar and cash of $100.1-million generated from operating activities, with profit of $60.7-million down on the $75-million of the previous financial year.
Access is available to cash and undrawn facilities of $84.7-million, up on 2022's $69.4-million at financial year-end.
The board has proposed a final dividend of R400.1-million for the 2023 financial year.
Steady-state production is expected from Mintails Tailings Retreatment by December 2024.
Evander Mines' 8 Shaft 24, 25 and 26 Level underground expansion project is on track, with the refrigeration plant at 24 Level commissioned in phases to facilitate mining at depth.
Development to access the 25 and 26 Level mining areas has commenced and equipping of an existing underground ventilation shaft for rock hoisting capacity of up to 40 000 t a month is planned to be completed during the third quarter of the 2024 financial year, improving efficiencies and eliminating the cumbersome and labour-intensive conveyor system.
Exploration activities in Sudan resumed post the reporting period, following a detailed risk assessment of the in-country operating environment in the exploration area.