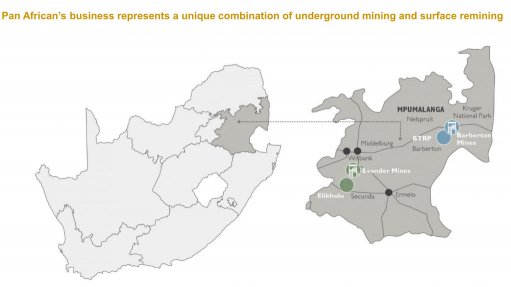 JOHANNESBURG (miningweekly.com) – London-, Johannesburg- and now also New York-listed Pan African Resources continues to demonstrate the resilience of its operations with an improved all-round performance, despite the challenges posed by the Covid-19 pandemic.
In the last year, Pan African has taken strong steps to reduce all-in sustaining costs, to focus on its surface tailings retreatment business, which is doing exceptionally well, and to do additional exploration development at its underground assets, specifically at Barberton.
"All of these things are coming together quite nicely at the moment, and we're seeing it reflected in our results," said Pan African CEO Cobus Loots, who was stricken by the coronavirus three weeks ago and has now recovered. (Also watch attached Creamer Media video.)
Loots was speaking to Mining Weekly a day after the publication Business Insider South Africa reported on the discovery of an exceptionally high-grade gold vein at Pan African's New Consort mine in Barberton.
"So rich is the ore that in many cases it can be seen with the naked eye," Business Insider commented, in reporting that New Consort's deluxe vein of gold was "more than double what is normally considered high quality".
Showing a picture of a mineworker holding two big pieces of gold-bearing ore, the publication stated that the initial chip samples indicated local grades of 300-g/t-plus of milled ore, with an average density of around 25 g/t, at a time when the rand gold price is close to a million rand a kilogram and dollar price projections continue to point upwards beyond $1 800/oz.
"The rich vein at New Consort is fairly small but certainly, in our view, it will turn around the fortunes of the mine, which has been struggling for some years to make profits," said Loots.
"It delivers into what we said to the market last year, about being busy with a number of initiatives to increase production from Consort, to make sure that it contributes to group profits going forward.
"We also have a number of additional exploration targets at the mine. Many years ago, Consort was actually Barberton's richest mine and what we're doing at the moment, plus the exploration targets, will stand Consort in good stead for the years ahead," Loots added to Mining Weekly.
Development into the first target block on 42 level of Barberton's New Consort Mine – Prince Consort shaft – was completed last month.
ORGANIC GROWTH PROJECTS
The good news from New Consort is just another example of the ongoing organic growth of the gold reserve base of Pan African, which has a knack of making its internal projects work.
The Elikhulu tailings project is a case in point. When the R1.8-billion Elikhulu project was launched, an initial payback of four years was forecast. But at this gold price, and given the top performance of the asset, payback will be in less than three years.
Moreover, hot on the heels of Elikhulu is the Egoli project, also at Evander, but this time an underground project, and it looks like being another winner. No shaft work is necessary as the existing twin-vertical shaft system extends down to a depth of 1.6 km. Ore will be fed into a fully operational plant at Kinross, and all the other required infrastructure is in place.
Funding is being finalised, detailed project planning is advancing and a development plan update is likely in September.
On the company's strong share price performance, Loots says: "We know that gold is a cyclical commodity and it's fair to say that currently we're in a really good rand gold price environment.
"We not only have the dollar gold price working for us. We also have a fairly weak rand. Even though it has strengthened recently, it still means a gold price which is just south of a million rand per kilo, which is very attractive," Loots added.
AMERICAN DEPOSITORY RECEIPTS
As reported by Mining Weekly earlier this month, Pan African bolstered its already strong London and South African shareholder base by establishing a sponsored Level-1 American Depository Receipt (ADR) programme on the over-the-counter market in the US, with the Bank of New York Mellon being the appointed depository.
In doing so, Pan African joins a number of its gold peers that have successfully implemented an ADR programme.
"The US market, in terms of liquidity and the investor base, is massive. We've done very well in both the UK and South Africa in terms of our shareholder base, but we're looking to access the depth of the market in the US, specifically in this gold price environment, and we should be doing so, given the quality of our assets, and the fact that we're a long life and safe producer. We tick all the boxes and we'll see how it goes," said Loots.
The Barberton Mines achieved three-million fatality-free shifts during June 2020, a record for the past decade, and Elikhulu has gone for 11 months without a single lost-time injury.
"The focus is on safety. It's been a key area for us for many years and it's about trying to see that we keep achieving results. But as we said in our operational update, safety's never done until we have absolutely no incidents and issues at our operations. It's a journey and we'll continue on this journey," he said.
ENVIRONMENTAL, SOCIOECONOMIC AND GOVERNANCE
Environment, socioeconomic and governance (ESG) initiatives have been prioritised further through increased expenditure on rehabilitation and sustainable development projects that include large-scale agricultural projects at Barberton Mines, and the initiation of a feasibility study for a solar plant at Barberton Mines.
Pan African has been placing much emphasis on the 'S' in ESG, with particular emphasis placed on it during lockdown.
"It's ongoing. If you look at our initiatives over certainly the last three, four months, since the start of the pandemic, we've gone to great lengths to look after our own employees and also the communities that surround our operations.
"Those efforts will continue and we recognise that certainly in the Barberton area, and also in Evander, where we operate, we're the largest employer in those areas and the largest economic activity, so to speak. So, we need to make a positive difference, which we are doing and we'll continue to do so," he said.
Covid-19 assistance has risen to R5-million and R3-million worth of hygiene, water and food hampers to the company's 2 600 Barberton Mines employees, as well as to near-mine families and local communities around its Fairview, Consort and Sheba operations.
SOLAR POWER PLANTS
Much emphasis is also being placed on the 'E' in ESG, evidenced by the board's approval of a 10 MW solar power plant at the Elikhulu gold-from-tailings operation, which will lower the carbon footprint as well as the electricity bill after its 12-month construction period.
"Given the improvements in technology, in recent years, this sort of project makes all the sense in the world. We have the support of government. The Minister of Mineral Resources and Energy has come out quite strongly to say that, to the extent that we experience bottlenecks, we need to let his department know. So we have supported government. From an economic perspective, it makes sense.
"The solar plant will supply 30% of Elikhulu's power. It's a fairly limited capital item of about $7-million to $8-million. We estimate the payback on that investment to be, again, sub four years, so quite attractive, and it will be the precursor for us to look at further similar initiatives in the group.
"We would hope to expand the plant at Evander for a portion of Egoli, number one, and we've also commenced a feasibility study at Barberton for a similar plant at Fairview.
"Initially, we don't have a storage solution as part of the project but we certainly leaving the flexibility so that we can install storage going forward, which means that we could potentially increase the percentage of power that we get from these projects in the years to come," Loots explained.
DIVIDEND INTENT
Earlier this month, in an operational update for the year ended June 30, Pan African reported intensified dividend intent and revealed that it was within striking distance of zero debt in the next 12 months.
On the company's current dividend outlook, Loots said: "Well, it's always a balance between degearing, which we're doing very nicely if you look at our operational update we put out earlier this month; reinvesting into our assets, which we've always done to ensure that they are sustainable over their long lives; and then returning cash to shareholders.
"In the past, Pan African has been a leading dividend payer in terms of our yield, in the global gold space and we'd like to get back there in the years to come.
"At the prevailing gold prices, assuming no major interruptions from Covid and assuming that we can achieve our guidance for the year ahead, which is 190 000 oz of gold, we should have pretty much no debt on the balance sheet in 12 months from now," he said.
An all-in sustaining cost level of below $1 000/oz is the ongoing target.
"We're very proud of our people and what they have achieved. These are exceptionally difficult circumstances and times. They're unlikely to get easier soon. We have to deal with it in a responsible manner and that's what we'll continue to do," said Loots.