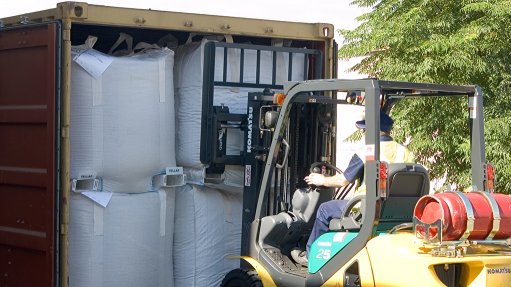 HEAVY LIFTING Tellap bags have two strong plastic sleeves that are integrated into the base of the bag to replace the conventional wooden pallet
Pallet-free bulk bags manufacturer Tellap has been developing bags for the safe and efficient packaging and transport of dry, loose and bulk products – including high-value minerals.
"Tellap, which offers cost savings, ease of use and enhanced safety for workers, also ensures optimum protection of the goods being transported," explains Tellap director Ken Mouritzen.
"This environmentally-sustainable system has been developed in response to demand from industry for a lightweight packaging and transport system, that not only minimises product contamination and damage, but also adheres to stringent safety and environmental regulations in the global supply chain."
Mouritzen explains that the Tellap pallet-free bulk bags, which are manufactured from 100% recyclable polypropylene, consist of a proprietary bulk bag and two strong plastic sleeves that are integrated into the base of the bag to replace the conventional wooden pallet. This design enables a standard forklift truck to safely raise the bag from the base, with no requirement for special handling equipment.
Moreover, it is also notable that a regular wooden pallet can weigh up to 23 kg, while the compact Tellap system weighs less than 2.3 kg.
"This patented packaging system uses the space between the sleeves to increase bag volume by up to 10%. Tellap optimises container volume for lightweight minerals, like graphite or carbon, by increasing bag volume, thereby reducing transport costs for every metric ton," Mouritzen says.
As an example, he notes that in instances where users ship 20 bags of heavy product on traditional wooden pallets, they will be transporting about 400 kg of dead weight, while 20 Tellap sleeves weigh only 46 kg. This means users are able to transport more product at no additional cost, reducing transport costs on each metric ton, while also reducing the number of bags, trucks and containers.
Tellap bags can be securely stacked two-high in a container or four-high in a warehouse and are loaded and unloaded by a single forklift operator. Unlike conventional wooden pallets, which can be unstable and move during shipment, Tellap sleeves "act like outriggers on a canoe", bracing the bag to increase stability and enhance safety.
Environmental responsibility was a critical factor in the design of Tellap. This germ-free recyclable plastic sleeve system requires no fumigation or heat treatment and there are no disposal problems. Other advantages of replacing the conventional pallet are reduced product damage. This includes eliminating contamination from the splinters, nails and mould associated with wooden pallets.
This system can be customised to enhance efficiency and productivity in specific mineral handling requirements, with the implementation of spouts, liners, baffles and printing.
Tellap bulk bags, which are manufactured to international quality, safety and environmental standards, are "independently tested to meet stringent performance requirements for non-dangerous goods contained in flexible intermediate bulk containers".
In the handling of various minerals – such as phosphates, carbon and nickel – Tellap optimises container volume and ensures swift and efficient loading and unloading, while maintaining product integrity during transportation.
The Tellap pallet-free system also ensures secure and hygienic packaging, storage and transportation for other dry, loose and bulk products, such as food, pharmaceuticals and petrochemicals.