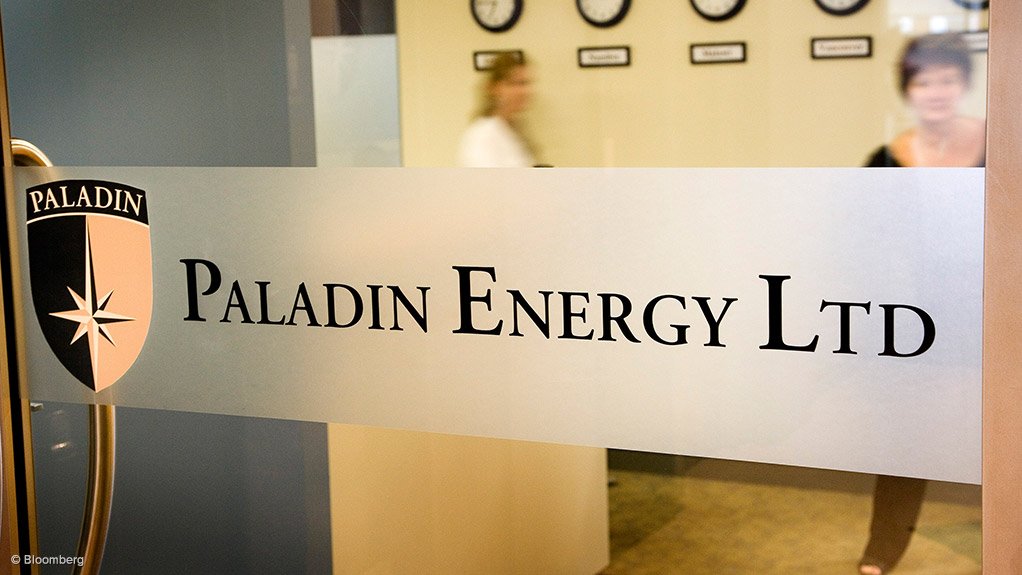 Photo by: Bloomberg
PERTH (miningweekly.com) – Uranium miner Paladin Energy has revised its production and cost guidance for the 2017 financial year to June, with uranium oxide (U3O8) output now expected to exceed four-million pounds.
This compares with a previous guidance of 3.8-million pounds to 4-million pounds of U3O8 in the 12-month period, the company, which on Wednesday, published its December quarterly report, stated.
Paladin, which last week announced a balance sheet restructuring proposal to meet its debt obligations, also lowered its C1 cash cost guidance for the financial year, to a range of $16.50/b to $18.50/lb, compared with a previous guidance of $17/b to $19/lb.
While other full-year guidance items remained unchanged, Paladin said that its 'all-in' cash expenditure guidance might be revised downwards, depending on the progress of the proposed restructure.
The revised full-year production and cost guidance comes on the back of a successful first half, the company noted.
The Langer Heinrich mine, in Namibia, produced 1.21-million pounds of U3O8 in the December quarter, compared with the September quarter production of 1.29-million pounds.
Cash costs of production decreased by 3% from $16.45/lb in the September quarter to a new record low of $16.03/lb in the December quarter. Unit C1 cash cost of production was 37% lower than in the December 2015 quarter.
The volume of ore milled decreased by 5% quarter-on-quarter, while the average plant feed grade also decreased by 2% quarter-on-quarter. Mining activities were carried out until early November, when mining ceased with the implementation of a reduced mining plan.
Total uranium sales during the three months under review reached 1.52-million pounds of U3O8, which was in its guidance range of 1.40-million pounds to 1.60-million pounds. The miner achieved an average selling price of $26.26/lb, generating gross sales revenues of $40.1-million. This was a 166% increase over the previous quarter's revenue, as spot prices increased from the $19.72/lb recorded in the September quarter.
Uranium spot prices continued to increase into 2017, after Kazakhstan's KazAtomProm announced a 10% cut in planned 2017 uranium production. Spot prices traded as high as $25.50/lb on the day of the KazAtomProm announcement.
Paladin told shareholders that lower uranium sales of between 700 000 lb and 800 000 lb were expected in the March quarter, owing to the timing of deliveries under a major contract.
The Kayelekera mine, in Malawi, remained under care and maintenance during the quarter under review.