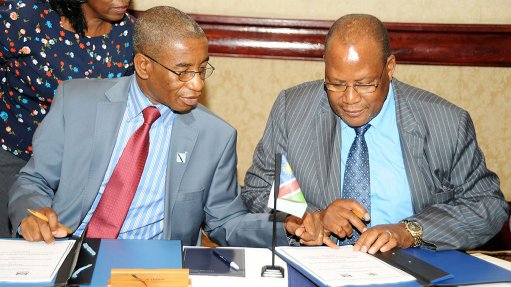 WORKING TOGETHER Namibia and Botswana need to cooperate closely on diamonds in the international market to "win"
If Namibia wants to acquire a commercial advantage in diamond processing, it will have to pay the cost of doing this, as it will require investment and substantial sacrifice by the population, says nongovernmental research organisation Botswana Institute for Development Policy Analysis senior research fellow Professor Roman Grynberg.
However, the people and the leadership of Namibia will have to ask themselves if they really want to pay the price of "winning"?
Grynberg contends that Namibia needs to develop a comprehensive and serious plan – a real plan, not a consultancy report, he stresses – and work closely with industry and workers to address the problems of high costs and introduce what will be "painful measures" to lower those costs.
He also states that, if Botswana and Namibia want beneficiation, they have to recognise that there is at present no commercial advantage to undertaking this work in these respective countries.
"While the 'Pohamba principle' can work for a short while, Windhoek and Gaborone have to become better places to do business than the Indian cities of Mumbai and Surat," Grynberg emphasises.
The so-called Pohamba principle is based on the declaration of former Namibian President Hifikepunye Pohamba: "No beneficiation, no rough" – which means either Namibia's minerals are beneficiated locally or they will not be sold at all.
Further, Grynberg highlights that Namibia and Botswana need to cooperate closely on diamonds in the international market to "win".
Industry Challenges
However, he points out that there are concerns with regard to the industry's access to rough diamonds, as there is a continual call from the industry for greater access.
Grynberg adds there are also concerns regard-ing the localisation of the diamond industry.
"A Zimbabwe model seems, at this point, very improbable in Botswana. However, the industry clearly needs to look for talented locals to develop joint ventures," he says.
Grynberg further notes that the scarcity of indigenous diamantaires and dysfunctional utility services, such as information technology and electricity in Botswana and high operational costs in Namibia, pose significant challenges to the diamond beneficiation sector in these respective countries.
However, he points out that Botswana's unskilled wages are lower than those in India, while Botswana and Namibia remain safe investment destinations for investors, which continues to stand these countries in good stead.
Meanwhile, Grynberg notes that beneficiation is a tax on diamond company De Beers' sight-holders, but, in the current market, it is a very small tax because of the multibox marketing system.
In 2014, those who beneficiated received extra boxes; but, of the 81 De Beers sightholders, only 21 beneficiated in Botswana, he points out.
"The International, or London, box, as it used to be called, is the main source of diamonds. In a bear market for diamonds, walking away from a Namibia box or a Botswana box is a minor loss," Grynberg states.
He also highlights that Botswana's State-owned diamond trading company, Okavango, aims to increase its share of the local rough diamond trade to 25% from the current 15%; however, Grynberg notes there is no obligation on these buyers to beneficiate in Botswana.
"There is no level playing field in Botswana and, hence, beneficiation is a tax on De Beers. Walking away from a high cost beneficiation location like Southern Africa is a natural commercial response to a bear market," he avers.
Moreover, Grynberg states that beneficiation only tends to make sense when transport costs are a significant issue in processing and other important inputs are available domestically.
"Diamonds, because the transport of waste is a tiny portion of the cost and the transport of rough is such a low proportion of total cost, do not present an obvious case for local beneficiation."

Grynberg comments that mining is itself beneficiation, as Botswana and Namibia beneficiate their base metals, such as zinc, copper and nickel, to the level of matte. However, he says that these countries have never moved to refined product because of poor electricity supply and a failure to strategically price their electricity.