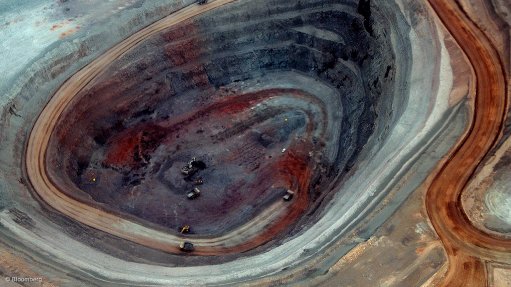 Photo by: Bloomberg
PERTH (miningweekly.com) – Copper/gold miner Oz Minerals has reported a decline in both copper and gold production for the first quarter ended March and its last quarter as an operating company, compared with the previous quarter, resulting in higher C1 costs.
Copper production in the three months to March reached 31 362 t, down from the 36 307 t produced in the December quarter, while gold production in the same period declined from 54 856 oz to 46 722 oz.
All-in sustaining costs for the March quarter were reported at 199.5c/lb, up from the 186.7c/lb reported in the December quarter, with C1 cash costs increasing to 153.3c/lb, up from the 130.5c/lb in the previous quarter.
"The first quarter has seen solid performance from all operations with group copper production of 31 362 t of copper and 46 722 oz of gold, despite a lower feed grade profile at Prominent Hill," said Oz Minerals MD and CEO Andrew Cole.
"Brownfield expansion projects at Carrapateena and Prominent Hill continued while early construction activities at West Musgrave have progressed safely."
"Subsequent to the end of the quarter Oz Minerals shareholders voted in favour of the scheme of arrangement under which diversified miner BHP will acquire 100% of the shares in Oz Minerals.
"The Scheme became effective April 18 with Oz Minerals shares suspended from trading on ASX from the close of trading April 18. The scheduled Implementation Date is May 2.
"As this is the final production report from Oz Minerals, the board and management would like to thank all our stakeholders for their contribution to Oz Minerals' success. We trust that they feel value has been created for them in line with our strategy of creating value for all our stakeholders and our Purpose, going beyond what's possible to make lives better," said Cole.