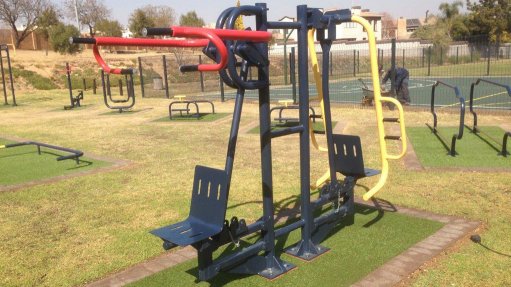 SOCIAL COHESION An example of some of the hard-wearing gym equipment that has been produced by Lani Service Centre
With there being an increase in steel-constructed outdoor gym equipment nationally, Johannesburg-based outdoor gym equipment manufacturer Lani Service Centre has contracted self-lubricating bearings and bushes manufacturer Vesconite to provide hard-wearing, self-lubricating bushings for the equipment.
"Manufacturing the outdoor equipment meant that factors, such as corrosion and theft, had to be taken into account . . . To mitigate these challenges, we consulted with Vesconite to provide solutions that will not seize when exposed to [the] weather," says Lani Service Centre workshop manager Jonathan van Biljon.
In response to the request, Vesconite bearings technical representative Juan van Wyk mentions that, in an outdoor environment, such as a public park, equipment is often exposed to the elements. If the bushings are made from metal, they will be subject to corrosion, which would result in equipment failure, as the bushings would eventually seize because of rust build-up caused by exposure to water.
He points out that, with bronze bushings, there is always a need to inject a small amount of grease onto the bushing during its assembly, place a pin through the bushing and an outer steel sleeve, a washer at the end and weld the washer to the exterior beam.
Therefore, Van Wyk mentions that Vesconite's self-lubricating bushings provide an alternative to bronze bushings, as they do not require any maintenance.
"Compared with bronze bushings, Vesconite bushings are not sought after for resale as scrap metal. This mitigates the challenge of theft, especially in public parks, where there is inadequate security. "We have used more than 5 000 bushes on our products. We use on average 900 bushes a month. "We are streamlining the product to look more modern with very little changes to our bushing concept," says Van Wyk.
There are significant trends and technological advances in the bearings and bushings sector locally and abroad, with engineers continuing to experiment with different materials to improve designs, Van Wyk explains.
Some innovations include plastic bushings, which could help to reduce the weight of a structure and costs, as well as enhance performance because of plastic being corrosion-resistant. Using plastic bushings could also enable engineers to experiment with complex shapes that can be produced through moulding.
International Prospects
Van Biljon is excited for the future of outdoor gym equipment manufacturing, as there is a growing market for such equipment worldwide, including a significant presence of large international gym equipment producers.
He says that, unlike those of competitors, the Lani Service Centre's equipment does not seize, and the bushing system does not break, making the Lani Service Centre favourable players in the local and international market.