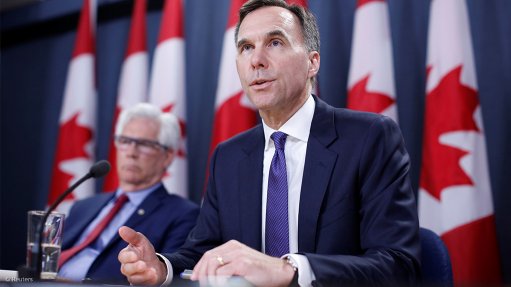 Canada's Finance Minister Bill Morneau speaks while Mining Minster Jim Carr listens during a news conference in Ottawa
Photo by: Reuters
VANCOUVER (miningweekly.com) – Ottawa announced on Tuesday that it has reached agreement with pipeline builder and operator Kinder Morgan to buy the existing Trans Mountain pipeline and associated controversial expansion project for C$4.5-billion, in the clearest-yet government signal that the oil expansion project is of national interest.
In addition to providing financial certainty to the project, federal ownership of the project shields the Trans Mountain pipeline from the political risk to which the project had been subjected thus far.
"Today's agreement will help advance Canada as an energy leader, as a place where good projects get built. This is yet another step in building an energy future with Canadians where the environment and economy go hand-in-hand," Natural Resources Minister Jim Carr said on Tuesday.
Federal loan guarantees will ensure that construction continues through the 2018 season, ensuring the resumption of work after Kinder Morgan suspended all non-essential investment in the expansion project on April 8, citing political interference from the minority British Columbia government.
Alberta is providing support in the form of a backstop that would be called upon in unforeseen circumstances. Alberta's contribution would range from zero to a maximum of C$2-billion, and would be payable only upon completion of the project. If Alberta's backstop is called upon, Alberta will receive equity in the completed project.
As part of the agreement, government has agreed to fund the resumption of pipeline expansion planning and construction work by guaranteeing cash advances under a separate federal recourse credit facility until the transaction closes.
"The outcome reached represents the best opportunity to complete [the project] and thereby realise the great economic benefits promised by that project," Kinder Morgan chairperson and CEO Steve Kean said in a statement. Kinder Morgan expects to pocket about $2-billion in after-tax proceeds from the sale of its 70% interest in the pipeline asset.
The stance of the minority British Columbia government led by Premier John Horgan stands in stark contrast to the Liberal federal and previous provincial governments, which had both sanctioned the C$7.4-billion expansion project.
The project has undergone an unprecedented level of scrutiny and review and is subject to 157 conditions from the National Energy Board and 37 conditions attached to the environmental certificate received early in January from the previous Liberal-led government of British Columbia.
The federal government under Prime Minister Justin Trudeau approved the expansion project in 2016, which is aimed at expanding the existing 1953-built Trans Mountain pipeline system between Edmonton, Alberta, and Burnaby, British Columbia. This is expected to triple Canada's access to new crude markets, as the country looks to diversify oil exports away from the US, its largest crude customer. However, the US is forecast to become the world's leading oil producer by the early 2020s, making construction of the project so much more critical.
This expansion will increase capacity from 300 000 bbl/d of oil to 890 000 bbl/d, while improving market access to the US Pacific Coast and Northeast Asia.
ECONOMIC LOSS
Scotiabank estimates the discount on Canadian oil caused by pipeline bottlenecks costs producers and the Canadian economy as much as C$40-million a day. Further, a Conference Board of Canada report has determined the combined government revenue impact for construction and the first 20 years of expanded operations is C$46.7-billion, including federal and provincial taxes that can be used for public services such as healthcare and education.
The Alberta Treasury Board and Finance estimates that a lack of market access for oil products costs Alberta C$6.5-million a day in government revenue.
The federal government said the investment represents a fair price for Canadians and for shareholders of the company, and will allow the project to proceed under the ownership of a Crown corporation.
However, Ottawa made clear that it does not intend to be the long-term owner of the project, and it will divest "at the appropriate time" and work with investors to transfer the project and related assets to a new owner or owners, in a way that ensures the project's construction and operation will proceed in a manner that protects the public interest, it said.
Government will also extend federal indemnity to protect any prospective new owner from costs associated with politically motivated delays.
"Our government believes that the commercial agreement we have reached with Kinder Morgan is the best way to protect thousands of good, well-paying jobs while delivering a solid return on investment for Canadians. This is an investment in Canada's future," Finance Minister Bill Morneau stated.
"This is a major step forward for all Canadians. We have met the deadline. This project has more certainty than ever before. We won't stop until the job is done!," Alberta Premier Rachel Notley tweeted.
Existing profit sharing or other agreements established by Kinder Morgan and Indigenous groups will be maintained under this new arrangement.
The transaction, subject to approval by Kinder Morgan shareholders, is expected to close in August.
"Construction of the Trans Mountain pipeline will show Canada is open for business. We are pleased the pipeline will be built. It has full regulatory, legislative, financial and political backing of the highest level of government and will, ultimately, be returned to the private sector where it belongs," Canadian Association of Petroleum Producers president and CEO Tim McMillan said.
"Ottawa's investment in Trans Mountain demonstrates confidence in Canada's energy sector. The project was approved on its merits and in the best interests of the nation. Ottawa's investment shows that organised activists can't derail projects in the best interest of Canada."
OPPOSITION REACTIONS
"It does not matter who owns the pipeline. What matters is defending our coast – and our lands, rivers and streams – from the impact of a diluted bitumen spill," British Columbia Premier Horgan said in a statement.
He vowed to continue defending British Columbia's "interests within the rule of law and in the courts". Horgan said the province will continue with its reference lawsuit to get declaratory relief that the province has the constitutional right to ban crude oil shipments through its pristine marine environment.
Greenpeace Canada Climate and Energy Campaigner Mike Hudema said in a statement that "Trudeau's government has just signed up to captain the Titanic of tar sands oil pipelines, putting it on a collision course with its commitments to Indigenous rights and the Paris climate agreement".
"Trudeau is gambling billions of Canadian taxpayer dollars on an oil project that will never be built – a project that Kinder Morgan itself has indicated is 'untenable' and that faces more than a dozen lawsuits, crumbling economics, and a growing resistance movement that is spreading around the world," Hudema said.
According to Greenpeace, more than 200 people have been arrested during illegal demonstrations at the Kinder Morgan construction sites and those protests have spread to Quebec and across Canada, as well as to Seattle, the UK, Switzerland and further afield.
"Regardless of who owns this proposed pipeline and tanker project, our Federal Court of Appeal case remains the same. In the near future, we believe the court will uphold our challenge that consultation was inadequate and the project review failed to address the adverse effects of marine shipping," the Tsleil-Waututh Nation's Sacred Trust said in a statement. The organisation was created with the mandate to stop the Kinder Morgan Trans Mountain pipeline and tanker project.
"In the meantime, we will continue to uphold our sacred responsibility to steward our territory for the benefit of future generations. Our wish is to work with all levels of government as well as all Canadians to that end."
British Columbia released another statement later on Tuesday, reminding the market that in total, 1 191 provincial permits are required for the Trans Mountain expansion project to proceed, with many involving First Nations consultation.
To date, 756 permit applications have been submitted to permitting agencies. Of these, 220 have been approved and issued. The remaining 536 submitted permit applications are being reviewed, the province said.
Another 435 permits have yet to be submitted by Kinder Morgan, or the project proponent.
All permits submitted must align with the 37 conditions outlined in the issued provincial environmental certificate, as well as the 157 conditions detailed in the National Energy Board's approval, the province said.