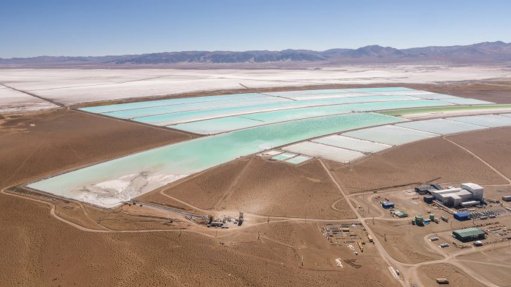 Photo by: Orocobre
VANCOUVER (miningweekly.com) – Argentinian lithium producer Orocobre lost more than 8% on the TSX on Thursday after reporting lower-than-expected lithium production in the fiscal third quarter from the Olaroz mine, as weather issues interfered with evaporation rates, which caused management to lower guidance by 10%.
Orocobre revised its full-year guidance down by 10% to 12 600 t of lithium carbonate equivalent (LCE), from 14 000 t LCE.
"We believe much of the current lithium equity sector weakness is (incorrectly) predicated on the assumption by some analysts that there will be ample excess supply in the mid-term," Eight Capital analyst David Talbot said in a note to clients.
He pointed out that Orocobre's production woes "clearly demonstrate" that achieving production is not as assured as some would believe. "Weather events are beyond the control of Orocobre, but this reaffirms that there is still room to improve on the robustness of operations and reduce production variability from weather impacts," Talbot stated.
A 25% lower evaporation rate compared with the same quarter last year caused production problems and lithium output to fall 29% to 2 802 t of LCE, from 3 937 t in the December quarter. Orocobre advised that February rates were the lowest since 2011.
"While I recognise this change in production guidance is very disappointing, the adverse weather conditions were outside of our control. Recent weather events have confirmed the previously identified need to further improve the robustness of operations and reduce production variability from weather impacts," said CEO and MD Richard Seville in a statement.
Orocobre said plans for the Phase 2 expansion already include enhancements to the lithium carbonate processing plant and the potential use of evaporator/crystallisers during adverse weather events to maintain consistent brine concentrations prior to processing in both Phase 1 and Phase 2.
Sales came to 3 052 t, with a record realised average price up 17% on the December quarter to $13 533/t on a free on board basis and record total sales revenue of $41.3-million. Unit cost of sales for the quarter has not yet been finalised but will be higher than the previous quarter due to the lower production, the company said.
Despite the increased unit costs, gross cash margins are expected to be higher than the December quarter at about $7 604/t. The company also reported a record realised average LCE price of $13 533/t – up 17% compared with the previous quarter's LCE-per-ton margins and prices of $7 000 and $11 415, respectively.
The miner' TSX-listed stock on Friday managed to reverse a negative trend this week, gaining as much as 6.14% to C$5.01 apiece, but the stock is still down 26.5% since the start of the year, which reflects some malaise among the investment community about regarding the potential for too much lithium capacity coming on stream in the medium term, and an inevitable price crash to follow.
However, several market observers have pointed out that such fears might be overexaggerated.