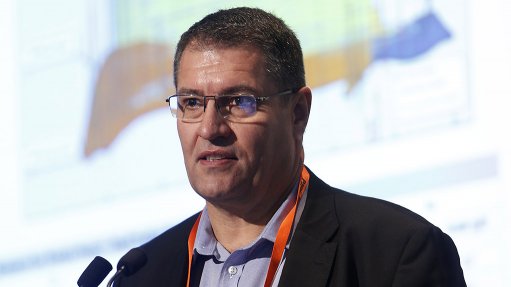 Orion MD Errol Smart
With a resource upgrade in hand, base metals mine developer Orion Minerals on Wednesday presented the outcomes of a scoping study for its Prieska zinc/copper project in South Africa's Northern Cape.
The study investigated the economic viability of an initial ten-year phase of underground mining to extract portions of the 28.73-million tonne resource at Prieska.
The proposed 2.4-million-tonne-a-year operation will produce about 70 000 t/y to 80 000 t/y of zinc and 22 000 t/y of copper in concentrate at an all-in unit cost of A$1 701/t of zinc-equivalent, the ASX- and JSE-listed company reported.
Orion MD and CEO Errol Smart highlighted that the peak funding of A$320-million, including a 20% contingency, would be recovered within the first third of Prieska's mine life.
The scoping study calculated a potential pretax net present value (NPV) of between A$400-million and A$440-million and a pretax internal rate of return of 38%. The NPV is based on long-term forecast metal prices of $1.30/lb for zinc and $3.00/lb copper.

"The study identifies important opportunities for further financial upside, both from extending the life of mine, and from optimising the grade of extraction following further drilling to be conducted from underground. The current Phase 1 study has examined extracting only 75% of the total mineral resource at the mean mineral Resource grade," Smart noted.
Orion is working towards completing its bankable feasibility study in the second quarter of 2019, with the aim of starting construction in the second half of next year. Underground mining at the past-producing operation will begin 24 months thereafter.
The bankable study is investigating the use of renewable energy, which could be an important cost saving opportunity.

The miner is also considering mining shallow targets as openpit operations once Phase 1 of the underground is under way. This is the subject of a separate feasibility study.
The Prieska mine operated from 1971 to 1991, during which time it processed 45-million tonnes of run-if-mine material and produced 1.01-million tonnes of zinc and 0.43-million tonnes of copper as high-grade concentrates.