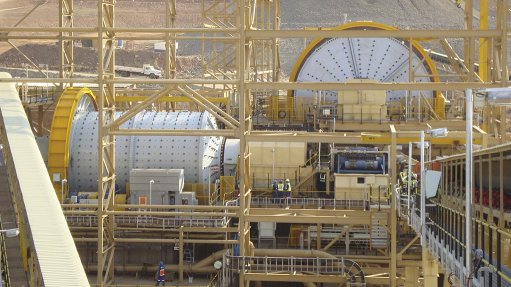 OPTIMISED FLSmidth designed and supplied the AG/SAG and ball mill operating in a nickel and PGM comminution circuit
Decades of product evolution have given multinational engineering company FLSmidth a range of solutions – including its LoadIQ smart sensor technology – to supply and optimise all technology in the grinding circuit.
According to FLSmidth regional product line and key account management director Terence Osborn, grinding typically accounts for about 30% of the operational cost of a concentrator plant. Energy, liners and grinding media are among the many elements that make up this substantial cost. The milling circuit consumes about 50% of the concentrator plant's power demand.
"Any improvements – however small – that a mine can make in the efficiency of milling and grinding can therefore have significant financial benefit. This is why FLSmidth has compiled an enviable portfolio of technical hardware and software serving the comminution space," says Osborn.
This full suite of equipment allows FLSmidth to design the most efficient grinding circuit. In addition to semi-autogenous (SAG) and autogenous grinding mills, the company's offering includes a wide range of slurry pumps and cyclones. For optimal performance, its SmartCyclone technologies automate the monitoring and control of cyclones, providing real-time data on key indicators such as spigot wear and roping. He highlights that integrating the performance of all aspects of the circuit is vital to the company's value-add proposition being our customers' preferred productivity partner.
An important recent step in this process was the acquisition of technology company KnowledgeScape, placing FLSmidth in a leading position to offer a plantwide digital optimisation solution. This capability enables customers to reduce operational costs and environmental impact across the entire minerals processing flowsheet.
"Among the new solutions acquired is LoadIQ, for monitoring and optimising the performance of SAG mills," he says. "The SAG mill is a key element of many milling circuits today, usually located between primary crushing and ball milling phases."
LoadIQ uses FLSmidth's mill scanner smart sensor technology to accurately measure volumetric filling and ore trajectory in real-time, says FLSmidth digitalisation regional product line manager for sub-Saharan Africa and the Middle East Lineshan Naidoo.
"The unit measures vibration and impact among other parameters, to ensure the optimal 'cataracting' of the media and particles inside the mill. It is vital for the material to cataract onto the charge toe rather than onto the liners. This allows energy to be optimised to promote breakage while the liners remain protected by the charge," says Naidoo.
The technology then combines its readings with data about the ore type and liner profile to determine the optimum mill load and mill speed. The target load is then set automatically and adjusted in real time as grinding conditions change.
He highlights that LoadIQ has seen global success with about 60 units installed to date, mainly in the US. Customers using this solution have typically experienced mill throughput increases of 3% to 6%, with some customers benefiting from over 10% increases in throughput. These values vary based on several parameters, such as ore characteristics and grinding circuit configuration.
Mines can optimise mill load using a system of smart sensor technology and artificial intelligence software.
In South Africa, FLSmidth is installing LoadIQ at a leading platinum producer's plant, where the strategic focus is on generating and analysing data for better decision-making and prompt action.
Osborn notes that the delay between data generation and the required decisions remains a real challenge in most process plants and technologies such as the LoadIQ are targeted at making more critical decision- making data available to the plant operation team, enabling quicker adaption to changing operational parameters in as agile a way as possible.
"Process samples can take up to days to be analysed, while the material's residence time in the plant may only be a matter of hours," he says. "By the time any adjustment can be made to the process based on the data, considerable volumes of valuable minerals have been lost to tailings."
FLSmidth's solutions therefore optimise key parameters such as bearing pressure, material density and power consumption in a continuous manner. He says the ECS/ProcessExpert software is able to make plant adjustment decisions consistently and accurately, without fatigue that would be experienced by a human operator. The ECS/Process Expert further optimises the balance of the grinding circuit to consider critical parameters such as mill sump level and dilution water addition and cyclone operating pressure. A South African nickel mine has been among the customers gaining high levels of success with this solution.