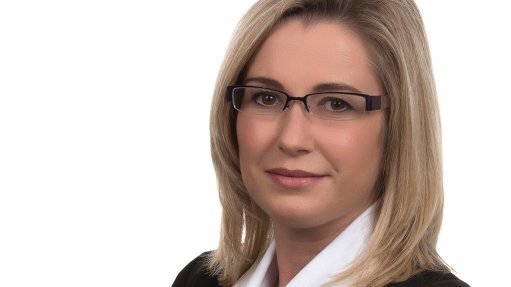 LIZEL OBERHOLZER A balance needs to be struck between the creation of an investor-friendly environment and securing appropriate benefits for South Africa
President Jacob Zuma held a report-back meeting on government's Operation Phakisa initiative, which focuses on the maritime and oil and gas sectors, in Pretoria, last month.
Operation Phakisa aims to unlock South Africa's economic growth and development through an oceans economy, which is expected to potentially contribute about R177-billion to the gross domestic product (GDP) by 2033.
Global legal practice Norton Rose Fulbright directors Lizel Oberholzer and Malcolm Hartwell spoke to Engineering News about some of the progress made in the sectors through Operation Phakisa.
Oberholzer, who is also Norton Rose Fulbright head of upstream oil and gas, provided an update on the Mineral Resources and Petroleum Develop-ment Bill, which is undergoing a Parliamentary process.
Passing the Bill is the first step towards creating an environment conducive to achieving one of several aspirations identified during the Operation Phakisa process, namely the drilling of 30 exploration wells over ten years in South Africa as part of its focus on offshore oil and gas exploration.
"To create an environment that promotes exploration, we need to have a clear and stable regulatory framework," says Oberholzer, adding that the immediate obstacle regarding regulatory clarity pertains to State participation, particularly the free-carried interest that the State will have in exploration and production.
She says a balance needs to be struck between the creation of an investor-friendly environment and securing appropriate benefits for South Africa.
The Bill can help promote investment. Investors consider many factors before taking a decision to invest in a country, including geological risk, stability, clarity and ease of doing business.
Once the Bill has been finalised, it will be presented to the National Council of Provinces and traditional leaders for their comment. It will then be presented to Parliament for final approval, after which it will await Zuma's signature.
Oberholzer hopes to see a fair and reasonable Bill, which will allow for investment to flow into South Africa, passed before the year-end.
"South Africa has the longest coastline in Africa and we can benefit from it if we develop it. Operation Phakisa is a step in the right direction and I am excited about the initiative," she adds.

Hartwell, who is also a former president of the Maritime Law Association, provided feedback on the marine transport and manufacturing industry, which government believes can con-tribute up to R23-billion to the national GDP by 2019.
He says one of the main issues is the ship repair industry, as he believes that South Africa missed an opportunity to develop a repair industry for the rigs and support ships operating particularly off the west coast of Africa.
However, he adds that it is encouraging that government has committed R9-billion to devel-oping the Saldanha Bay industrial development zone, in the Western Cape, including the development of an oil rig repair jetty and facility.
"It would have been better if that had started a few years ago because, now, a few rig operators are using Namibia for repairs, as the country is slightly closer to South Africa and South African ship repairers are frustrated with [freight logistics group] Transnet's [failure to develop] facilities," says Hartwell.
Meanwhile, the hope is that Saldanha Bay will also attract some offshore work, he tells Engineering News.
Government has undertaken to influence Transnet to upgrade repair and manufacturing facilities at all South African ports; if Transnet develops them, it will present an exciting opportunity, says Hartwell.
The training of about 2 500 artisans a year, who would be absorbed into the ship repair industry, as well as encouraging South African mineral exporters not to sell their cargo on a free-on-board (FOB) basis, was also highlighted during the report-back meeting.
FOB allows a seller to transport the iron-ore to port, with the buyer having to pay for the transport by ship and the insurance to transport it to a destination.
"What government wants to do is encourage South African shippers to sell minerals on a cost, insurance and freight basis, which means South African shippers have to ship and pay for the transport and South African sellers have to insure the minerals – which means the insurance premium and freight remain in South Africa, rather than being paid into a foreigner's account," explains Hartwell.
Some of the opportunities for the industry under Operation Phakisa are attainable, he says, as there are detailed plans with strict timelines under the initiative that have been devised by government, non-governmental organisations and the private sector.
He says there is also buy-in from the highest levels of government to ensure the plans under Operation Phakisa are successful, and he hopes government will drive them.
"I am optimistic about some of the plans in Operation Phakisa. They have broken up the plans into short-, medium- and long-term goals, with some short-term goals having already been achieved," Hartwell concludes.