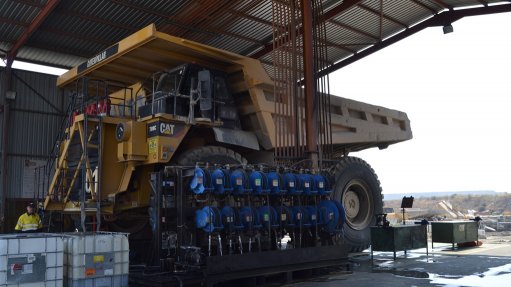 PERFORMANCE UPGRADE Cummins Filtration has improved fleet availability and reliability, reducing overall maintenance costs for the operation of rigid dump trucks at Tharisa
Europe-headquartered integrated resource group Tharisa's openpit platinum, gold and chrome mine, of the same name, in the North West, has embarked on a value-add improvement project to extend the length of oil-drain intervals on a specific fleet of rigid dump trucks (RDTs) and, subsequently, reduce downtime and save costs.
The project is being led by US-based engine, filtration and power generation manufacturer Cummins' Filtration division, or Cummins Filtration, and Cummins-owned original-equipment manufacturer (OEM) Fleetguard. The mine embarked on the project to improve fleet availability and reliability, and reduce its overall maintenance costs.
"What we wanted was to create an entire ecosystem. We engaged with all our partners and walked them through our value-upliftment strategy. We require our partners to examine our RDT fleet status and determine the best product solution available to suit our needs. This enabled us to calculate the estimated cost savings," Tharisa mine technical adviser Stephen Watson explains.
Tharisa technical manager Peter Dudley says reducing costs and increasing efficiency will enable Tharisa and its clients to remain sustainable. "The ultimate goal was threefold – increase the use of our equipment, ensure that the equipment is productive and manage our costs."
One of the key factors that will extend the longevity of equipment is using the correct lubricant. "The number one cause of early engine failure is engine contamination, at around 80%," says Dudley, adding that, to mitigate this cause, machines must be cleaned and lubricant-managed, with lubricant having to be correctly stored, dispensed and monitored, before maintenance takes place. Machines must also be cleaned after rain or excess dirt accumulation during normal daily operations.
Tharisa did not consider price, but rather quality, which resulted in its buying a more expensive product "to prolong the life of components", Dudley says.
Right Results
Watson and Dudley hoped that, with the correct lubricant, the length of the RDT's oil-drain intervals would increase from 500 hours to 1 000 hours, and Tharisa successfully achieved this milestone in March.
Watson points out that the initial plan when testing the fleet involved the selection of five machines for analysis. However, 30 trial machines of different models were selected, owing to their ability to increase efficiency and reduce overall maintenance costs.
Cummins Filtration operations and technical support manager for Africa Raymond Liversage says the fleet also included machines with low to mid and end-of-life engine hours for comparative purposes. "These varied operating hours were really challenging, in addition to the range of equipment involved," he notes, owing to the product's life cycles. New engines and midlife engines give different performance results, in terms of service drain intervals, he explains.
"While the field trial has exceeded its benchmarks, it is still ongoing, as a result of the excellent performance and reliability delivered by all the suppliers involved," he says.
A field trial is under way, involving the remainder of the RDT fleet at Tharisa to extend oil-drain intervals to 1 500 hours, 1 750 hours and, finally, 2 000 hours, states Watson. A total of 16 RDTs were used for the initial trial, and all 48 of Tharisa's RDTs are on the current extension programme to extend intervals to 1 500 hours. Cummins Filtration is assisting Tharisa by developing bespoke equipment to achieve its final target, Dudley says.
Tharisa also hopes to obtain 4 000 hour intervals between transmission maintenance, 12 000 hour intervals for hydraulics and 8 000 hour intervals for rear axles, says Dudley.
Watson explains that the process of combining the technology of Tharisa's oil supplier, multinational oil and gas company Shell, its filtration supplier, Cummins Filtration, their NanoNet Technology and their OEM knowledge, as well as intensive oil condition monitoring, allowed for the openpit mine to achieve its goals. Tharisa also conducted rigorous visual inspections and started at zero-hour intervals "to ensure the simultaneous replacement of all filters and gasket seals to achieve the most reliable results and eliminate stumbling blocks".
Liversage explains that, through preventive maintenance and inspections, it is ensured that all items with the potential to cause breakdowns or affect the performance of the oil or filtration during the test were eliminated.
In addition to Cummins South Africa and Cummins Filtration, which manufacture and supply Fleetguard filtration, Tharisa partnered with Shell downstream South Africa, which manufactures and supplies synthetic lubricants. Oil analysis is conducted through condition monitoring specialist WearCheck, which provides analysis at regular intervals to ascertain wear, contamination levels and oil condition, and oil condition in all oil-wetted components or oil filters.
The scope of the trial included the supply of OEM parts, where Cummins Filtration did not have equivalents. Cummins was also responsible for packaging and delivering service kits with all necessary replacement parts for each service interval. Dudley explains that the service kits, which consist of filtration and insurance parts, such as belts, radiator caps and windscreen wiper blades, are a form of insurance for Tharisa, as they guarantee that parts have been replaced. The kits comprise an ultrahigh efficiency filter.
Banking on Benefits
The benefits of extending oil-drain intervals include prolonging production times, reducing downtime and standby time, and lowering maintenance costs through service extensions, Watson notes. "Reducing service intervals gives you more time to focus on production. You could save up to $2.7-million a year through regular maintenance," he says.
Since selecting the correct lubricant and conducting regular service intervals, Tharisa moves an average of 1.2-million bank cubic meters of waste a month, milling 440 000 t of ore over this time.
The results of the field trials will be communicated to Cummins globally and "eventually translated into new product developments and refinements", Liversage tells Mining Weekly, emphasising that Cummins Filtration has a global release system that will feed the innovations into territories such as Russia, the US and South America.
Watson points out that a significant outcome of the field trials is the importance of daily maintenance in the reduction of total equipment running costs. "The tendency is to ignore daily maintenance in lieu of the scheduled service interval. Daily maintenance is essential to increase the mean time between scheduled stops, so a machine can run at peak for up to 48 hours on one shift, for example. This should be up to 80 hours for new equipment. If this is not the case, it means you have an unreliable fleet incurring unnecessary costs and production stoppages," he concludes.