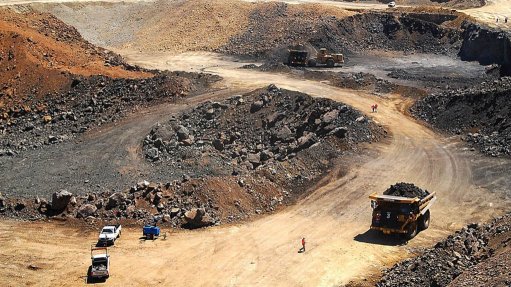 Openast mines like this one may return to 100% production capacity.
JOHANNESBURG (miningweekly.com) – Opencast mines are permitted to return in phases to 100% operation from May 1 but underground mines must continue at 50% of production capacity, Trade and Industry Minister Ebrahim Patel said on Saturday.
Speaking during a media briefing covered by Mining Weekly on South Africa's easing from the current Level 5 lockdown stage to Level 4, Patel said: "Mining has already begun the process of workers returning to work. They do so in batches because of the large numbers involved. Not all workers in mining can go back at the same time and my colleague Mineral Resources and Energy Minister Gwede Mantashe has already outlined how that process will work in Level 5.
"In Level 4, the new addition is that those workers who work in opencast mining, in other words not underground, will be able to go back in larger numbers, again in phases but returning in the period from the current 50% eventually, in phases, to 100%," Patel said during a prolonged two-and-a-half briefing.
Professional services would also increase, including engineering services, into the Level 4 risk-adjusted category of phased lockdown easing in which Level 5 is the most stringent and Level 1 the least stringent.
Patel said that the purpose of the new Level 4 approach was to calibrate the level of openness with the level of risk.
"Where there is higher risk, there are fewer economic activities and lower risk and less social movement. Where there is lower risk, the economy is able to expand and more movement becomes possible. It allows us to restart as many economic activities as is possible, given the level of risk," he said.
The phased approach was to enable firms to get the workplaces ready for an ongoing period of Covid-19.
"The experts tell us that over the next six to eight months, the virus is still going to be very active in society and so we can't simply get back to work as if the virus is not spreading.
"The workplaces themselves have to be changed. The virus doesn't move. People move and when many people move, the virus moves rapidly and spreads very quickly," he said.
From May 1, a careful balance has had to be struck with the introduction of Level 4. If the move was too fast, a rapid rise in infection was risked and the country would find itself with many ill people and many more deaths and would be forced to return immediately to Level 5.
"If we move too slow, we prolong the economic downturn and we risk that parts of the economy will not be able to continue. So, we must move forward, but we must do so with a degree of caution," Patel said, adding that the Level 4 proposal put to sectors followed discussions with businesses and labour.
The current essential services operating under Level 5 were energy, water, sanitation, telecommunication infrastructure, health, food production, health care products and hygiene products, financial sectors, as well as critical public sectors. Parts of mining, retail, manufacturing, construction, media, call centres and parts of the public sector were also at work under Level 5.
These would continue to operate when the lockdown shifted to Level 4 but economic activities would be added with more than 1.5-million South Africans able to leave their homes and go back into the workplace.
He added that this meant that four out of every ten would, in a phased manner, return to work, depending on the final list and schedules for education.
FIRM MINING DIRECTIVE
On April 23, the Department of Mineral Resources and Energy (DMRE) issued a firm directive to all mining operations to ensure safe startup procedures as the sector prepared to ramp up to 50% of capacity.
Under Section 5(1) of the Mine Health and Safety Act (Act No. 29 of 1996), as amended, every employer must, as far as reasonably practicable, provide and maintain a safe working environment and startup measures would have to be taken to prevent the spread of Covid-19, as well as actions to provide a safe working environment, especially following the prolonged closure of some operations.
These measures, in line with the latest disaster management regulations, should include:
rigorous screening of all employees, including contractors, prior to accessing the mine;
testing of employees with symptoms of Covid-19;
adequate physical distancing;
provision of quarantine facilities for employees showing signs of Covid-19;
establishment and maintenance of a personal hygiene programme; and
provision of appropriate personal protective equipment, including face masks.
The directive, following the previous week's 50%-return announcement by Mantashe, also encouraged employers to phase in mineworkers systematically.
In line with the directive, mining companies must, in consultation with labour unions in the respective operations, develop the startup procedure, and provide a copy to DMRE prior to ramp-up.
DMRE stated that the nature and extent of the Covid-19 pandemic called for an equally dynamic response from government and society as a whole. Specific and appropriate measures for mining would thus be introduced when required and stakeholders were urged to continue participating in this process through the established consultative forums.
DMRE said it would continue to conduct scheduled and unannounced visits to mining operations to monitor compliance with the lockdown regulations, guiding principles on prevention and management of Covid-19, as well as the startup procedures.