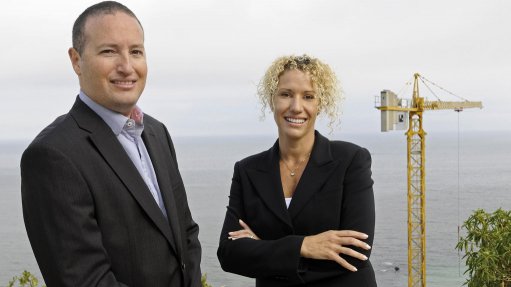 WARREN SCHEWITZ & ARIELLA KUPER Clear Asset strongly encourages the move to an online auctioneering space, arguing that it enhances returns, as acquiring equipment becomes more efficient and easy to manage
Online mining equipment auctions have the potential to help stimulate growth in the African mining sector, says independent online auction solutions company Clear Asset MD and cofounder Ariella Kuper.

South Africa and the rest of Africa hold extensive mineral and metal wealth through their underground resources; however, she says, the continent has fallen behind significantly in terms of infrastructural investment, owing to a lack of political certainty, which is essential for foreign direct investment.
"Political and union unrest exacerbates shareholder concerns, which is compounded by government's lack of commitment to enhance output. We tend to miss out on opportunities to capitalise on commodity booms based on this friction."
Kuper says governments must engage in a collaborative effort with the private sector, retaining a certain proportion of ownership but remaining equally commercially minded. "Investors cannot be allowed to replicate colonial habits, but in turn they still require fair remuneration and certainty for their capital injections," she explains.
When funding is tight, owing to challenging financial circumstances, they need to free up working capital. As a result, mining companies often welcome the opportunity to offload assets to generate funds fast.
However, book value is often not in line with market demand, supply and price levels during tough economic climates. On the counter side, in good times, there is no limit to what people will pay, as projects and market demand justify these acquisitions.
The primary focus of Clear Asset is to dispose of assets in the mining, construction and aviation industries through a reliable online platform, rather than through a traditional physical on-site auction process.
The ability to bid in an online auction from anywhere in the world also opens the floor to potential buyers from markets abroad. It is too costly to travel to an auction without the certainty of winning the lot. Therefore, Kuper says, an online platform enables bidders to participate on equal terms, irrespective of their geographic location.
She adds that anonymous online bidding and the free market hand (public bid participation influenced by market demand and supply) also helps identify where opportunities exist through broader-based participation.
In addition, smaller players also have an opportunity to make the most of online auctions, as they benefit from second-hand equipment as either an end product or as componentry for refurbishment, helping drive job creation.
Kuper emphasises that Clear Asset's online auction platform is the future of the auctioneering sector because mining assets are essentially commoditised assets. As such, these assets either meet the criteria of the required price bracket, condition, year of manufacture and hours logged, or they do not. "There is little emotion in the purchase, which is rather purely transactional."
Online Auction Benefits
Kuper explains that the idea came about when she, along with the company's CEO and cofounder Warren Schewitz, identified the negative developments surrounding the traditional auction sector in 2012.
"We saw the need for transparency and governance, supported by a more advanced operating system that could increase global engagement to help improve participation by buyers and, in turn, improve returns for sellers. [This is] all supported by reporting and accountability at every level," she explains.
Kuper says Clear Asset has developed and owns its own propriety software. As such, the company owns the source code, whereas other online sites rent their software.
"We hold the Internet Protocol and the data intelligence and can, therefore, extract credible information to better serve buyers and sellers."
Thereby, Clear Asset can customise the reporting and the way in which an asset is represented, based on a client's requirements, highlighting that the mining industry requires accuracy of information from both a buying and selling perspective to make informed decisions.
Auctioning Trends, Challenges
Based on current market demands, Kuper says Clear Asset works to reassure clients by ensuring the integrity of information and due diligence available on its platform. This, combined with safe, reliable ease of participation, are the trends of the online auctioneering sector with regard to buyers, while sellers can prioritise cost reduction.
Kuper explains that the uptake of online auctioning services became evident in the downward performance in 2017 of Canada- headquartered global auction house Richie Brothers, which runs the largest physical auctions globally. The company closed several of its physical yards in the third quarter of 2017 to improve its online presence.
Richie Brothers' move towards the online auction space was reinforced by its partnership with US-based online auction company IronPlanet. This development also reiterates the need for lower costs, and increased speed of access to information from any location, enabling decision-makers and clients to participate in auctions without having to leave their home or office.
Kuper says the most challenging aspect of the online auctioneering space is that many buyers remain traditional in their understanding of auctions. These clients, thus, see a move to an online platform as "potentially breaking existing relationships on the ground".
She adds that some departments within the mining industry, as well as managers overseeing procurements and sales, often feel threatened by an online auctioneering space, as they fear their jobs may become redundant as a result.
However, Kuper strongly encourages the move to an online auctioneering space, arguing that it enhances returns, as placing a bid and acquiring equipment becomes far more efficient and easy to manage with regard to accountability.
"This fear of redundancy by heads of procurement and supply chain at mines is indeed incorrect, as enhanced efficiencies and improved turnover and working capital are actually the results of choosing online."