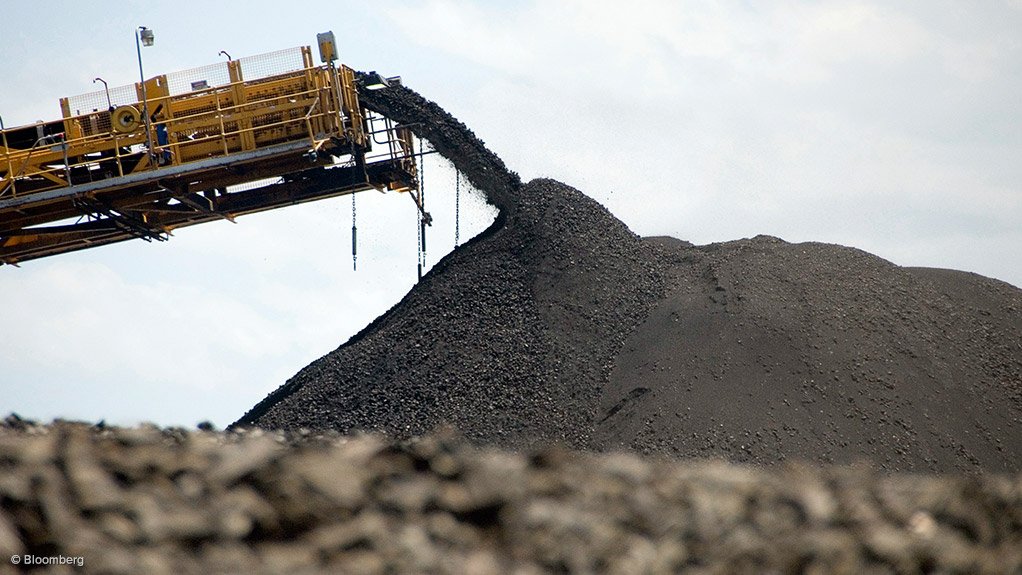 Photo by: Bloombeg
PERTH (miningweekly.com) – Nearly one-third of Queensland's coal mining companies are operating at a loss in the current commodity climate, a report commissioned by the Queensland Resources Council (QRC) has found.
QRC CEO Michael Roche said that the report, undertaken by Wood Mackenzie, supported what industry leaders had been warning over the last few months.
"While the cost curves and profitability analyses provide hard data on the state of our sector, the opinions of the industry leaders in Queensland – many of them veterans of 30 or more years – tell the story more starkly."
Roche noted that resource sector employment fell by about 21 000 in the past two years, and while the sector still accounted for one in every six jobs, it was vital that government broaden its focus to protect the remaining 60 000 jobs in the Queensland resources sector.
"We need governments – federal, state and local – to play their part in providing the sector some relief. We must ensure that policy and regulation supports existing operations, which last year were responsible for contributing A$64.8-billion to Queensland's economy, while providing one in every six jobs," Roche said.
"Just because our sector is experiencing a downturn it is not time to sit on our hands as we must have a plan in place to preserve the maximum number of current resources jobs and be ready to take advantage of the upturn.
"We need to ensure that regulation doesn't strangle potential projects that will help create jobs and increase revenue that will fill the void from the commodities slump."
Greens group Lock the Gate Alliance on Monday said that news that one-third of Queensland coal mines were running at a loss should act as an incentive to diversify the Queensland economy to better support agriculture and renewable energy.
Spokesperson Drew Hutton said it was absurd that the industry was "crying poor" after coming off the greatest boom in recent history during which they made billions.
"The industry is inherently cyclical and there is no case for industry relief. The industry should have been prepared for the inevitable downturn," he said.
Hutton added that the Queensland government should resist subsidising mining and rewarding the industry for poorly managing their businesses, adding that there was instead another approach to securing jobs that the government should consider.
"All companies are meant to have financial provisions on their books to pay for mine rehabilitation. Having neglected investment in rehabilitation during the boom, now is the time to start drawing down on those provisions to make good on their commitments to environmental protection by investing in large scale rehabilitation.
"The best way to secure jobs in the sector is for companies to start drawing down on their rehabilitation deficit."
However, Roche said that the industry was not looking for bailouts or subsidies, but needed the government's support in the shape of commitments to reduce red tape and unjustified government-imposed and government-sanctioned costs.
"Industry has been doing all the heavy lifting to try to survive this worst resources downturn in many decades, stripping billions of dollars of costs out of their businesses.
"The time has well and truly come for governments – federal, state and local – to play their part, in partnership with industry," Roche said.
"At the top of our list are royalties, local government rates and the charges from government and private sector providers of rail, port, power and water services."
The QRC will be meeting with the Queensland government's Cabinet jobs committee to discuss a plan that would help to protect the current 60 000 resource sector jobs and the tens of thousands of jobs across the 24 000 businesses that support the industry.
The Queensland government, meanwhile, revealed that overseas trade and investment in the state rose to a four-year high of nearly A$50-billion in 2015.
Queensland's merchandise exports returned $49.7-billion in 2015, driven by the new liquefied natural gas (LNG) industry and excellent results from Queensland's rural sector.
"This is the best result since 2011 and a 12.6% increase on 2014," Premier Annastacia Palaszczuk said.
She added that Queensland's export results were another indicator of the strengthening state economy with unemployment at two-year lows at 5.9%, the highest business confidence in the country, the highest growth in building approvals and the highest forecast economic growth of any state.

"The growth in exports shows that the Palaszczuk government's pro-business economic plan is helping create the right conditions for Queensland industry.


"The new LNG industry which started exporting this year is an industry encouraged and established under the previous Labor government. It is now expected to become Queensland's second-largest exporter."