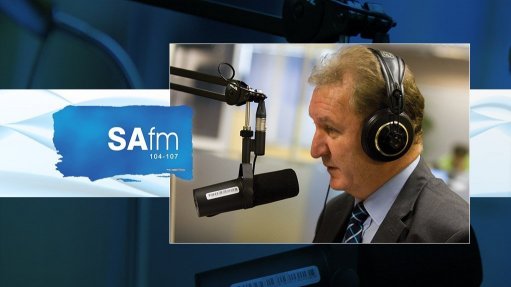 Every Friday, SAfm's radio anchor Sakina Kamwendo speaks to Martin Creamer, publishing editor of Engineering News & Mining Weekly. Reported here is this Friday's At the Coalface transcript:
Kamwendo: A big new R7-billion iron-ore project in the Northern Cape was given the go-ahead this week.
Creamer: Kumba Iron Ore and the Anglo American boards both gave go ahead to this R7-billion new iron-ore project in the Kolomela area. This is fantastic news for us. This is the sort of development we need at this stage in our economy. We know that the the Northern Cape is very prospective. The great thing about Kolomela, the area, is that it is being explored by Kumba Iron Ore.
They have continued to explore over the last eight years, which is something South Africa must do a lot more of. Very interestingly they are using all-women, all-female exploration crews. So, these crews that are finding this important iron-ore at the moment, are all women, female crews. It is like a world first there.
The development that these mines create is phenomenal. We see that Kumba Iron Ore, because of the activities it has at Sishen and Kolomela and now at this new project for R7-billion that they will be investing, they developed a host community. iI is not as if they just spend locally, and they do spend a lot of money locally. We are talking about R750-million of the R7-billion will be spent locally. It gets more intense than just local. It gets directed towards host communities, near-mine communities.
Astoundingly, Kumba Iron Ore has developed 317 small businesses that actually do business with the mine and other parts of the Northern Cape. This is so well developed that these 317 firms have actually formed a chamber of business, so that they can get a lot going in the area of the Northern Cape. It shows you what mining can do and this sort of project is what we need at the moment.
Kamwendo: South Africa's high-quality iron-ore puts it ahead of Australia going forward into the future.
Creamer: Australia earns a fortune on iron-ore, but it sells more of the standard type of iron-ore. We in South Africa and the Brazilians have a much higher quality iron-ore that is ready to go in to charge and ready to be processed immediately.
This is what China is looking for. Although, China at the moment uses convential blast furnace methods of producing its steel, it wants to move to electric arc furnaces. This will play into the hands of high quality. That is why at the moment that our niche product is earning us more money as well, because a premium price is paid for it. The market is prepared to pay a higher price for iron-ore that is of high quality, because it answers the environmental concerns. It is cleaner production and less air pollution.
This is the sort of market we are playing into at the moment. Thank goodness Kumba Iron Ore is working very well with Transnet and the Saldanha Port, because without that proper logistics, we can't get to the markets. At the moment they are earning a very high price for their iron-ore, $93 a tonne. This is very unexpected, but it has been brought about by bad very conditions in Australia and also disasters in Brazil, which slowed down the supply of iron-ore.
Kamwendo: Anglo American is going ahead with a world-first hydrogen fuel cell truck in Limpopo.
Creamer: The world is seeing widespread investement in hydrogen and that is what Anglo American reported this week. Hydrogen drives platinum demand. Platinum demand helps our employement, because the platinum mines employ more people than any other sector of the mining industry. We see now Anglo American moving to market its own products, because it is going to develop this very good off-highway track that they are going to put into action before the end of the year.
That will be driven by electricity that is renewable coming from the sun and also it will be driven by hydrogen, which means there is zero emission. This is what the world is looking for at the moment, zero emission. If it gets this right and it seems as though it will, there is a lot of the demand for that around the world. Already the Australians have said that they would like to move into these hydrogen trucks, so have the South Americans. It could be a great development.
Also at the moment there is like a circular economy developing. Although you mine products, once that product is used they want to recycle it. That is how the world thinks at the moment, that you don't leave any waste lying around. A lot of changes coming around in mining and all for the better, so that we don't pollute Mother Earth.
Kamwendo: Thanks very much. Martin Creamer is publishing editor of Engineering News & Mining Weekly.