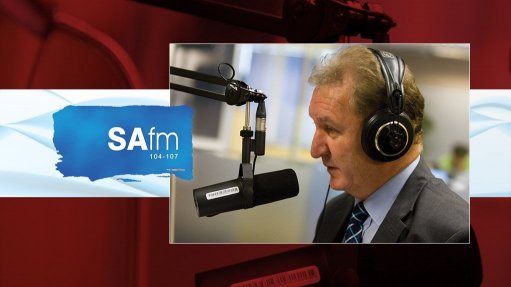 Every Friday, SAfm's radio anchor Sakina Kamwendo speaks to Martin Creamer, publishing editor of Engineering News & Mining Weekly. Reported here is this Friday's At the Coalface transcript:
Kamwendo: Mining is making record profits and paying massive taxes just when South Africa desperately needs it.
Creamer: Just when we have needed it, the mines have come to the party. The half-year results have been astronomically higher than they have ever been in the history of mining. Billions are just flowing in to the tax situation to help us with the relief funds and relief packages, which are so necessary at the moment, following the social upheaval where we are having to help business.
The tax authorities have had a surprise upturn in the flow of money into the fiscus, which is really assisting in the deployment of social relief. It is all about mining coming to the party. We know that the mines are very strong at the moment, but we also know that in 10 to 15 years' time, if there is not an effort to explore, these will no longer be there. This is the message we are really trying to get through to National Treasury, but again National Treasury has just come out with its Tax Bills and you will see that there is nothing about exploration there again.
Even though this was promised so many years ago by the then Finance Minister, Trevor Manual, it still is not coming through and it will need to come through if we are going to continue to having a sustainable mining industry. If you see what happens in Canada, Australia and Chili, exploration is kept going in those countries through tax incentives. Exploration is high risk and unless you give some sort of flow-through tax-incentive scheme, like they have got in these countries, exploration just does not happen. So, that is one big message. The National Treasury is really benefitting now and they should reciprocate by doing something to promote exploration otherwise mining will die.
Kamwendo: Transnet is working with business to ensure that more iron-ore is exported at a time of high demand.
Creamer: Themba Mkhwanazi, who is the head of Kumba Iron Ore, made a lot of comments about Transnet at his presentation of extremely successful results. Again, rocketing profits, with Kumba paying fortunes to the tax man and providing support to all the suppliers and stakeholders. Mkhawanazi was saying that there is a situation where he has got to try now to export as much iron-ore as possible.
There is a window of opportunity. Not only is the price very high for our iron-ore at the moment, but the price that South Africa gets is about 25% higher than everybody else, because of the quality. That is why Kumba Iron Ore is trying to speed up the pace at which trains move along the rail line to Saldanha to Sishen. The trains are allowed to go at 60 km an hour, but the average speed at the moment is only 30 km an hour, which is half that, and this is because of the constraints on the rails.
They have had a few incidents at bridges and because of the repair situation not being what it should be, the trains have to slow down over those bridges and many other areas. They are trying to now work at rehabilitating the tracks and it looks like there may be a public-private partnership developing. Themba Mkhwanazi was very excited about the possibility of this. The only users of this rail on the iron-ore line are iron-ore miners, so they might as well become business partners there and ensure that there is regular maintenance, because this is what is needed, regular maintenance and speed out of the port of Saldanha, which they are also trying to uplift. We can get a lot of foreign exchange in if this is done and this again helps the country as a whole.
Kamwendo: The clever marketing of South Africa's platinum group metals is paying off handsomely.
Creamer: Anglo American company is saying we don't just dig holes anymore what we want to do is really provide mineral solutions. What they do is that they study the markets in which they can go and which they are in and they try and improve that all the time. We know that they looked 20 years ago at hydrogen possibility with the fuel cell and now the whole world is just streaming with hydrogen possibility.
Everybody wants hydrogen. Of course, they had to look at it well in advance. They are trying to do the same thing now in computing and a lot of other areas. In computing particularly there needs to be low-loss computing. You need to lose less energy, because the world is really using these computers massively at the moment, particularly during the Covid period. As a result, Anglo Platinum is working with various companies that provide solutions to make sure that there is less energy used by low-loss computers and this is where the platinum group metals are set to play a big role. Also, in food they have formed partnerships in Japan and China.
There is going to be a production facility in China, where you use the platinum group metals to keep the food fresh for longer. If you just look at strawberries, platinum group metals can help to keep the strawberries fresh for five times longer. This is all South African-mined platinum group metals and they are constantly looking for markets which is such a clever idea, because it keeps the demand up and the prices up for our platinum group metals.
Kamwendo: Thanks very much. Martin Creamer is publishing editor of Engineering News & Mining Weekly.