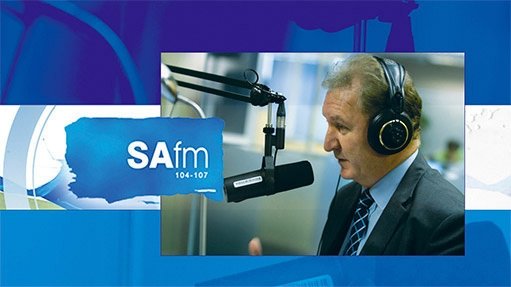 Every Friday, SAfm's radio anchor Sakina Kamwendo speaks to Martin Creamer, publishing editor of Engineering News & Mining Weekly. Reported here is this Friday's At the Coalface transcript:
Kamwendo: Calls were made this week for unused mine land to be made available for agricultural development.
Creamer: Yes, this has huge potential, because mines have thousands of hectares of land available. A lot of these mines are underground mines, so they don't even affect the surface. A lot of these mining companies are now keen to get agriculture going. It is also in self-interest, because mines don't last forever, but agriculture can last forever, so that when the mines close, there is a business there that can keep depleted mining areas sustained.
On the Far West Rand, there is already an agreement struck with the Sibanye Precious Metals, which is willing to release land. This area is very water-blessed, so you have not only mines that have water underground that can pump to surface and supply for crop growing, but you have also got the areas that have been well endowed with water. We see with the coal mines on the Mpumalanga side, Exxaro is dead keen to get people to start engaging in agriculture on their land.
There have already been three entrepreneurial deals and they are wanting a lot more. They see that this could add to food security and extra nutrients for people who sometimes do not get the nutrients that they need because of poverty. On both sides of our Witwatersrand, the West Rand and the East Rand, we see this now that mining companies want to get communities to grow produce on their land. They are saying don't just grow maize, but go for crops that are labour-intensive, things like tomatoes, for instance.. There is such a great international demand for tomatoes. The number of tomatoes we produce a year, China consumes in a week. There is tremendous opportunity to get going on the agricultural front.
Kamwendo: Namibia and South Africa are ahead in Southern Africa's plan to generate green hydrogen for export.
Creamer: We have got to give credit to Germany for alerting Southern Africa to the potential of exporting green hydrogen into a trillion dollar market. The world is looking to using green hydrogen and they want it to be green. In the past they produced hydrogen in different ways that are really carbon intensive.
Now they want to produce it with the sun and the wind and they want to it to be green. In Southern Africa there are sweet spots. Of course, Germany knows this, so they have put out a fund of €5.7-million to get research going. What has happened is an organisation called Sasscal, they have started the ball rolling. They are engaging online with many countries in Southern Africa, including South Africa.
They have been doing it since June and striking up areas where they can go and investigate what the data is for sun energy and then turn this into green hydrogen exports. Namibia is well placed, because they have got the port of Walvis Bay from which they can export to Europe.
Kamwendo: Some gold mining companies are considering locking in the high gold price by selling it forward.
Creamer: This used to be a practice in the old days called hedging, where our gold mining companies would sell the gold forward at a certain price so that they were certain of their income. Particularly if they had projects going and they didn't know what their income would be for gold, so they would sell the gold forward. Recently, many gold companies have also chosen to do this.
They don't hedge all of their gold, but just a percentage of their gold. Some of them have really made billions as a result of this where they locked in a good price where the situation has been that the gold price has not been as high as the level at which it has been hedged, and they've made a lot of money. Now, they are thinking, with the gold price as high as it is, there is still a chance of locking that high price, because there are certain buyers of the gold who also want to be sure that they are getting gold at a certain price.
They are looking now to making a benefit of the high price by locking it in at a high level and then ensuring a revenue from gold, which would be quite powerful for gold mining companies that hedge successfully.
Kamwendo: Thanks very much. Martin Creamer is publishing editor of Engineering News & Mining Weekly.