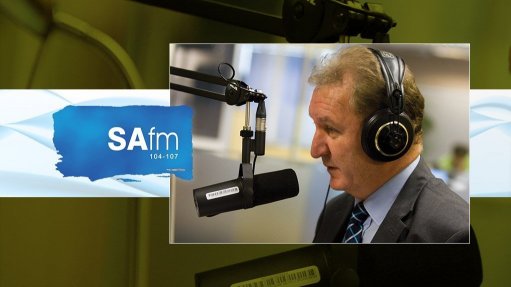 Every Friday, SAfm's radio anchor Sakina Kamwendo speaks to Martin Creamer, publishing editor of Engineering News & Mining Weekly. Reported here is this Friday's At the Coalface transcript:
Kamwendo: The mining industry is calling for Joburg's mine dumps to come down to cut travel time in taxis.
Creamer: This is a marvelous suggestion, because the mine dumps have always separated the rich from the poor in Joburg. They need to really come down once and for all. A lot of work has been done on it, but it is still minimal and from Roodepoort to Germiston there is a barrier almost like a Berlin Wall. What the mining industry is saying to enable us to get in there and to turn that in gold.
The gold price is running at more than a million rand per kilogram. Just the one company DRDGold, which has been extracting the gold, extracted more then nearly 6 000 kg of gold in the last period that they reported on and they paid huge amounts of tax to the government. This could be a tremendous enabler to get a lot of people employed, free up a lot of land, create new residential areas closer to the city. These could be modern areas that use solar power and all the modcons that are coming through the modern world.
Kamwendo: A rich old gold mine is being brought back to life in the Evander gold fields of Mpumalanga.
Creamer: Gold is really high priced at the moment. People are relooking at their assets. There is an old mine Egoli out in Mpumalanga. It has got all the infrastructure and it can be brought back to life at low cost. This is what Pan African Resources is planning to do.
They are listed in London, Johannesburg and New York. They have already raised the funds for this Egoli project, so they can go ahead very fast now if their board of directors and shareholders agree to all of this. It could be a mine that employees more than 1 000 people in a very short space of time. It could earn a lot of money for the country in foreign exchange, because gold is a big earner at the moment.
Kamwendo: Platinum is fighting its way into battery electric vehicles, from which it has up to now been excluded.
Creamer: We have always favoured fuel cell electic vehicles, FCEVs, because they use our platinum group metals. But, the world has been favouring BEVs, which are battery electric vechicles, and they use metals that come from other parts of the world. Platinum has now climbed into the BEV and it has got international patents now.
This company, that is headed by Micheal Jones, is listed in Toronto and New York, they have managed to get patents now that shows if you use platinum group metals, our metals from South Africa, we have got more then 87% of the world's hosting of that, you can improve on these batteries immensely. It has always been two different divisions where you've had fuel cell electric vehicles that have not used lithium and metals like that and you've had the battery electric vehicles in a different place. Now the South African metals are going to encroach into the these battery electric vehicles, which will be a big boost for South Africa.
Kamwendo: Thanks very much. Martin Creamer is publishing editor of Engineering News and Mining Weekly.