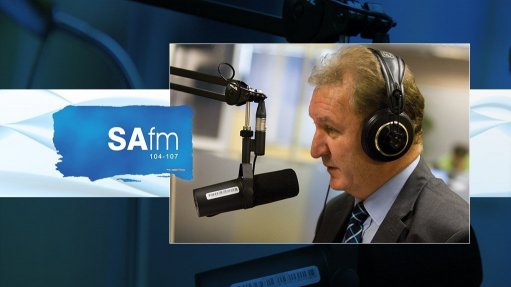 Every Friday, SAfm's radio anchor Sakina Kamwendo speaks to Martin Creamer, publishing editor of Engineering News & Mining Weekly. Reported here is this Friday's At the Coalface transcript:
Kamwendo: Science and Innovation Minister Blade Nzimande this week launched a promising Platinum Valley Corridor Project.
Creamer: He did it at very high level. This was a meeting that was virtual with 30 ministries of energy around the world and each spoke about what they were doing to mitigate climate change and to move into the new green hydrogen economy. Minister Blade Nzimande gave a very good account of his stewardship and he brought up this very big Platinum Valley Corridor project that is being planned and will begin at the Science Park at Limpopo and go through the platinum mining areas and then have very important hubs at two important airports.
The one is OR Tambo Airport in Johannesburg and the other is King Shaka in Kwa-Zulu Natal. This gives you the idea of the link that this whole green hydrogen economy will have with the world. What they want to do, of course, is also produce parts for fuel cells which are platinum drivers. We know that we have got the most platinum in the world and this platinum group metals can give us magic in terms of how they help to generate electricity in a clean way. We can hear a very broad picture now being painted by Dr Blade Nzimande, which will also involve academia, industry and all the global markets all working in conjunction as each of them made their inputs including him this week.
Kamwendo: A new fund has been launched to give financial support to small-scale mining development.
Creamer: Small-scale mining has been given new emphasis, but the funding around that is often dubious. What is now being introduced by a small funding company, which is also good, that is Pearl Gray Equity Partners, based in Pretoria in South Africa and also Delaware in the United States, is to actually provide assistance and funding for companies in the small mining space.
We know that they also need to be given direction. So, what this company does is that if they see that they have got a very good opportunity in that field with which ever mineral they are using, they will help them to gain licencing and prospecting licencing, all the water licencing and they will fund that. They will also buy into the company, so they will have what they call skin in the game. It will act like a venture capital company that will help to direct the smaller companies, which may know a lot about mining, but not a lot about the market and the world. They will link them into the world and look at the introduction of private equity. If these businesses become bigger, of course, they will look at consolidating and look at listing.
At the moment their vision is that they would not list in South Africa, because if they look at Johannesburg Stock Exchange, they find that it doesn't accommodate small mining companies like the Toronto Venture Exchanges. That is their feeling at the moment and if there is a change at Johannesburg they would like to list locally, because their focus is South Africa.
Kamwendo: Huge enthusiasm is building around the boost that green hydrogen generation can give to Southern Africa's 16 SADC countries.
Creamer: Yes, the SADC countries have formed two groups. The one is called Sacreee and the other is Sasscal. They are working together to find where the best areas are to generate solar power and wind power in the 16 States. They are working mainly with 12 states at the moment, including South Africa, but the buy in Sacreee reports is absolutely phenomenal. The governments just want to get involved in this, the people just want to get involved in this.
As you know it can bring a lot of industrial development, but they are also saying agricultural support. Across a broad industry they are looking to places where they can electrolise water. They are looking at brakish and sea water, because they say at the moment this SADC region is paying a fortune to import energy.
They are a net energy importer. So, they can switch that around and in time become an energy exporter, which will change the whole situation, as well as bringing a lot of new industry. Of course, they have got their eye on the platinum group metals that we have got here. But, a lot of other metals, including manganese. They believe that it can float a lot of boats in the Southern African region.
Kamwendo: Thanks very much. Martin Creamer is publishing editor of Engineering News & Mining Weekly.