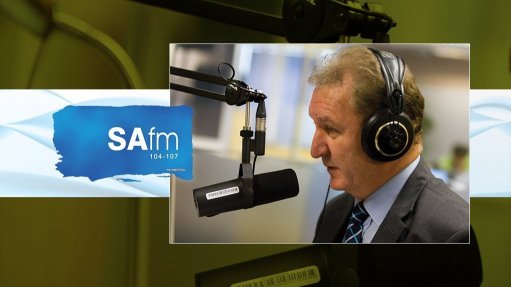 Every Friday, SAfm's radio anchor Udo Carelse speaks to Martin Creamer, publishing editor of Engineering News & Mining Weekly. Reported here is this Friday's At the Coalface transcript:
Carelse The sky's the limit for a company in Mpumalanga as the world takes steps to become greener and cleaner.
Creamer: This is South Africa's best kept secret, we flew out there and saw a jewel of an industrial plant in Mpumalanga. This is Manganese Metal Company. Last year, it sold something like R2.2-billion worth of metal, 56% of his product going into Japan, 25% into the United States, 10% into Europe. It is a great exporter and it produces the purest metal manganese in the world, it does 99.9% pure, nowhere else in the world comes within 99.7%. It has been a fantastic success, but you ain't seen nothin yet.
There ' a huge new environment coming for this Mbombela, Nelspruit, company in the beautiful Lowveld, because they are now entering the colossal battery electric vehicle market. They are going to do that with manganese sulphate and that is when the sky is going to be the absolute limit, because these battery electric vehicles are not using this for nothing. This is much cheaper, and the skills that you have got out there at Manganese Metal Company are phenomenal.
The company is now preparing to move into a new era, keep up the pure manganese metal that has got a huge demand around the world, but then go in to something that will be so colossal that I think that they will have to expand like Topsy. This is fantastic news for a company, which even last year paid R179-million in taxes. It is a very strong company that is going to get hugely stronger.
Carelse: A School of Mining opened this week to meet the growing demand for mining skills in the Northern Cape.
Creamer: A school of mining opened up in the Northern Cape this week, led by the private sector. Why? Because the mining industry is finding such a long future horizon in the Northern Cape that it resembles what parts of Australia were 30 years ago. Every time a mining company drills into the ground in the Northern Cape, they get hugely excited about the resources they find.
But, because of that, the mining industry in the Northern Cape realises that it is going to be very short of mining skills. It is not just people with diplomas and degrees that they will be desperately needing, but also people with basic mining skills. That is why they have immediately moved into the creation of the School of Mining. They began this week with 30 students and that is expected to build fast owing to the huge number of unemployed people in the area where the mines are.
While they are organising immediate basic skillset development now, already planned is entry into the diploma stage and then into the degree stage. They are going to go hand-in-hand with the Camborne School of Mines in the UK, a very famous mining school. They are going to link up with that, so that they can have sufficient skills at all levels for this Northern Cape, which is going to be a massive mining district.
Carelse: South Africa is discovering more copper, a metal which is poised to be in huge global demand in the years ahead.
Creamer: Copper is an integral part of the world's move towards ubiquitous electrification. Now, every time a company drills in the Northern Cape, they find more copper than thr calculated would be there. So Copper360, they said, you can compare this if you were looking at water sport to what they thought was a water ski, a jet ski.
They imagined their exploration drilling would be like a jet ski across the surface. But after drilling their first holes at Rietberg they found an aircraft carrier. This is like five levels of copper. They are just finding copper here, copper there, copper everywhere. They are so excited and Copper360's shares lifted very firmly on the Johannesburg Stock Exchange on this news of this latest drilling bonanza. It is just the start, because it is the Rietberg mine, which is a core mine, but they have got 12 mines there. Copper360 has got 12 mines and they are already going into the other two, and are already getting excited about the next two propects. In fact, they are already taking the copper out of old dumps, they are already making copper plate and exporting it.
So it is amazing how fast they can move, because this area was South Africa's old copper mining area of bygone days that big company's like Newmont and Gold Fields left behind, but with valuable mining infrastructures that makes the going speedy. The world is poised to in the not too distant future be crying out for copper and South Africa's Northern Cape is getting ready to become quite a big copper supplier into world markets.
Carelse: Thanks very much. Martin Creamer is publishing editor of Engineering News & Mining Weekly.