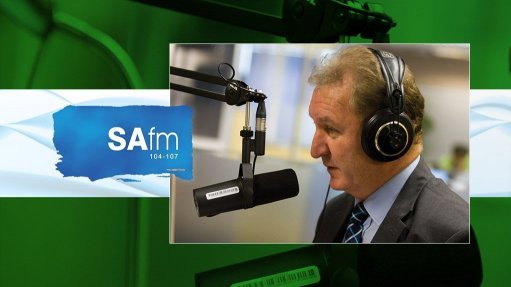 Every Friday, SAfm's radio anchor Sakina Kamwendo speaks to Martin Creamer, publishing editor of Engineering News & Mining Weekly. Reported here is this Friday's At the Coalface transcript:
Kamwendo: The government yesterday promised to have its mining exploration strategy ready in the next three months.
Creamer: The director-general of the Department of Mineral Resources and Energy, Advocate Thabo Mokoena, said categorically yesterday that there will be a comprehensive strategy for mining exploration in South Africa in the next three months.
This is really necessary at the moment because we haven't had proper exploration for so long now and there is a lot of pent up energy. He would like to attract at least 3% on the global investments in exploration. Globally, the investment in mineral exploration is something like R170-billion a year. Advocate Mokoena is targeting at least 3% of that for South Africa.
At the same time, they are looking at flow-through share scheme, which has been very successful in Canada, which encourages people to invest in exploration. This fits in very carefully with what the Economic Transformation Committee of the ANC has proposed that we do incentivise exploration and that companies get listed on the Johannesburg Stock Exchange.
Kamwendo: Sir Mick Davis yesterday called on the shareholders of major mining companies to resist calling for cash dividend pay-outs to allow mines to be sustainable.
Creamer: Dividend demand by shareholders on mining companies has become very strong. The shareholders want their cash back in the form of dividents and Sir Mick Davis is saying that they should desist from doing so, because they are undermining the these companies which need that money now to invest in growth.
Every ounce of material that mining companies take out of the ground is gone forever and unless they at least replace that once with another unmined ounce, it will mean that these companies just whither and die. He noted that we, in South Africa, had Rand Mines, which was the biggest mining company in the world. It no longer exists, because they never followed this policy of replacing what they took out of the ground.
It seems that the mood at the moment is for investors to get as much as they can back.Sir Mick Davis is saying that the mining companies must talk to the investment community and explain to them that they will turn down the share prices of the companies in which they invest if they carry on in this way and disallow sufficient new investment in assets.
Kamwendo: Thanks very much. Martin Creamer is publishing editor of Engineering News and Mining Weekly.