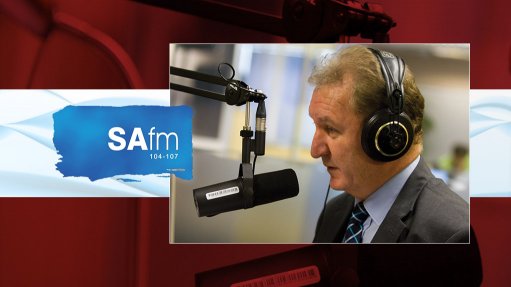 Every Friday morning, SAfm's AMLive's radio anchor Sakina Kamwendo speaks to Martin Creamer, publishing editor of Engineering News and Mining Weekly. Reported here is this Friday's At the Coalface transcript:
Kamwendo: The Department of Mineral Resources has dealt the economy a heavy blow by forcing the exploration of diamond giant De Beers to grind to a halt.
Creamer: It was both wonderful and sad to see the young mining graduate students standing at Joburg Indaba, smiling faces, ready to go in to the workplace. But, the bad news is when they whisper in your ear there are no jobs around. Now we see that government is shooting itself in the foot and the country in the foot, by not allowing De Beers to go ahead with exploration.
Now, De Beers has been here since 1888, it has got a lot of data and has put in 54 applications to explore. Exploration is not the juiciest thing to do, you can see in Canada they have to beg, borrow and steal to get people to get that money in the ground, because it is high risk.
The same with Australia, you can see big incentives to get people to explore. In South Africa you have got a company that say they want to do this and the government holds up 54 applications for two years, to a point that De Beers is saying that they are going to take their money elsewhere.
They do need the diamonds. They have put more money in Namibia, they have got a ship in the sea there. They have put more in Botswana. They have just opened a mine in Canada. This can all be happening in South Africa, it is one of the best prospective places. If you ask them they will say that they want to do it here, we have been here since 1888, we know where things are, we can lower our risk.
But, for some reason their whole budget is grinding to a halt now, because of lack of cooperation from the Department of Mineral Resources.
Kamwendo: South Africa's foremost black miner this week committed the industry to doing all it can to build a better South Africa
Creamer: That is Mxolisi Mgojo, he is an exemplary miner, we have seen what he has built out at Lephalale, he has the huge coal operation there. It employs 6 000 people and is a black-led operation.
It has a value of about R40-billion and is one of the few big spenders at the moment, spending R10-billion on coal. You will see in the world that people are scared of coal. They are going into coal, because they know we are going to need it here during that period when we start moving into other energy sources. But, you can see how far thinking this new Chamber of Mines (CoM) president is, Mxolisi Mgojo.
He is also in wind energy so he is very well aware. He is also in digitisation, he has got drones that he is using in his plant. Not only that, but he works well with the government. You can see that he signed a big deal with Transnet this week for rail, because he is out in the Waterberg, he needs rail.
Through cooperation with Transnet we have got an extended rail line and we know that that export of coal earns us more than any other mineral in foreign exchange. We need every bit of foreign exchange we can get there, so he then at the Joburg Indaba committed his organisation that he is now leading, a much bigger organisation called the Chamber of Mines of South Africa and said he is determined to go into the future as a cleaner body.
We can see that they want to put on a totally new mantel. They are planning to jettison that whole name that goes with horrible history in South Africa. It will be under his leadership that this new brand comes in and we see that he wants mining to be an ethical practice that floats a lot of boats and also, he is broadening the whole organisation which may be in resources in a bigger way, perhaps they will even take in gas.
We know that they drilled for gold in the Free State that they went through so much gas that they just ignored. We know that is valuable gas, helium that could be doing a lot of stuff for our country. Interesting, the son of a pastor, he did his matric in the US and some of his university in the US, but born in KwaZulu-Natal, loves going through the Valley of 1 000 hills and determined to do the best for South African mining.
Kamwendo: The world's oldest mine this week became the world's most modern mine as robots took over underground.
Creamer: This is what we have got to watch out for and we heard it at Joburg Indaba and we saw the way they put up the interesting technology advances on the screen that we have got to be prepared for change. Even unionist and former unionist there said that we must reposition the unions to be prepared for this, because as we know these things come faster than you think.
We see in Sweden this mine has been going since the 13th century, it is an ancient mine, probably the most outdated mine in history. This mine now has got sensors down there with robots that are working a precise mine operation. You know we have been wasting too much in mines, if you actually become more precise in mines you are going to make a lot more money and have a lot less waste and use a lot less water.
We see that this Garpenberg Zinc mine in Sweden is now from the oldest mine in the world becoming the most modern mine in the world, because of this advance of technology, which we are going to have to deal with here, which will be good. Also, needs to be people centric and we see that Mxolisi Mgojo the head of the CoM, is also talking about big research happening here in Joburg at Richmond and that it is people-centered.
Kamwendo: Thanks very much. Martin Creamer is publishing editor of Engineering News and Mining Weekly.