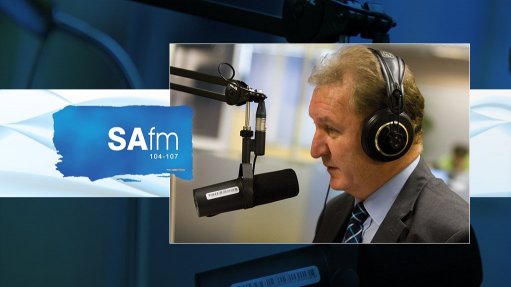 Every Friday morning, SAfm's AMLive's radio anchor Sakina Kamwendo speaks to Martin Creamer, publishing editor of Engineering News and Mining Weekly. Reported here is this Friday's At the Coalface transcript:
Kamwendo: Independent consultants today presented a six-point plan to the government to revive mining exploration, which is at a virtual standstill.
Creamer: I am very excited, because here is the cover, it went in both formally and informally to President Ramphosa. It has also gone to the new Minister Gwede Mantashe and it is about fixing mining.
There has been a skewing towards the bigger companies and, of course, the bigger companies do have the ear of the government at the moment. They are renegotiating the Mining Charter
Three, but they must not neglect the smaller companies, because that is where the big revival can come and that is where the big transformation can come. So, two very erudite individuals, Dan Moagi, very well known in science and technology, and Dr John Bristow, who has launched two diamond mines and was with De Beers.
They have put through a very sharp and succinct proposal. Number one is that you have got to have transparency. DMR has got to go to what Mozambique does and what all the mining countries in the world do. They are transparent when it comes to mining rights, otherwise the costs we see are just huge.
You have got to facilitate exploration. Without exploration this industry will just go downhill. You have got to transform the industry by creating genuine black ownership and the way to do it is through ownership and they are talking about a fund which provides rand-for-rand support to feasibility stage.
Then provide modern geological information and technical support. The government has got an institute that should be doing that, but it is very much looking outside of the country. Provide incentives like they do in Canada and elsewhere to get these smaller guys going. That will be the real transformation and implement a modern enabling policy and modern enabling regulations. Then we will have sunrise.
We need sunrise in this business, because you can see just listening to people yesterday, Impala Platinum with this deep dark and dangerous mines, they have got serious issues particularly with the strong rand at the moment.
Kamwendo: In a nutshell, Martin has just pointed out to you the Six-point plan, which you can read about more in greater detail by Dan Moagi and John Bristow.
Top mining analysts this week called for major structuring change to save South Africa's gold-mining industry.
Creamer: They have done a great analysis, Leon Esterhuizen and Arnold van Graan, of Nedbank CIB. They have looked at the costs of mining in South Africa and they have seen that labour has been getting beyond inflation increases, but they haven't been delivering in productivity.
There is a saying in mining that you can have anything you want in terms of pay as long as you deliver on the product production side. What has been happening is that the wages has been going up very high, but the production has been going down very low. When you get to those deep dark and dangerous mines, you also have the safety issue. They are saying if there is no structural change now our labour-intensive deep mines are history.
They are going to be gone. We will live with the shallow ones, but it has just become too costly. What has happened now is that the wages have gone up to Canadian levels and Australian levels, but the productivity has gone way down and you can't live with that. They believe the real reasons for this demise are politics and cost. That is what they are pleading for people to look at to save these mines.
We saw again with Impala Platinum yesterday that they are wanting to harvest some of their shafts. They have got that brilliant lease area at Rustenburg called Impala Rustenburg, but it is a huge challenge at the moment. They shed 1 400 jobs, they could shed more. There are 40 000 people there and when they talk about modernisation they say they can't even think of technical modernization; they have got to think about managerial modernisation, people modernisation.
That is what we have got to do, it has been neglected for the last 10 years. They want leadership with people leading from the front, being efficient. When we ask them are you modernising they say yes, our people.
Kamwendo: Northam Platinum has surprised on the upside with its revelation that it is in the process of creating 6 500 new mining jobs.
Creamer: So, you always get the positive side, you get the newer mines and more mechanised mines, which Northam Platinum has got a very good mechanised mine out on the eastern limb of the Bushveld Complex.
They have got a deep mine on the western limb, which is obviously also going to be a challenge, but there has been a job creation there. Because of cooperation between the different platinum companies. In the past, the platinum companies wouldn't talk to each other most of the time, now they are talking.
They are next-door neighbours and they say if you go through our boundaries is it going to be better for you or for me? Oh it is going to be better for you, let's do that deal. That is what happened at Tumela giving Zondereinde a new lease of life there. In fact, more than 300 jobs immediately like that.
They are looking then to not only getting these 6 000 jobs through organic growth, in other words expansion and capital investment, but also through acquisitive growth. They are acquiring at the moment and there is one mine that is on care and maintenance that if they take that over that is another 3 000 jobs.
Just the growth at their eastern limb in the Booysendal are going to give another 3 000. They are positive that in the next three to four years they can actually be a sunrise for this industry with 6 500 new jobs. You don't hear much of that in the industry and you do see gold mining in the deep, dark and dangerous way looking to ending its life because of intense currency pressure.
Kamwendo: Thanks very much. Martin Creamer is publishing editor of Engineering News and Mining Weekly.