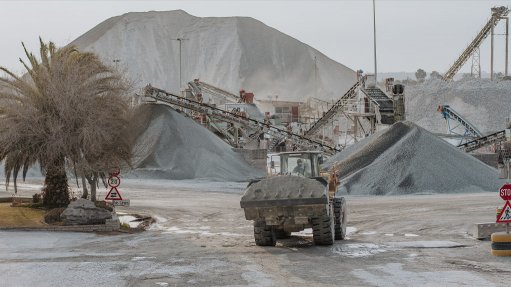 Having grown into a substantial business in the sectors in which it operates, aggregate supplier OMV believes the secret of its success lay in the company's provision of optimum solutions for the needs of its customers.
Compared to other sectors, the company managed to survive the pandemic with "relatively little damage", though its construction aggregates and concrete divisions did suffer.
The company's gypsum business, on the contrary, saw strong demand in the immediate aftermath of the onset of the Covid-19 pandemic, but it has since slipped with the decrease in demand for cement.
OMV's management team took quick and decisive action to not only protect its cash flows, but also its employees, which paid dividends in the long run, comments MD Oscar Goudriaan.
Having gained a reputation for "making things work", Goudriaan says the company is a leading supplier of construction aggregates and road building materials in the North West, and that the company supplies on-site concrete solutions to large projects in the region.
The company's success, it adds, is further demonstrated by its recent acquisition of a bentonite resource.
"We have been gaining expertise and knowledge in the bentonite market for some years now, and are positioned to grow this sector exponentially," the company states.
Additionally, through its subsidiary MetaDynamics, OMV provides specialised milling of industrial minerals for a wide variety of clients.
"We have a strong brand and good reputation in the gypsum sector, especially with our partners in the cement sector. OMV has been supplying gypsum, which is a critical component in the manufacturing of cement, to all of the cement manufacturers in SA since the early 1960s," Goudriaan enthuses, highlighting that the company "takes this energy and passion to the other sectors it serves".
He is confident that this approach is the reason for the company's continued success.
Considering that the company has grown substantially over the past two years, it is eager to "bed down acquisitions" and bring systems online.
"We have a young and energetic management team, and we want to invest in the wellbeing of our people, which I am sure will have a big impact on our bottom line. There is no reason why we can't have smart companies in the construction sector," Goudriaan concludes.