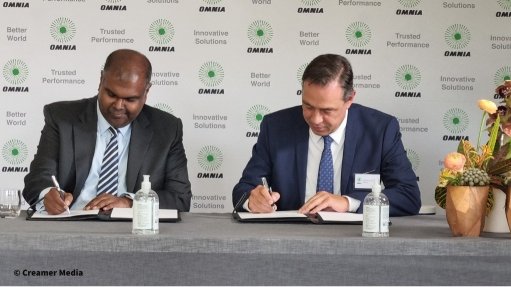 Omnia CEO Seelan Gobalsamy and PNE CEO Markus Lesser
Photo by: Creamer Media's Marleny Arnoldi
Chemicals group Omnia has signed a memorandum of understanding (MoU) with WKN Windcurrent, a subsidiary of German renewable energy group PNE, to explore the feasibility of developing a green ammonia production plant in South Africa.
Omnia CEO Seelan Gobalsamy says ammonia is a key ingredient in the agricultural and mining markets, which are the primary sectors that Omnia supplies.
He adds that a green ammonia production plant would greatly reduce the group's need to import ammonia and, therefore, save on costs and the need to rely on often inefficient railway logistics.
Most importantly, it will help the company to decarbonise its operations, particularly as it currently procures 15% of its ammonia requirements from a fossil-fuel-heavy source in South Africa and imports the remainder of its ammonia from other markets. The imported ammonia is mainly produced using fossil fuels, adding to Omnia's carbon emissions.
Through the partnership with WKN, Omnia pledges its commitment to providing capital and intellectual capital towards exploring the feasibility of building a green ammonia production plant.
The partners will conduct a prefeasibility study before embarking on a feasibility study.
Omnia group executive Jona Pillay says the preliminary idea is to build a 100 MW combined wind and solar energy plant, externally, and install between 40 MW and 50 MW of solar power internally, tied to an electrolysis plant.
He confirms the company is considering installing a few 20 MW electrolysis modular units, which are each able to produce 20 t/y of ammonia. This will be combined with an air separation unit to ultimately produce 100 000 t/y of green ammonia.
Omnia currently uses 280 000 t/y of ammonia; therefore, the plant would manufacture about 30% of its requirement.
Pillay states that if Omnia can feasibly expand this plant and make greater use of green ammonia, it will greatly reduce its carbon emissions.
Commenting on why the South African market is promising for a group such as PNE, PNE chairperson Markus Lesser says South Africa has significant wind and solar resources, which only a few other countries in the world offer.
He adds that hydrogen policy is also gaining momentum at a national government level, which bodes well for production opportunities.
German Ambassador to South Africa Andreas Peschke says there are similarities in the South African and German energy markets and that both could benefit from knowledge-sharing to further decarbonise their economies. For example, he explains that some areas in South Africa, particularly the Northern Cape, pose logistical and transmission challenges, which is also the case in some parts of Germany.
He hopes that the partnership between PNE and Omnia will result in not only green ammonia production, but also green hydrogen production, which he believes is the "little sister" of green ammonia. The global green hydrogen markets is poised to be worth $300-billion a year by 2050, with demand for green hydrogen reaching 530-million tonnes.
Peschke notes that green ammonia can be used as a means to transport green hydrogen, since transporting green hydrogen is much more technical and complex.
He agrees with Lesser that South Africa's renewable energy resources are well worth investing into. He states that the partners have the support of the South African-German Energy Partnership, with its various working groups and committees, as well as possible public funding, to advance green ammonia production.