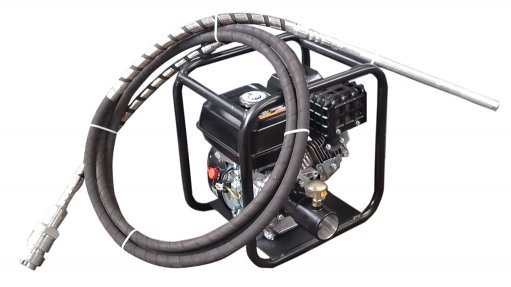 Making business simpler for customers, while going global with a first-class product range, has proved successful in establishing industrial vibration technology company OLI as the world's top-selling supplier of electric external motovibrators.
The OLI product for the African continent and eastern island is distributed by its subsidiary in Gauteng, South Africa.
For the construction industry OLI supplies a variety of models for the compaction of concrete on sites. These include internal or external vibration options.
For internal vibration High Frequency Immersion vibrators (Pokers) and Converters can be used. An option of 220 V or 42 V is available. The 42 V option uses an external converter to power the vibrator, whereas the 220 V model has an inline converter fitted. OLI also has a range of mechanical and pneumatic immersion vibrators for the concrete industry, as well as a light short length pistol grip unit for ease of manoeuvrability.
For external vibration there is an option for the use of electric or pneumatic units.
It is our drive for innovation that reduces the headaches in materials handling within plants.
Our maintenance friendly products – from our greased for life vibrator motors to maintenance free suspension mounts – make life so much easier. It leaves the customer to concentrate on the task at hand: production.
If you now add the four business pillars of OLI South Africa to the mix – best price, premium quality, great availability and exceptional service – then we are your ideal choice.
OLI is a credible expert when it comes to assistance in finding the most suitable solution.
When you need it, where you need it – the mission statement that gives OLI the edge over its competitors.